Andreoli on Oil and Fuel: Cheating to Win—some lessons from the Tour de France
Lance Armstrong and Greg LeMond have both stood atop the Tour de France podium on numerous occasions, but that's not all that they have in common. They were both obsessed with winning, and in a way, they both cheated.

Derik Andreoli
·
February 1, 2013
Lance Armstrong and Greg LeMond have both stood atop the Tour de France podium on numerous occasions, but that's not all that they have in common. They were both obsessed with winning, and in a way, they both cheated.
Whereas Armstrong used banned substances to cheat his competitors, LeMond used aerodynamic handlebars (aero bars) to maintain a more aerodynamic body position and "cheat" the wind.
The final stage of the 1989 Tour de France was a time trial race against the clock, and LeMond's choice of equipment helped him to surmount a 50-second deficit to overall race leader Laurent Fignon. On that sunny July day in 1989, Fignon crossed the finish line and collapsed to the ground after learning that LeMond had bested him by 58 seconds on the final stage.
Aided by technology and driven to win, LeMond eked out an 8-second margin of victory for the three-week race, which is the narrowest win in the race's 100-plus year history. Had LeMond not used aero bars, he would have won the final time trial, but he would not have won the overall race.
But what does this have to do with logistics management, you ask? Plenty.
Above all else, bicycle racing is about energy management. The Tour de France is won during the time trials and mountain stages; and it's won by the riders who are best able to meter their efforts and overcome wind resistance, inertia, and the unrelenting pull of gravity.
Truckers face similar challenges, and those that best manage fuel consumption enjoy a competitive advantage over the rest.
According to the American Trucking Research Institute (ATRI), fuel costs account for roughly 35 percent of average marginal costs per mile, and with diesel prices expected to remain high, competitive advantage will be bestowed on trucking companies who are best able to manage fuel consumption and contain fuel costs.
Overall, aerodynamics may account for 15 percent to 22 percent of energy losses for a fully loaded Class 8 truck traveling at highway speeds. Significant fuel savings can be realized by matching cab height to trailer height, reducing the gap between the cab and the trailer, and installing fairings on the chassis and the trailer.
Additional savings can be had by rounding the corners on trailers, installing wheel covers, removing sun visors and auxiliary mirrors, and installing aerodynamic primary mirrors or rear facing video cameras.
Rolling resistance accounts for another 13 percent to 16 percent of energy losses for the average Class 8 truck travelling at highway speeds and 8 percent to 12 percent of energy losses for Class 8 trucks operating in the city. These losses provide a clue as to why nearly all fuel tanker trucks and trailers are equipped with super-single tires instead of the standard dual variety.
Super-single tires reduce total vehicle weight by 1,000 pounds or more when paired with aluminum wheels. In cases where the truck is not cubed-out, as is the case with tanker trucks, these weight savings allow for higher payloads. They also generate significant improvements in fuel consumption per ton-mile.
In cases where trucks are cubed out, meaning that they become filled before reaching the maximum weight restrictions, the reduction in weight reduces rolling resistance associated with sidewall and tread deformation. Of course, because the number of sidewalls is nearly halved by swapping super-singles for dual wheels, rolling resistance due to sidewall deflection is already significantly reduced.
According to statistics published in the Transportation Energy Data Book, Edition 31, the average fuel economy for dual-tire tractor-trailer combinations was 6.73 miles per gallon in 2011, and fuel economy for super-single tractor-trailer combinations was 7.35 miles per gallon. This equates to 9.2 percent savings, or more than 1,500 gallons per 125,000 miles—which is the average number of miles driven per truck per year. At $4 per gallon, that pencils out to $5,000 in savings per 100,000 miles, and $600,000 per year for a fleet of 100 trucks.
Super-single tires also offer better brake cooling and better traction in snowy conditions, both of which are definite benefits—especially in mountainous regions. Maintenance is also easier and cheaper, and labor costs for tire replacement is cut in half. Another benefit of super-singles is that they are marginally more aerodynamic than dual wheel/tire combinations.
Fuel savings are not restricted to reducing rolling resistance and wind drag, however. On average, 5 percent of fuel consumed by Class 8 trucks is burned while idling. Of course idling cannot be completely eliminated, but it can certainly be reduced. Doing so, however, requires drivers to change their behaviors—and as long as this is an option, I see no reason to restrict behavior modification to idle-time reduction.
In cycling, if two riders are of equal ability, the one that best manages energy output throughout the race will have the stronger kick during the final meters. And according to Brian Daniels, the powertrain products manager for Daimler Trucks of North America, drivers are directly responsible for 30 percent of the factors that affect fuel economy.
So the message is clear for private fleet managers: Managing costs clearly requires investment in both equipment and worker training.
Chief among the fuel efficiency recommendations for drivers is to reduce highway speeds. In this regard, the amount of horsepower required to overcome wind resistance increases 50 percent, from 120 HP to 180 HP as a fully loaded class 8 truck increases its speed just 10 miles per hour, from 60 mph to 70 mph.
In addition, the driver should focus on maintaining steady speed and low rpm as it is more efficient to take advantage of torque down low rather than horsepower up high. There is, of course, an exception to the rule of maintaining steady engine speed, and that is to "drive with momentum" on undulating terrain.
When I used to race bicycles at the collegiate level, I was told that races are never won on the downhill, and this holds true for trucking as well. In anticipation of upcoming hills, drivers should accelerate gently in advance of the hill, and allow the truck to decelerate on the incline and work gravity to their advantage on the backside of the hill.
According to Michael Roeth of the North American Council for Freight Efficiency, the difference in fuel economy between the best and the worst driver can be up to 25 percent. And with the contraction in drivers that has resulted from the volatile economic times of late, the population of fuel-efficient drivers is declining.
Greg LeMond did not decide to use aero bars until the morning of the time trial, and there is no better time than the present for carriers to invest in driver training and equipment that will allow them to cheat gravity, inertia, and the wind—and win. Similarly, there is no better time for shippers to demand carriers to make these cost-reduction investments or use this knowledge in negotiations with carriers.
February 1, 2013
Latest Whitepaper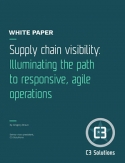 Supply Chain Visibility: Illuminating the Path to Responsive, Agile Operations
Supply chain visibility is not an end, but a tool. It is the means to achieving true supply chain effectiveness, agility and ultimately, corporate profitability.
Download Today!
From the December 2017 Logistics Management Magazine Issue
2018 Customs & Regulations Update:10 observations on the "digital trade transformation"
Moore on Pricing: Freight settlement and your TMS
View More From this Issue
Latest Webcast
2018 Rate Forecast
Join our panel of top oil and transportation analysts for an exclusive look at where rates are headed and the issues driving those rate increases over the coming year.
Register Today!