Andreoli on Oil & Fuel: $5 diesel and a tale of two coasts and the gulf between
Refinery closures and sulfur regulations threaten to push diesel prices over $5 this year.

Derik Andreoli
·
March 1, 2012
As I'm writing this column the CNN news ticker reads, "Oil Prices Spike on Iran Export Halt. Is $4 Gas Next?" The article proceeds to pour over the fact that the price for West Texas Intermediate (WTI) bumped up 4.3 percent over the week to reach $104 per barrel.
Of course, readers of this column understand that a temporary glut in Cushing, Okla., has resulted in WTI diverging from all other benchmark crude streams.
Consequently, though the WTI price spike is of interest, it provides little insight into how gasoline and diesel prices are likely to develop. Both the refiner average acquisition cost (RAAC) and the average crude oil import cost provide far more insight into how gasoline and diesel markets are likely to evolve in the short term.
The fact that WTI is flirting with the $100 mark is impressive, but a myopic focus on WTI hides even more impressive statistics. The average price paid by refineries throughout the whole of last year totaled $101.79. In January 2012, the average refinery paid $107.25, and we can expect to see refiners on the East Coast paying even higher prices than the RAAC now and into the future. It is only a matter of time before these costs are passed on to the consumers of end products like gasoline and diesel.
Come summertime, the thought of $4 gas could make us long for "the good old days," but this is not simply because oil prices are increasing on the back of Iran's disorderly conduct. Rising diesel and gasoline prices are best explained as a tale of two coasts and the gulf between.
On the East Coast, gasoline and diesel prices are just beginning to be impacted by refinery closures in the Northeast U.S. and the Atlantic Basin more generally. The doors to two of Sunoco's Pennsylvania refineries were recently shuttered, and the ConocoPhillips refinery will soon follow suit. Combined, these three refineries have the capacity to produce 315,000 barrels per day (b/d) of gasoline and 143,000 b/d of ultra low sulfur diesel (ULSD)—and they account for 50 percent of the Northeast's total refining capacity.
The EIA expects that these shortages will be addressed through imports of refined products from the Gulf Coast and the Atlantic Basin more broadly, but significant barriers exist.
The Colonial Pipeline connecting Gulf Coast refineries to the East Coast is already running at near full capacity. The next best options are to move product by train or barge. Unfortunately, much of the tanker train capacity has been deployed in an effort to transport shale oil from the Bakken.
When it comes to barge service, shipping refined products from the Gulf Coast to the East Coast will require expensive Jones Act vessels—and lots of them—to make the nearly 2,000 mile journey around Florida and up the coast. As I'll explain later, coastal trips are about to get a lot more expensive due to emissions regulations that will soon come into play.
Elsewhere in the Atlantic Basin, a similar story is unfolding. The 350,000 b/d Hovensa refinery at St. Croix in the U.S. Virgin Islands is set to shut down this month; and in Europe, Petroplus, owner and operator of five refineries, recently initiated insolvency procedures.
The challenges confronting Petroplus are hardly unique. The Oil & Gas Journal reports that nearly 40 percent of the European Union's 104 refineries are in need of refurbishment; but given that upgrading requires hundreds of millions of dollars of investment per refinery and the banks are unwilling to make these risky loans, it's likely that other European refiners will soon join Petroplus in insolvency.
So what gives?
The price for both gasoline and diesel has never been higher in the months of January and February, so how can refiner margins be so low? And why is it that another 1 million b/d of Atlantic Basin refinery capacity is set to disappear this year?
Refinery closures result from a toxic combination of high crude prices, dramatic shifts in the geography of crude oil production, a significant increase in ethanol production, and a profound shift in the market for refined products.
Here in the U.S., the average price refiners paid for imported crude oil was $85 per barrel in January 2008, but it stands at $108 today, an increase of 27 percent. By contrast, the average price for gasoline on the East Coast increased by only 11 percent over this same period.
Gasoline prices remained insulated from the rising cost of crude for a couple reasons. On the supply side, ethanol production increased rapidly over this period of time. Today, roughly one in ten gallons of gasoline consumed in the U.S. is derived from corn-based ethanol, which is a substitute for gasoline but not diesel. Moreover, European gasoline demand has been supplanted by diesel, and old, inflexible European refineries were set up to maximize gasoline output. As a consequence, Europe's surplus gasoline was, and is, exported to the U.S. East Coast.
As gasoline supply climbed relative to diesel, U.S. gasoline consumption fell as a consequence of the recession. Only now is it rebounding as the economy limps along the path of recovery. With fuel economy increasing, however, demand is not likely to recover to pre-recession levels.
In December, the average U.S. refiner lost 2 cents on every gallon of gasoline produced.
Retooling refineries to lift earnings by maximizing diesel production is prohibitively expensive, and we should expect Atlantic Basin refining capapcity to deteriorate further.
On the U.S. West Coast, a significant demand-side shock threatens to materialize as MARPOL Annex VI emissions regulations will come into effect in August. MARPOL 73/78 is an international marine environmental convention. It has been signed by all the largest economies and more than 130 countries in total. Annex VI, which governs air pollution from ships, outlines a progressive reduction of sulfur emissions to be accomplished by setting limits on the allowable level of sulfur permitted to be present in bunker fuels.
Beginning August 1, 2012, the new sulfur limit for all maritime fuels for vessels operating within the North American Emissions Control Area (ECA), which extends 200 miles from the U.S. and Canadian shorelines, will drop from 3.5 percent to 1 percent. The only way that this new regulation can be met is by either blending low sulfur distillates with the high sulfur fuel oils currently used as bunker, or by simply running on low sulfur marine gas oil, a refinery product that is very similar to diesel.
Under "the solution to pollution is dilution" approach, roughly two gallons ULSD will need to be used to cut each gallon of heavy fuel oil. Alternatively, vessels can run on straight low sulfur marine gas oil (LSMGO), which has a sulfur content of less than 1 percent.
On the shore-side, blending down creates demand for on-highway diesel, and in the short run refiners cannot increase LSMGO output without reducing the output of ULSD. Come August, already tight diesel markets on the West Coast will tighten further, and prices have nowhere to go but up.
There are essentially two reasons why the MARPOL regulations, which govern both coasts, disproportionately impact the West Coast. The first is that the crude oil fed to refineries on the East Coast is 'sweeter' than crude sent to West Coast refineries. Consequently, less desulfurization is required.
The second is that far more Jones Act coastal shipping occurs on the West Coast. Nearly all goods consumed in Alaska are transported by barge or container ship from the Puget Sound. Most of these vessel strings will need to run LSMGO for the entire roundtrip voyage. Through this derived demand, MARPOL regulations will drive up West Coast diesel prices.
Despite all the puffery regarding U.S. energy independence, we operate in a global market where refineries have been unable to keep pace with the rapidly changing structure of liquid fuels demand—and the oil transport system has been unable to keep pace with the emerging geography of crude oil supply. And this latter fact brings us back to the Gulf between the two coasts.
Currently, the spread between WTI and Brent (the European crude stream of equivalent weight and sulfur content) is roughly $17 per barrel. This differential provides a significant incentive for anyone who is able to engage a physical arbitrage.
The pipeline operator, Enbridge, plans to capitalize on this differential by reversing the flow of crude through the Seaway Pipeline, which currently carries imported crude from the Gulf Coast to Cushing. Sometime this summer, oil will begin flowing from Cushing to the Gulf where it will be loaded onto tankers and shipped to higher priced markets. When this happens, the Cushing glut will be diminished, and the suppressed prices currently enjoyed by Gulf Coast and Midwest refineries will begin to erode.
As markets work their magic, we should expect the price of diesel and gasoline to rise: first on the coasts, and then in the gulf between.
March 2, 2012
Latest Whitepaper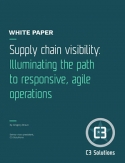 Supply Chain Visibility: Illuminating the Path to Responsive, Agile Operations
Supply chain visibility is not an end, but a tool. It is the means to achieving true supply chain effectiveness, agility and ultimately, corporate profitability.
Download Today!
From the December 2017 Logistics Management Magazine Issue
2018 Customs & Regulations Update:10 observations on the "digital trade transformation"
Moore on Pricing: Freight settlement and your TMS
View More From this Issue
Latest Webcast
2018 Rate Forecast
Join our panel of top oil and transportation analysts for an exclusive look at where rates are headed and the issues driving those rate increases over the coming year.
Register Today!