CeMAT extends international reach
The fair is expected to attract more than 1,000 exhibitors from 40 nations and occupy more than 1,291,600 square feet of exhibition space.

Latest News
State of Logistics 2016: Pursue mutual benefit
Cass Freight Index Report indicates the freight recession appears to be over
FedEx's Smith again leads push for twin 33s, truckload carriers again push back
New legislation calls for key changes to be made to NAFTA
DAT says spot market activity dips in January from December while posting annual gains
More News
Latest Resource
Advance your career with the fastest growing logistics certification – APICS CLTD
Thursday, March 2, 2017 | 2PM ET
All Resources
By
MMH Staff
·
March 26, 2014
This year, the CeMAT intralogistics trade fair will feature a significant increase in the number of exhibitors from abroad. CeMAT 2014 runs from May 19 to May 23, 2014, in Hannover. The fair is expected to attract more than 1,000 exhibitors from 40 nations and occupy more than 1,291,600 square feet of exhibition space.

"More than 60 percent of exhibitors will come from outside Germany. This represents a strong confirmation of the status of CeMAT as the world's leading intralogistics show," commented Dr. Andreas Gruchow, member of the Deutsche Messe Managing Board. "Given a CeMAT network that spans over 100 countries, we are extremely well placed to offer the global intralogistics industry the platform it needs for international business development," he added.

In addition to its core German exhibitors, CeMAT 2014 will feature a solid lineup of manufacturers from Belgium China, France, the UK, Italy, the Netherlands, Sweden and Spain. The show is also enjoying strong growth in exhibitor interest from the United States. "This year, the U.S. intralogistics industry association MHI is organizing a group pavilion at CeMAT for the first time. It will use the pavilion as a platform to showcase the impressive intralogistics capabilities of its member companies," said Gruchow. There will be more than 20 U.S. companies in all, including Battery Watering Technologies, Fortna, Orbis, Sackett Systems, Seegrid, the Kennedy Group, Power Designers USA, Deltrol, Autoquip and Rotacaster.

The lead theme and motto for CeMAT 2014 is "Smart – Integrated – Efficient." It envisions the intelligent, integrated management and control of all logistics processes across the entire production and supply chain. "Achieving this level of integration requires a secure and reliable technology matrix that incorporates a growing array of microprocessors, operating elements, software solutions and control systems. All of these things need to be integrated into a harmonious, high-performance and easily operated system in order to process and manage the huge volumes of data that will arise. The key is not to be seduced by technology for technology's sake, but rather to harness this complexity and ensure it yields tangible benefits and advantages. This is a key challenge for the intralogistics sector and indeed for industry in general. And that is why I welcome 'Smart – Integrated – Efficient' as the motto for this year's CeMAT. It carries a message that resonates far beyond our sector. And that message is that we offer intelligent, integrated and efficient solutions that are fully developed and implementation-ready," said Dr. Christoph Beumer, Chairman of the CeMAT Executive Committee and Managing Director of BEUMER Group GmbH & Co. KG.

CeMAT 2014 will be high-density information offering spanning halls 25, 26, 27 and 13, as well as Pavilions 32 to 35 on the open-air site under the EXPO canopy. It is structured into five main technology areas: Move & Lift, Store & Load, Pick & Pack, Logistics IT, and Manage & Service.

The exhibitors in the Move & Lift area will be showcasing the latest counterbalanced and reach trucks, high-rack lift trucks and hand pallet trucks as well as a full range of cranes, hoists and turnkey integrated solutions. The most innovative of these products will be honored at the IFOY (International Forklift Truck of the Year) Award prize ceremony, which will be held at CeMAT on May 19.

The IFOY Award will be presented in five categories. Eleven trucks and intralogistics solutions have already been nominated. Which of these will ultimately win will depend in large measure on the outcome of the IFOY Test, in which all nominated trucks and solutions will take part over a one-week period in March at the Hannover Exhibition Center. The winners will be selected by a jury of international trade journalists, who this year for the first time will able to base their decision on the "IFOY Innovation Check" expert report prepared by logistics experts from the Fraunhofer Institute for Material Flow and Logistics (Fraunhofer IML). The nominees in the four truck-related categories will be judged against a range of criteria, including innovative quality, technology, design, ergonomics and handling, safety, cost effectiveness and sustainability. The judging criteria for the entries in the Intralogistics Solutions category include newness/innovative quality, customer benefit, sustainability and marketability.

—The "Store & Load" display area is dedicated to the trend towards automated solutions in warehousing, loading and unloading technologies. The latest developments in these technology areas promise multiple benefits in terms of leaner, more efficient processes and energy savings.

—The Pick & Pack area is all about order-picking and packing solutions. It, too, will feature an array of impressive innovations, including the latest energy and material-efficient packing machines and technologies, such as more flexibly positionable gripper arms that eliminate labor-intensive
processes.

—The Logistics IT display area focuses on software applications that make logistics processes more transparent and hence help pinpoint the areas of the production and supply chain that offer scope for optimization. IT solutions for example are available which can generate efficiencies and cost savings by various means, such as keeping inventory levels to a minimum and eliminating empty runs.

—The Manage & Service display area centers around the transport logistic@CeMAT platform, a cooperative venture between Deutsche Messe and Messe München which got off to a flying start last year in the form of the CeMAT@transport logistics platform at the transport logistics trade fair in Munich. This year is the first time that the reciprocal event will be held at CeMAT. Staged in Hall 27, it will feature leading providers, such as DB Schenker, Kühne & Nagel, Seaports of Niedersachen, JadeWeserPort (Wilhelmshaven) and Logistikportal Niedersachsen. Gruchow: "The transport logistic@CeMAT platform is an excellent addition to the classic CeMAT portfolio. It enables us to showcase the logistics value chain at CeMAT in its entirety and hence deliver added value to our visitors."

Another new addition to the CeMAT lineup will for the first time give selected resellers of industrial trucks a platform where they can showcase used vehicles. "This year, we are making a prominently situated area on the open-air site available to resellers specializing in second-hand vehicles. This is an important market segment, particularly in terms of sustainability, and one that is growing rapidly," Gruchow explained.
April 2, 2014
Subscribe to Logistics Management Magazine!
Subscribe today. It's FREE!
Get timely insider information that you can use to better manage your entire logistics operation.
Start your FREE subscription today!
Latest Whitepaper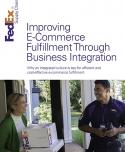 Improving E-Commerce Fulfillment Through Business Integration
As e-commerce continues to outpace conventional retail, companies of all sizes are finding ways to disrupt traditional business models and seize market share.
Download Today!
From the February 2017 Issue
Carrier Consolidation Keeps Shippers Guessing
Getting Value from the Cloud
View More From this Issue
Latest Webcast
Advance your career with the fastest growing logistics certification – APICS CLTD
During this webcast presenters will give an overview of APICS and the new Certified in Logistics, Transportation and Distribution (CLTD) designation. Learn how the CLTD program can help you stay on top of current trends and advance your career.
Register Today!