Few satisfied with federal government's latest HOS proposal
"Overly complex" rules up for public comment

John D. Schulz
·
December 27, 2010
The federal government, which has been tinkering with truck drivers' hours of service regulations for at least 11 years without exactly getting it right, is assured of going into 2011 with more unfinished HOS business.

The Federal Motor Carrier Safety Administration's (FMCSA) latest proposal, issued on Dec. 23, wasn't exactly what the trucking industry was looking for from its regulatory Santa Claus.

Instead of clarity, the industry got obfuscation.

Instead of resolving anything, the industry continues to be saddled with uncertainty.

Instead of easy-to-follow instructions, the industry got a laundry list of rules with exceptions, loopholes and other provisions that would make Rube Goldberg blush.

As American Trucking Associations' President and CEO Bill Graves phrased it, the proposal is "overly complex, chock full of unnecessary regulations on professional truck drivers and, at its core, would substantially reduce productivity."

That is, if one can understand them, a Herculean task in itself. In its attempt to finally get the hours of service rules "right" for professional truck drivers, the ATA says the Obama administration "missed the mark in many ways" with its proposal, delivered on Christmas Eve Eve, when most of the country was looking the other way.

First, what the government didn't do. It didn't precisely say how many hours a truck driver can drive in a day. The government said it "favors a 10-hour limit," a one-hour reduction from current rules, but did not mandate that. Instead, it called for a 60-day comment period before deciding that critical element of the regulations. It also held off on altering the current 60- or 70-hour workweek windows.

What it did do: FMCSA is proposing reducing the maximum daily working time window by an additional hour; and abolishing the 34-hour restart as it exists today. But even that is complicated.

The new rules would retain a portion of the "34-hour restart" provision by allowing drivers to restart their weekly clock by taking at least 34 consecutive hours off-duty. However, the restart provision would be revised by requiring that it include two consecutive off-duty periods from midnight to 6:00 a.m. Drivers would be allowed to use this restart only once during a 7-day period, essentially creating a mandatory "weekend."

Other proposed changes include:
-Decreasing daily "on-duty" time from a maximum 14 to 13 hours. Drivers would continue to be allowed to drive either 10 or 11 hours within a 14-hour "window."
-Requiring a minimum 30-minute break after a maximum of 7 hours driving or working in order for a driver to continue driving.
-Permitting the standard 14-hour window to be extended to 16 hours twice a week. (However, this does not mean an increase in on-duty or driving time, only that the driver would have more time to complete tasks.)
FMCSA punted on the most basic portion of the rule: how long can a truck driver drive in a day? Instead of issuing a hard-and-fast rule, FMCSA is seeking further public comment on whether daily driving time should be reduced from the current 11 hours to 10 hours. (However, FMCSA says it now favors a 10-hour limit.)

It is hoped FMCSA has a large folder for its comments, because chances are it's going to get an earful. When the rule was last changed in 2004, trucking companies spent millions retooling their networks and computer systems to accommodate the extra hour that was allowed in driving (even though the overall on-duty time shrunk, as the government began to count waiting and unloading time as time "on duty."

Now shippers and the industry face more delays (and cost) as the prospect of that 11th hour of driving appears to be on the cusp of being taken away. Companies that comply could face fines up to $2,750 per offense, with drivers subject to $1,000 fines, per offense.

The trucking industry is prepared to deluge FMCSA with statistics, data and other examples of how the 2004 rules are working for the benefit of shippers, industry and the public, in general. The industry is encouraging individual customers to also contact FMCSA during the 60-day comment period.

The trucking industry's safety performance while operating under the hours of service rules in place since 2004 "has been remarkable" Graves said. Crash-related fatalities are down 33 percent from the 2003 level. Also, fatality and injury crash rates are at their lowest level since the DOT began keeping records, Graves added, saying: "Trucking's never been safer."

Then Graves, in a statement, got to the nub of the issue:

"When viewed against trucking's sterling safety record," said Graves, "it's plain that the Obama Administration's willingness to break something that's not broken likely has everything to do with politics and little or nothing to do with highway safety or driver health."

The changes were brought as a result of lawsuits filed by the left-leaning public interest group, Public Citizen, and the Teamsters union, another long-time ally of the Democratic Party. At press time, neither had issued a statement about the latest HOS proposal.

"Hard-pressed to argue safety benefits of further restricting truck driver productivity, the Obama Administration is trying to justify its proposed changes as needed to improve driver health," ATA said in a statement.

ATA said the Obama administration's "big problem" is that the government appears to be contradicting itself. FMCSA has consistently gone on record over the last five 5 years, with supporting information and data, stating the current rules are having no negative effect on driver health.

For instance, according to data from the American Transportation Research Institute (ATRI), an analysis from the DOT recordable collisions by hour driving from the 2004 (when the 11th hour of driving was added) to 2009 showed collision rates fell by 11.7 percent for all fleets, by 10.6 percent for truckload fleets and by 8.5 percent for LTL fleets.

FMCSA previously found that the 11th hour of driving time does not increase driver weekly hours; is used for flexibility purposes and does not increase driver-fatigue risks, according to the ATA. Eliminating that 11th hour would promote more aggressive driving (to meet time constraints) and lead to placing tens of thousands of less experienced drivers on the road who would pose greater crash risks, the ATA says.

With respect to the 34 hour restart, FMCSA has correctly found in the past that requiring two nights of sleep would disrupt drivers' circadian cycle and add to more daytime driving in congested periods, again increasing crashes. FMCSA's reversal on these crucial matters is hard to explain in other than political terms.

The changes proposed "will be enormously expensive for trucking and the economy," said ATA's Graves. FMCSA estimated, just two years ago, costs of over $2.2 billion if the daily drive time was reduced by 1 hour and the restart provision was significantly changed. In fact, just two years ago, FMCSA concluded that "eliminating the 11th hour is unlikely to be cost effective" under any reasonable set of circumstances.

"This proposal includes even more restrictions than what FMCSA previously considered" said Graves, adding ATA would be evaluating FMCSA's proposed costs and benefits "very carefully."

If the 11th hour of driving were eliminated, it is very likely ATA and other trucking interests would challenge the ruling in court, officials strongly hinted.

"These proposed new hours of service rules keep daily driving time at 11 hours—for now—reflecting the excellent safety record achieved by truck drivers over the past seven years," said John Hausladen, president of the Minnesota Trucking Associations. "The federal government couldn't just ignore its own data, which shows that truck-involved fatalities dropping 33 percent, and the number of injuries declining 39 percent since 2003."

The government's latest proposal also includes a host of additional restrictions. It more specifically defines when drivers must take their rest, and how they can use their non-driving on-duty time for tasks such as loading and unloading.

"Certain aspects of the rule appear to reduce overall daily work time available to truck drivers, which concerns us," Hausladen said. "Lost hours have a huge ripple effect, including slower deliveries, reduced take-home pay for drivers and lost revenue for trucking companies hoping to expand or replacing older equipment."

The key issue, however, appears to be what the government will eventually decide on that 11th hour of driving, and what the ripple effects and other unintended consequences would mean for the fragile state of the overall U.S. economy.

"Any further loss of truck driver hours will drive up costs for consumers and be a drag on the economy when it can ill afford it," Minnesota's Hausladen said.

The Owner-Operator Independent Drivers Association (OOIDA), which often clashes with ATA on driver issues, said it was studying the government's latest proposal.

"I can tell you that to make additional safety gains, the next hours of service rule must be more flexible to allow drivers to sleep when they're tired and work when they're rested," said OOIDA Executive Vice President Todd Spencer in a statement. "The rules must encourage truck drivers to get off the road when they are tired, and must not penalize them for doing so."
Spencer added that shippers and their requirements for loads and deliveries play a huge role in highway safety, as well.

"Many truck drivers spend between 30-40 hours per week waiting at loading docks," Spencer said. "Everyone involved in transportation, from shippers to receivers, has a responsibility for its role in keeping highways safe. And we won't have optimum safety until others in the supply chain truly act responsibly."
September 29, 2011
About the Author
John D. Schulz John D. Schulz has been a transportation journalist for more than 20 years, specializing in the trucking industry. John is on a first-name basis with scores of top-level trucking executives who are able to give shippers their latest insights on the industry on a regular basis.
Subscribe to Logistics Management Magazine!
Subscribe today. It's FREE!
Get timely insider information that you can use to better manage your entire logistics operation.
Start your FREE subscription today!
Latest Whitepaper
B2B Sellers Prefer a Unified Approach for Ecommerce
A new study from Forrester Consulting, commissioned by NetSuite, found that many midmarket, B2B sellers say their ecommerce solutions have contributed to their growth in sales, new customer acquisitions and improved customer relationships.
Download Today!
From the August 2016 Issue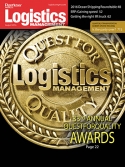 Megatrends in ocean freight
Ocean Cargo Roundtable: What's in store for 2017?
View More From this Issue
Latest Webcast
Getting the most out of your 3PL relationship
Join Evan Armstrong, president of Armstrong & Associates, as he explains how creating a balanced portfolio of "Top 50" global and domestic partners can maximize efficiency and mitigate risk.
Register Today!