Game Changing Trends in Supply Chai: Part III
The climate has changed but the adversarial overtones that have characterized many supply chain collaborations will never entirely disappear.

By
Wendy Tate, Ph.D. Chad Autry, Ph.D. University of Tennessee
·
March 15, 2013
In this third segment in our series on game changing trends in supply chain we review in more depth three of the ten trends:
• Vertical integration to virtual integration
• Adversarial relationship to supplier collaboration
Game Changing Trend: Vertical integration to Virtual Integration
In the past decade plus, firms have continued to move to more of a virtual integration model with more third party materials and service suppliers. And they have moved gradually away from the old vertical integration models.
In addition, the outsourcing trend continues to advance due to the many problems of being vertically integrated, which include the considerable capital investment required, a highly complex organizational structure, and the lack of an available and dedicated workforce. Vertical integration may also inhibit innovation and other market opportunities for an organization.
The Benefits of Virtual Integration
Reliance on an outsourced third party relationship with material and services suppliers helps to overcome the financial burden of capital investment and opens access to a larger pool of skilled labor and management. The benefits of virtual integration include the potential for reduced price and labor cost, increased knowledge, and access to a larger customer base. Virtual integration can also introduce risk, supply chain disruption and fluctuating costs and quality. Virtual integration may also require an investment in supply chain relationships that causes a shift in power and a loss of control.
Supply Chain Disruption are Common
Natural disasters like the 2011 earthquakes in Japan or the floods in Thailand are predictable in the sense that Japan is a volcanic region and Thailand is prone to flooding; but the scale of the 2011 events proved more extreme than most risk managers could account for. The Honda factory in central Thailand was under fifteen feet of water at the high point of the flooding. This incident was minor compared to the March 11 earthquake, tsunami, and subsequent nuclear crisis that engulfed Japan. Toyota suspended production of the Prius in Japan after this event, losing 140,000 badly needed vehicles.
Hundreds of other companies faced major disruptions to their supply chains from this disaster, some lasting through the end of the year. For instance, Boeing experienced major delays as a result of the tsunami, because the impacted Japanese suppliers produce 35% of the Boeing 787 components, and 20% of the Boeing 777 components. General Motors had to halt production in several plants due to shortages from Japanese suppliers. Honda faced severe problems because 113 of its suppliers were located in the affected region of Japan. These twin disasters in Asia in 2011 produced an estimated $240 billion in losses.
Given events like this, many firms have reached a conclusion that a balance of the two extremes is the most logical solution Rather than outsource everything, they outsource and offshore services and materials in the geographic places that make the most sense from both a total cost, total risk, and from a customer value perspective. They now understand that effective virtual integration requires the cultivation of upstream and downstream relationships across many different geographies to mitigate the risk of increasing labor and investment costs, and continuing problems with natural and unexpected disasters.

Virtual Integration of Goods: Outsourcing
Over the past decade plus, there have been many reports of manufacturing being outsourced, offshored, near-shored, and most recently re-shored. But for the reasons enumerated above, companies are taking a different view and trying to understand the "right shore" or the right place for their supplies of manufactured goods. Yet, the pull of extremely low labor costs and relatively low transportation costs continues to drive many companies to consider manufacturing and outsourcing to suppliers located in other regions of the world including Africa, South America, Middle East, and India.
Virtual Integration of Services
At the turn of the century, there was a significant trend in services or knowledge process outsourcing and offshoring. Many staff and design activities were being outsourced to consultants. Information design, collection, maintenance, and analysis were outsourced to experts in information integration. Customer contact centers, R&D, human resource and even purchasing functions were outsourced to areas with a pool of skilled laborers that were willing to contribute to necessary cost reduction efforts. Technology integration played a key role in virtually integrating these services suppliers. These trends for outsourced services continue, but have slowed somewhat for many of the reasons stated above.
Current Trends and Implications
Will the outsourcing trend actually reverse in the future? There is evidence that suggests that times may be changing and companies are bringing both manufacturing and service production back home. The question that executives are asking today is, "What makes sense for our organization? What are the key considerations in making a location decision? Will there be any new preferred offshore locations, or are some manufacturing jobs and suppliers starting to move closer to the geographic regions where customers/consumers are located?"
The 2008-2010 Great Recession provided a major motivation for companies to re-evaluate their global supply chain strategies. Contributing to this assessment was the rapidly rising cost of labor in emerging economies, high oil prices, increasing transportation costs, and a growing awareness of global risks. Beyond higher total cost and increased risk, many firms cite intellectual property erosion and product quality problems as the underlying reason that some offshore regions are falling out of favor as the low-cost manufacturing locations of choice. Other factors influencing the decision to move closer to home include increased supervision and training on manufacturing and inspections, higher local security needs, and extra expenses associated with travel and telecommunications. According to recent research, 56% of offshoring companies are experiencing unexpected increases in total landed costs.
Companies are re-examining the location decision of manufacturing and suppliers in an effort to expand beyond cost, and instead considering risk combined with a total cost perspectives. The cost of moving to a different geography is an important consideration in choosing a manufacturing and outsourcing location, the decision is being approached with a longer time horizon, consideration of more strategic issues, assessing and monitoring competition and listening to the voice of the customer.
Early in December of 2012, Apple announced that it was going to invest $100 million to contract with third parties to make Mac's in the United States. America is Apple's largest market and being geographically close to markets can help responsiveness. Also, moving some production out of China will help Apple to diversify sourcing risks: natural events, political events, protectionism, rising wages, and others. Earlier this year General Electric started to manufacture products in the U.S., after 50 years of inactivity in the facilities. The move was largely driven by increased oil prices, decreases in the cost of electricity and natural gas, increased wages in China, increased labor productivity and a change in priorities for American unions.
Vertical and virtual integration decisions tend to follow a very unpredictable pattern. As the length of supply chain continues to fluctuate, relationship management, performance measurement, and an in-depth understanding of the total value creation process will become paramount capabilities for success. Value can only be delivered if products and services are in the right place, at the right time, at the right price. This is one trend that may reverse itself in the future.
Game Changing Trend: Adversarial to Collaborative Relationships
Progress toward strategic collaboration within supply chain relationships has proven difficult for many companies, particularly if it requires changes to organizational culture and structure. Significant potential for leveraging collaborative behavior further exists, if firms are able to improve on a limited set of identified behavioral drivers, collaborative behavior can be leveraged further.
Our best practice model indicates three initial drivers to facilitate a move toward better collaborative relationships. First, both parties need to address collaboration's potentially negative aspects. Procedures should be established early to resolve potential disputes, unforeseen issues, and the potential dissolution of a dysfunctional or no longer useful relationship. Second, to share risks and rewards, both parties must develop supporting organizational and inter-organizational structures. This includes work rules, leadership roles, and guidelines that both parties will follow about how responsibilities, risks and rewards will be shared. Third, mutual trust must be encouraged for strategic and operational integration. This includes establishing shared values and vision. In that shared vision, both must prioritize long-term viability to serve the end customer even when that requires a sacrifice of optimal short-term results. Considered together, these three groupings of relational aspects were critical to the success of collaborative ventures across businesses. Over the last decade they helped move collaboration beyond that initial low score.
Supply Chain Collaboration – Additional Key Success Factors
As the discipline of supply chain management has evolved over the past decade, three more specific drivers have emerged. Collaboration commitment, goal congruency, and integrated information sharing have been identified as critically important. Each of these success factors is explained below with current examples to depict best practices. By focusing on these drivers, businesses can develop superior connections with key partners. That ultimately leads to a competitive advantage with greater efficiencies and market effectiveness.
Collaboration Commitment

For collaboration between two supply chain firms to succeed, mutual trust remains essential. However, simply trusting the partner to act as expected is risky. External forces, internal interests or a lack of commitment to the venture may disrupt the best collaborative intentions. A senior manager may be unwilling to underwrite a project even though the day-to-day participants are heavily invested. Inadvertently or purposefully, firms can violate the agreement.
For example, in the mid-2000's Proctor and Gamble initiated an automatic inventory replenishment project with Kmart stores to reduce the total cost for selling baby products. At the time, those products represented a critical source of profitability for P&G. P&G invested significantly in the program. However, Kmart managers never really "bought into" the project. They believed it was too tactical to yield major transformation, so after an only marginally successful early experience, its attention to the project waned. With Kmart's low expectations, the collaborative venture underperformed. But P&G learned from the experience and established successful inventory replenishment arrangements with Walmart later.
Goal Congruency
Rather than simply establish shared values and visions, collaborating parties need to share desired outcomes as well. Establishing common goals appears to be a relatively straightforward task, but the "devil is in the details." Sometimes, one side assumes performance specifics that are not covered by the formal agreement. Or the collaborating parties establish common goals, but prioritize them differently. One party's goals may change as the collaboration develops, but the other wishes to stick with the original agreement until the venture is complete. In each of these instances the parties disagree about the desired collaboration outcomes. That lack of alignment can lead managers to adopt a "what's in it for me" orientation toward the collaboration. Then the desired collective outcomes suffer.
On the other hand, clear goal and outcome congruency clearly leads to mutual benefits. When DuPont Chemical sought to become a more sustainable company in the late 2000's, its collaborative venture with Exel Logistics began with several meetings designed to create goal congruency and define the "mutual win" space. At these meetings, high-level executives from both companies openly discussed the best way to significantly reduce DuPont's 81 million pound annual landfill volume. With a deep understanding of DuPont's ambitions, Exel crafted solutions such as composting, reutilization, and waste-to-energy. These reduced landfill volume more than 20%, and reduced CO2 emissions by nearly a million metric tons within five years.
Integrated Information Sharing
Rather than simply create generally supportive organizational and inter-organizational structures, collaborating firms need to integrate technology to share real-time information. The value of firm-to-firm information sharing in facilitating supply chain integration is well established. As technology has become easier to acquire and develop, it has become a necessary, but insufficient, criterion for supply chain success. Accessing technology does not necessarily create value. Partners must analyze the data for opportunities and threats to shared goals, then pre-emptively solve problems. An information sharing culture must be developed to support the technology. A venture is likely to underperform if users on both (all) sides are unwilling to enable openness and transparency via the selected technological solution.
Summary
Firms are establishing fewer adversarial and more collaborative relationships than they were a decade ago. The climate has changed but the adversarial overtones that have characterized many supply chain collaborations will never entirely disappear. By considering collaboration commitment, goal congruency, and integrated information sharing along with earlier identified success factors, firms can develop mutually beneficial, longer-term performance outcomes more quickly.
March 15, 2013
About the Author
Patrick Burnson, Executive Editor Patrick Burnson is executive editor for
Logistics Management
and
Supply Chain Management Review
magazines and web sites. Patrick is a widely-published writer and editor who has spent most of his career covering international trade, global logistics, and supply chain management. He lives and works in San Francisco, providing readers with a Pacific Rim perspective on industry trends and forecasts. You can reach him directly at
[email protected]
Subscribe to Logistics Management Magazine!
Subscribe today. It's FREE!
Get timely insider information that you can use to better manage your entire logistics operation.
Start your FREE subscription today!
Latest Whitepaper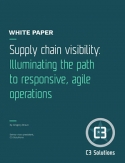 Supply Chain Visibility: Illuminating the Path to Responsive, Agile Operations
Supply chain visibility is not an end, but a tool. It is the means to achieving true supply chain effectiveness, agility and ultimately, corporate profitability.
Download Today!
From the December 2017 Logistics Management Magazine Issue
2018 Customs & Regulations Update:10 observations on the "digital trade transformation"
Moore on Pricing: Freight settlement and your TMS
View More From this Issue
Latest Webcast
2018 Rate Forecast
Join our panel of top oil and transportation analysts for an exclusive look at where rates are headed and the issues driving those rate increases over the coming year.
Register Today!