Give the Obama administration a break
Despite the beating the Obama Administration has taken on its trade policies, one fact is indisputable: Exports of U.S. goods and services grew 16.6 percent in calendar year 2010

Patrick Burnson, Executive Editor
·
February 15, 2011
Despite the beating the Obama Administration has taken on its trade policies, one fact is indisputable: Exports of U.S. goods and services grew 16.6 percent in calendar year 2010.
According to the Bureau of Economic Analysis (BEA) of the U.S. Commerce Department, U.S. exports totaled about $1.8 trillion for calendar year 2010, up 16.6 percent from 2009 when they totaled about $1.57 trillion. Exports for December totaled $163 billion, the highest monthly figure since July 2008.
In another report of growing U.S. exports, the Export-Import Bank of the United States (Ex-Im Bank) posted strong first-quarter results for Fiscal Year 2011, with small business authorization volume in dollars jumping 22.46 percent over the same quarter of 2010.
"We are delighted with the continuing growth trend. The United States remains on track to meet President Obama's goal of doubling exports and supporting two million American jobs by 2015," said Ex-Im Bank Chairman and President Fred P. Hochberg.
Among the major export markets (defined as markets averaging at least $500 million per month in imports of U.S. goods), the largest percentage increases in U.S. goods purchases occurred in Turkey (48.7 percent), Panama (41.4 percent), Taiwan (40.8 percent), Peru (37.2 percent), Indonesia (35.9 percent), Korea (35.8 percent, Brazil (35.5 percent), Malaysia (34.4 percent), Argentina (33.1 percent), and China (32.2 percent).
In addition, Ex-Im Bank reported it authorized an estimated $8 billion in total authorizations for the first quarter of Fiscal Year 2011 (October, November and December, 2010), supporting nearly $9.3 billion in export sales and 66,000 American jobs in communities across the country.
And the news gets better:
"We expect a higher overall authorization rate for Fiscal Year 2011 than in fiscal 2010," Hochberg said.

For more latest news and insight revolving around global trade and logistics services, visit our Critical Topics page on Global Trade.
February 16, 2011
Latest Whitepaper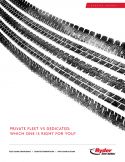 Private Fleet vs. Dedicated: Which one is right for you?
Having the right fleet for your business can give you an advantage over the competition and lower transportation costs.
Download Today!
From the April 2017 Issue
Information Management: Wearables come in for a refit
2017 Air Cargo Roundtable: Positive Outlook Driven by New Demand
View More From this Issue
Latest Webcast
Maximize Your LTL Driver Adherence with Real-time Feedback
This webinar shows how companies are using real-time performance data to optimize the scheduling of their city fleets, as well as the routing of their standard, accelerated and time-critical shipments.
Register Today!