Globalization gets Hollywood Treatment
One day after the Academy Awards, a new kind of corporate movie makes its debut

Patrick Burnson, Executive Editor
·
February 27, 2012
Damco, one of the world's leading logistics companies, has launched a short movie to showcase how global logistics work. The timing is interesting too, for Damco represents the only bright spot in Maersk's recent financial report.
According to spokesmen, this movie is designed to provide an overview of emerging markets and their complex supply chains.
While for our readers, the film may be simplistic, a mainstream audience should be moved.
The overall objective of the movie is to show that hardware and services are matched only by the competency and trustworthiness of motivated members of the workforce.
The production of the film posed some significant logistical challenges, too, as chronicled below.
Go to www.wearemaersk.com and find Damco under "Our films" (will require Abobe Flash Player)
The Damco movie has been developed as part of the A.P. Moller - Maersk Group's production of a series of theme and business unit movies that showcase the company's image.
Here are some facts about the total movie production:
Three film crews went on a three-month journey spanning five continents.

The three film crews were made up of 21 people, 11 nationalities from eight different companies

Footage follows the voyage of goods across the world from Brazil to Berlin, China to the US and South Africa to Germany.

Modes of transportation: Bicycle, car, truck, train, bus, container vessels, supply vessel, fishing boat, dinghy, pilot boat, tanker, tractor, subway and airplane

Hours spent offshore: 2,448

Helicopter hours: 96 hours above New York, Brazil, South Africa, Rotterdam, North Sea

Shot in 20 countries: Belgium, Brazil, China, Denmark, France, Germany, Ghana, India, Kazakhstan, Liberia, The Netherlands, Nigeria, Norway, South Africa, Sweden, Thailand, United Kingdom, United States, Vietnam, and Qatar.

About 40 cities including Rio de Janeiro, New York, San Francisco, Shanghai, Ho Chi Minh City and Longyearbyen in Svalbard, Norway
February 28, 2012
Latest Whitepaper
B2B Sellers Prefer a Unified Approach for Ecommerce
A new study from Forrester Consulting, commissioned by NetSuite, found that many midmarket, B2B sellers say their ecommerce solutions have contributed to their growth in sales, new customer acquisitions and improved customer relationships.
Download Today!
From the August 2016 Issue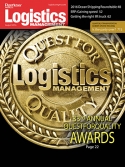 Megatrends in ocean freight
Ocean Cargo Roundtable: What's in store for 2017?
View More From this Issue
Latest Webcast
Getting the most out of your 3PL relationship
Join Evan Armstrong, president of Armstrong & Associates, as he explains how creating a balanced portfolio of "Top 50" global and domestic partners can maximize efficiency and mitigate risk.
Register Today!