Manufacturers advised to change logistics strategies
In his address before the Conveyor Equipment Manufacturers Association's 78th Annual Meeting in Palm Springs California last week, Richard Thompson said the Panama Canal Expansion will be "transformational."

Patrick Burnson, Executive Editor
·
March 10, 2011
A prominent industry analyst maintains that several key infrastructural events will shape the global supply chain in the coming years.
In his address before the Conveyor Equipment Manufacturers Association's (CEMA) 78th Annual Meeting in Palm Springs California last week, Richard Thompson said the Panama Canal Expansion will be "transformational."
"It will have huge consequences for U.S. West Coast seaports," he said Thompson, executive vice president, global supply chain practice for Jones Lang LaSalle in Chicago. "And it will mean many of you will be shipping and sourcing through alternative ports in the East and Gulf."
Indeed, Thompson maintained that Panama has aspirations to become a "logistical hub" as it completes its widening process. That means more traffic for gateways like Charleston, Savannah, and Miami.
"We can already see companies like Wal-Mart moving part of its supply chain away from LA/Long Beach," he said. "The concentration of Asian imports will not be as intense there has it has been in the past."
Thompson was the featured speaker at CEMA's "global supply chain" session. CEMA is a small but highly influential shipper association comprising the most prominent multinational companies in the conveyor equipment sector – a group that literally moves the world's goods. Although his remarks provided a general overview of the intermodal arena, he stressed that private investment in U.S. infrastructure would continue to inform shipper decisions.
"While we all wait for the government to spend money repairing our highways and roads, rail providers are using money from investors like Warren Buffet and Bill Gates to get the job done," he said.
Buffet, who owns BNSF, and Microsoft founder Gates, who owns part of CN, are just two examples of "visionary" businessmen who see the future in rail.
"Given all the energy and regulatory issues related to trucking, the smart money is on direct rail service or intermodal in the future," said Thompson. "All the major U.S. retailers are reconfiguring their supply chains to be aligned with rail hubs now."
For related stories click here.
March 11, 2011
Latest Whitepaper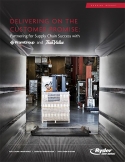 Partnering for Supply Chain Success with FRAM Group and True Value
Disruptive forces such as new technology, changing regulations, talent shortages, and infrastructure bottlenecks continue to be the prime focus for supply chain executives and managers.
Download Today!
From the March 2017 Issue
5 Supply Chain Trends Happening Now
2017 Warehouse/DC Equipment Survey: Investment up as service pressures rise
View More From this Issue
Latest Webcast
2017 Trucking Regulations & Infrastructure Update
In this session our panel brings shippers up to date on the state of transportation regulations. Discussion will revolve around regulatory reform, aspects of the federal highway bill and what the transportation landscape looks like in the early days of the Trump administration.
Register Today!