Ocean shipping: POLA/POLB see strong June volumes
Even though year-over-year comparisons were relatively easy, June volumes at the Ports of Los Angeles (POLA) and the Port of Long Beach (POLB) turned in strong performances.

Jeff Berman, Group News Editor
·
July 15, 2010
Even though year-over-year comparisons were relatively easy, June volumes at the Ports of Los Angeles (POLA) and the Port of Long Beach (POLB) turned in strong performances.
POLB imports, which are primarily comprised of consumer goods, hit 262,053 twenty-foot equivalent units (TEU) in June for a 27.0 percent annual gain. And exports, which are primarily comprised of raw materials, were up 1.8 percent to 116,112 TEU. Total POLB shipments-at 520,100 TEU-were up 25.8 percent compared to June 2009.
At the POLA imports-at 371,888 TEU-were up 32.26 percent year-over-year, and exports-at 154,558 TEU-were up 12.64 percent year-over-year. Total POLA shipments-at 526,446-were up 25.83 percent year-over-year.
In an interview with LM, POLA Director of Communications Phillip Sanfield said June was another solid month and added that for the first six months of 2009, the POLA is up 14.99 percent—at 3,663,699 TEU—year-over-year.
"We were down about 14 percent [YTD] at the same time last year," said Sanfield.
"But the first have of this year has been solid, with June being exceptionally strong. It was the strongest June we have ever seen in terms of volume, including the heyday of 2006."
While these numbers are encouraging, Sanfield said they must be viewed cautiously, as some of these volumes could be due to inventory replenishment. He added that POLA volumes have been up for four consecutive months heading into Peak Season, which has been dormant in recent years.
As for Peak Season, Sanfield is cautiously optimistic, noting there is likely to at least be some type of peak activity compared to last year, although how volumes grow over the next 90 days remains to be seen.
"We are seeing the month-to-month growth and hearing the same signals about retailers being cautious and employment numbers, housing, and credit….and that the second half of the year may not be as robust as the first half."
The strong June performance at both ports represents an improving global trade environment. This was reflected in numbers released this week by the United States Department of Commerce, which revealed U.S. exports in May hit $152.3 billion, which was $3.5 billion more than April.
POLA Assistant Director of Communications Art Wong said in a recent interview that while there have been improvements in exports and imports in recent months, these numbers need to be viewed with caution.
"The numbers clearly show the worst is behind us-with the [trough] being 2009-and comparing this year with the same period last year, it is easy to show a little bit of improvement and make it look dramatic," said Wong. "But it is not clear how much stronger the economy is…this year."
July 19, 2010
Latest Whitepaper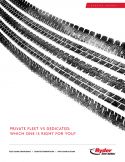 Private Fleet vs. Dedicated: Which one is right for you?
Having the right fleet for your business can give you an advantage over the competition and lower transportation costs.
Download Today!
From the April 2017 Issue
Information Management: Wearables come in for a refit
2017 Air Cargo Roundtable: Positive Outlook Driven by New Demand
View More From this Issue
Latest Webcast
Maximize Your LTL Driver Adherence with Real-time Feedback
This webinar shows how companies are using real-time performance data to optimize the scheduling of their city fleets, as well as the routing of their standard, accelerated and time-critical shipments.
Register Today!