Patagonia's flexible and efficient material handling
Patagonia's expansion project makes the most of handling cartons, pallets and parcels.

Latest News
Maersk Line's acquisition of Hamburg Süd gets sales and purchase agreement approval
AAR reports mixed carload and intermodal volumes for week ending April 22
BTS reports February gain in U.S.-NAFTA trade
U.S. ports may face difficult financing decisions, says Fitch Ratings
project44 rolls out full truckload and LTL API services
More News
Latest Resource
Private Fleet vs. Dedicated: Which one is right for you?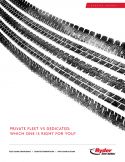 Having the right fleet for your business can give you an advantage over the competition and lower transportation costs.
All Resources
By
Bob Trebilcock
·
January 27, 2011
Patagonia, Inc., Reno, Nevada
Products: Outdoor clothing for outdoor sports
Square footage: 342,000 sq ft., including a 171,000 sq ft addition
Throughput: 30,000 units per day.
Employees: 55
Shifts: 1 shift, 5 days per week.
Without question, green was an important consideration in the design of Patagonia's new distribution space in Reno. But so was flexible and efficient material handling. The automated materials handling systems are designed to sort mailing bags separately from cartons, and to sort product by the method of shipment. The design eliminated the manual handling and sortation of orders.
Receiving: When a shipment leaves a factory for Patagonia, the contract manufacturer forwards an e-mail or fax notification of the shipment. That information is entered into the retailer's host system, which then creates bar coded labels in advance of the arrival of the shipment. When the shipment hits the receiving dock, cases are unloaded onto extendable conveyors and then palletized in the receiving area. Once the cartons have been palletized, the barcode labels are applied to the cases and scanned to marry the contents of the carton to the pallet. Pallets are now ready for putaway.
Putaway: Pallet loads are put away into very-narrow-aisle racking in the reserve storage area. Each storage location can hold up to three cases. Cases are randomly stored, based on available locations. The lift truck operator scans a bar code label on the case and on the rack to confirm the storage location in the warehouse management system (WMS). Shipments that were inspected by Patagonia at the factory are immediately available for order fulfillment in the WMS. A small sampling of product from shipments that weren't inspected at the factory is sent to the quality assurance area. That inventory is locked – or unavailable– in the WMS until the sample passes inspection.
Picking: While many retailers pre-allocate inventory for crossdocking, Patagonia waits until inventory passes inspection and is received in the WMS to make allocation decisions across the retailer's business divisions. Once inventory has been allocated, orders are released into the WMS. Order pickers receive pick labels that are applied to each unit picked. The units are placed on a takeaway conveyor. Full case orders are picked from the reserve storage area and are delivered directly to the shipping area by a lift truck. Individual items are picked from flow racks and static shelving in the pick area. Items picked in the flow rack area are placed on a belt conveyor. Items picked from the static shelving area are picked to a cart. Once the cart is full, the items from the cart are placed on a belt conveyor. In both instances, the items are delivered to a tilt tray sortation system. Prior to induction, an overhead scanner reads a barcode on a picking label. Once the item is inducted into the tilt tray sortation system, it is dropped to an assigned packing chute where all the items for that order will be packed. Although the units for an individual order may come from several picking areas, one packer will organize that order.
Pack and ship: Each packing station is served by three chutes. A packer scans a barcode for an order as well as a pick label that accompanies the items in the chute. Once all of the units for an order have been scanned, the packer scans a bar code label to end the order. At that point, the system prints a shipping label for the carton and if necessary a carton content label. Once the shipping labels have been applied to a shipping carton or mailing pouch, they are placed one a takeaway conveyor. After they are weighed on an inline scale, an overhead scanner reads a ship via barcode and a divert code on a shipping label. Once the system knows how the package is going to be shipped, a pop-up diverter on the shipping sorter sends it to another conveyor that will deliver it to the right shipping area for carton or parcel shipping.

Sustainable distribution at Patagonia
Patagonia incorporated energy efficient materials handling and recycled building materials into the design of a 171,000 square foot addition to its Reno distribution center.
January 27, 2011
About the Author
Bob Trebilcock Bob Trebilcock, editorial director, has covered materials handling, technology, logistics and supply chain topics for nearly 30 years. In addition to Supply Chain Management Review, he is also Executive Editor of Modern Materials Handling. A graduate of Bowling Green State University, Trebilcock lives in Keene, NH. He can be reached at 603-357-0484.
Subscribe to Logistics Management Magazine!
Subscribe today. It's FREE!
Get timely insider information that you can use to better manage your entire logistics operation.
Start your FREE subscription today!
Latest Whitepaper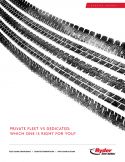 Private Fleet vs. Dedicated: Which one is right for you?
Having the right fleet for your business can give you an advantage over the competition and lower transportation costs.
Download Today!
From the April 2017 Issue
Information Management: Wearables come in for a refit
2017 Air Cargo Roundtable: Positive Outlook Driven by New Demand
View More From this Issue
Latest Webcast
Maximize Your LTL Driver Adherence with Real-time Feedback
This webinar shows how companies are using real-time performance data to optimize the scheduling of their city fleets, as well as the routing of their standard, accelerated and time-critical shipments.
Register Today!