RFID blooms in Holland for FloraHolland
At FloraHolland, RFID technology moves flowers from the receiving docks to storage areas.

Latest News
Major changes in air cargo freighter market driven by e-commerce, reports consultancy
Maersk Line's acquisition of Hamburg Süd gets sales and purchase agreement approval
AAR reports mixed carload and intermodal volumes for week ending April 22
BTS reports February gain in U.S.-NAFTA trade
U.S. ports may face difficult financing decisions, says Fitch Ratings
More News
Latest Resource
Private Fleet vs. Dedicated: Which one is right for you?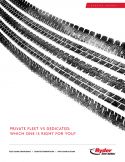 Having the right fleet for your business can give you an advantage over the competition and lower transportation costs.
All Resources
By
Bob Trebilcock
·
January 27, 2011
This story first appeared in the February 2007 issue of Modern Materials Handling
Flowers aren't all that bloom in Holland. At a 1 million square foot distribution center and auction site in Naaldwijk, a new RFID system (GlobeRanger, 972-744-9977, http://www.globeranger.com/) is coming up roses for FloraHolland, a cooperative of Dutch flower growers.
In the cut flower business, freshness is everything. How long a load of flowers sit on the dock before being delivered to a cooled storage area can determine how much those flowers bring on FloraHolland's auction floor.
For that reason, RFID reader antennas installed at 67 strategic locations are used to track RFID-enabled carts, or trolleys, as they travel between the receiving dock and storage areas. The system not only tracks the location of the trolleys, but also how long it takes the trolleys to get from the dock to a climate-controlled storage area.
"The system is giving us more insight into the efficiency of our logistics processes inside the distribution center," says Wilrie Multem, an IT consultant at FloraHolland. "That helps us reduce the time it takes to solve an error if flowers have been put in the wrong location or sat on the dock too long."
The initial application is saving FloraHolland nearly $200,000 per year in the amount of time spent looking for trolleys. What's more, reducing that time results in fresher flowers and a higher price for FloraHolland's members at auction.
Adding IT
Flowers are big business in the Netherlands, the world's largest producer of cut flowers and plants, which accounts for more than half of the world's trade.
Founded nearly 90 years ago, FloraHolland is the market leader, counting thousands of cooperative members and five auction locations serving 4,500 flower buyers. The cooperative reports more than $2.5 billion in annual revenue. Auctions of fresh flowers are held five days a week and cater to buyers from Europe, Africa, Israel, South America and Asia. More than 75% of the flowers sold are exported. (Read How RFID works at FloraHolland)
The Naaldwijk facility, one of the largest distribution centers in Europe, handles more than 10,000 trolleys of flowers every day from growers located within 100 miles of the auction site.
According to Multem, FloraHolland has been experimenting with information technology to speed up operations since 1990. Then, the cooperative implemented a system that combined electronic advance ship notifications (ASN) with bar codes.
Once a trolley was loaded, growers printed out a packing slip that included a list of everything on the cart plus a bar code that could be scanned at the distribution center. That same information was sent as an EDI message to the distribution center before the shipment arrived. "When we scanned the bar code on the packing list at the dock, we could make a link between the electronic information and the physical product," says Multem.
Once the trolley was received, FloraHolland's operators graded the flowers based on quality and freshness. That information was manually entered into the system on a touch screen computer.
That system is still in place today at the receiving dock.
Implementing RFID
While bar codes sped up the receiving of the trolleys, tracking trolleys after they left the receiving dock required a manual bar code scan at important points in the distribution center. "Each manual scan took about ten seconds," says Multem. "With 10,000 trolleys a day, that added up."
In the late 1990's, FloraHolland began experimenting with RFID tags to automatically identify trolleys when they arrived at the dock and in the facility. The system worked. But with more than 150,000 trolleys in the pool, the cost of tags in the 1990's was too prohibitive to install on every trolley.
"We had 4,000 trolleys in the cooling cell, so we did a pilot that focused just on gathering data from the trolleys in that area," says Multem.
Once again, FloraHolland identified applications that could benefit from automatically identifying and tracking trolleys. But the price of an RFID solution and tags was still too high to justify the investment.
FloraHolland, however, continued to experiment with RFID as the technology evolved. By 2000, the price of passive RFID tags had come down enough to justify a project, even though the technology still had some limitations. Readers were installed at about 30 different strategic points in the facility.
One limitation was that only one tag could be read in a field at a time. That meant that only one trolley at a time could pass over a reader. Still, FloraHolland was able to achieve 99.9% read rates with the system.
New tags, new results
By 2002, RFID tags, readers and middleware had come down in price. The technology performance improved. For instance, a new system of reader antennas installed in the floor could accurate read tags from multiple trolleys in a zone at the same time.
Today, reader antennas are installed in the floor at 67 different points in the facility, including the delivery area after the auction. The new antennas read the tags mounted on the frame of the trolley as they pass over an area.
The system determines the location of a trolley and records the time between the bar code scan at the dock and when the trolley reaches the cooling area.
RFID readers are also installed in the auction area. As trolleys are pulled through the auction area by a chain conveyor, the reader scans the RFID tag on the trolley. Based on that scan, information about the flowers on that trolley maintained in the cooperative's database is displayed on an LED readout for buyers.
Finally, the system can also track the location of a trolley in the delivery area after an auction, where the trolleys are stored until the customer takes possession.
Today, Multem says, the system is providing FloraHolland with insight into how product flows through its facility. That information will help the cooperative identify bottlenecks. Eventually, it will be used to send alerts to drivers if a trolley has sat too long before being delivered to a cooling area.
In the future, FloraHolland intends to share information with its customers. "Our customers want to know where their product is after the auction and what time we can get it to the shipping area so they can plan their logistics processes," says Multem.
January 28, 2011
About the Author
Bob Trebilcock Bob Trebilcock, editorial director, has covered materials handling, technology, logistics and supply chain topics for nearly 30 years. In addition to Supply Chain Management Review, he is also Executive Editor of Modern Materials Handling. A graduate of Bowling Green State University, Trebilcock lives in Keene, NH. He can be reached at 603-357-0484.
Subscribe to Logistics Management Magazine!
Subscribe today. It's FREE!
Get timely insider information that you can use to better manage your entire logistics operation.
Start your FREE subscription today!
Latest Whitepaper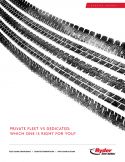 Private Fleet vs. Dedicated: Which one is right for you?
Having the right fleet for your business can give you an advantage over the competition and lower transportation costs.
Download Today!
From the April 2017 Issue
Information Management: Wearables come in for a refit
2017 Air Cargo Roundtable: Positive Outlook Driven by New Demand
View More From this Issue
Latest Webcast
Maximize Your LTL Driver Adherence with Real-time Feedback
This webinar shows how companies are using real-time performance data to optimize the scheduling of their city fleets, as well as the routing of their standard, accelerated and time-critical shipments.
Register Today!