Smaller manufacturers less prone to supply chain worries, says study
Amid reports of declining revenue and earning expectations from Fortune 1000 companies, small to mid-size manufacturers remain confident of a turnaround

Patrick Burnson, Executive Editor
·
October 6, 2011
Not all the news in the nation's manufacturing sector has been doom and gloom. Amid reports of declining revenue and earning expectations from Fortune 1000 companies, small to mid-size manufacturers remain confident of a turnaround.
Prime Advantage, a major buying consortium for midsized manufacturers, announced the results of its eighth Prime Advantage Group Outlook (GO) Survey, revealing the top economic concerns of small and midsized North American manufacturers for the second half of 2011.
Surprisingly, The findings reveal that most of these companies are counting on continued economic growth for U.S. manufacturing for the rest of 2011, holding on to the confidence that was displayed in the last semi-annual projection done by Prime Advantage in February 2011.
"Very positive to see that the optimism from earlier in the year is carrying through for the balance of 2011," said Louise O'Sullivan, founder and CEO of Prime Advantage. "We're pleased to see solid growth projections for our Members in key areas such as revenue, employment, and capital expenditures.
According to spokesmen, Prime Advantage has an "innovative" group of company leaders in their respective industries that invested heavily in product development during the downturn, and are now reaping the benefits. Forty four percent said new products and/or new customers are fueling their growth.
"Clearly, our responsibility is to make sure Prime Advantage continues to provide them with a world class Endorsed Supplier base to enable further profitable growth," added spokesmen.
Highlights of findings include the following:
-40 said they expected to see increased revenues for the second half of 2011;
-nearly one quarter of the small and midsized manufacturing professionals who took the survey reported that their companies expect capital spending increases in the second half of 2011, while 55 percent said their capital expenditures would remain about the same as the first half of 2011; and
-36 percent said they were planning new hires in the second half of 2011, and 52 percent said their staff levels would remain steady through the end of the year
Nearly one-third of all survey respondents said that their business was negatively impacted by the earthquake and tsunami that hit Japan in April. Other events, including unrest in Libya and damage from violent storms, also contributed to respondents' needing to find alternative sources and work to control logistics cost increases.
Meanwhile, revenue expectations for 2011 continue to show optimism, said Mike McDonald, vice president of new business relationships for the company.
"The volatility in the marketplace this fall has been a 'gut check' for our small and medium-sized businesses," he said in an interview with SCMR. "This has been especially true on the procurement level."
Still, he said, most of his constituents have solid balance sheets and are ready to gain access to credit should they need it.
"Many of these businesses are in a good position to buy new equipment and to be poised for a comeback," said McDonald.
October 7, 2011
Latest Whitepaper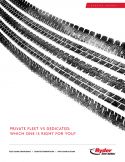 Private Fleet vs. Dedicated: Which one is right for you?
Having the right fleet for your business can give you an advantage over the competition and lower transportation costs.
Download Today!
From the April 2017 Issue
Information Management: Wearables come in for a refit
2017 Air Cargo Roundtable: Positive Outlook Driven by New Demand
View More From this Issue
Latest Webcast
Maximize Your LTL Driver Adherence with Real-time Feedback
This webinar shows how companies are using real-time performance data to optimize the scheduling of their city fleets, as well as the routing of their standard, accelerated and time-critical shipments.
Register Today!