Sustainable distribution at Patagonia
Patagonia incorporated energy efficient materials handling and recycled building materials into the design of a 171,000 square foot addition to its Reno distribution center.

Latest News
The State of the DC Voice Market
DHL launches Global Trade Barometer
Get the lay of the land with Modex 2018 show map
Breaking Through On Yard Visibility
AGVs: Predictably Flexible
More News
Latest Resource
Supply Chain Visibility: Illuminating the Path to Responsive, Agile Operations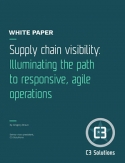 Supply chain visibility is not an end, but a tool. It is the means to achieving true supply chain effectiveness, agility and ultimately, corporate profitability.
All Resources
By
Bob Trebilcock
·
January 27, 2011
First, do no harm.
For as long as there have been physicians, that oath has guided the practice of medicine.
First, do no harm also sums up Patagonia's (http://www.patagonia.com) approach to business. "Build the best product, cause no unnecessary harm, and use business to inspire and implement solutions to the environmental crisis," is the mission statement that guides the Ventura, Ca.-based retailer of outdoor clothing, technical apparel, and gear for climbing, hiking, skiing, surfing and fishing.
"Whether we're designing a new product, sourcing contract manufacturing sites, or building a new distribution center, everything we do goes back to the mission statement," says Dave Abeloe, director of Patagonia's 342,000 square foot distribution center in Reno, Nevada. "We ask ourselves: What are we trying to accomplish with this project, and how can we do that while adhering to our values?"
Patagonia's do no harm ethic guided the design and construction of a 171,000 square foot addition to the twelve-year-old Reno distribution center. "We know that when we build a building, we're going to cover several acres of ground," Abeloe explains. "But, we can still do that in a sustainable way that minimizes the impact on the environment."
The expansion was designed to reduce the demand for energy and to recycle and reuse building materials to create a "green" distribution center. The building's steel frame, insulation and window glass contain recycled materials; energy efficient lighting systems utilize motion sensors to help conserve electricity; a radiant heating system uses copper tubing and hot water to save on natural gas during the heating season; tiles and carpet include some recycled content while wood used in construction was either reclaimed or sustainably harvested. The combination earned Leadership in Energy and Environmental Design (LEED) Gold certification from the U.S. Green Building Council for the expansion.
The same level of attention went into the materials handling systems wherever possible. The most striking example was a modular conveyor system (Dematic, 877-725-7500, http://www.dematic.us) that can handle greater dimensional and weight diversity than conventional systems, including user-selectable carton gapping controls for a broader level of flexibility. The conveyor system includes a run-on-demand capability that can reduce power consumption by as much as 30% over conventional roller conveyors, a concept that fit right into the distribution center's ideal "green" operating environment.
"Along with allowing us to operate more efficiently, the conveyor system senses when there is no activity and shuts down," says Abeloe. "The belts won't keep running and wasting electricity if there's a lull in the action."
In addition to reducing power consumption, the system increased man-hour efficiency in the facility by 20%, making better use of all of Patagonia's resources.
A business built on sustainability
There is no question that more businesses are talking more about the green revolution and sustainable business practices than ever before. Many are coming to the party as a result of high energy costs or new expectations from their customers. That's true for businesses that deal directly with consumers as well as manufacturers that sell to retail giants like Wal-Mart.
Patagonia, on the other hand, has had one eye on the environment since its exception in 1957. With headquarters in Ventura, Ca., the company was founded by Yvon Chouinard, a world-class mountaineer, diehard surfer and fly fisher who made tools for climbers. In 1972, Chouinard launched Patagonia to sell apparel. Today, the company sells more than $290 million annually.
From the start, Patagonia has been committed to the environment. It was the first California company to use renewable energy sources like wind and solar to power its buildings, and one of the first to print catalogs on recycled paper. More than a decade ago, the company switched to organically-grown cotton and removed chlorine from its wool products. Patagonia also puts its cash behind its principles, donating 1% of its gross revenues to groups that support green initiatives– more than $25 million to date.
"We work tirelessly to reduce pollution in our products, processes and facilities," says Abeloe. "It is our mission to demonstrate that alternatives to conventional, waste-intensive construction practices and energy generation not only exist, they yield products, structures and ultimately lifestyles that are more sustainable and in harmony with our environment."
That kind of thinking leads to a longer-term view than is taken by most publicly-held companies when it comes to business investments. "Our owners have always talked about building a business that will last for 100 years," Abeloe says. "For us, return on investment is a component of our decision-making, but overall we're looking at what we can do to sustain this business for 100 years."
For example, Patagonia does not pursue sales growth simply for the sake of growth. Instead, the company sets targets for growth so the company doesn't expand beyond what the market – and its facilities – can maintain and support. "We are in control of our destiny," says Abeloe.
Growth of direct-to-consumer
Keeping up with controlled growth is the reason Patagonia expanded the Reno facility. The original 171,000 sq ft DC was designed and built in 1996 to last five to seven years. By 2004, Patagonia was running out of space. "All of the pick and reserve locations were filled with inventory and we had added shelving all over the place," says Abeloe.
Planned growth over the next five to seven years didn't warrant another 171,000 sq ft. However, it was more cost effective to do the entire expansion in one phase rather than two. Instead of Patagonia's typical five-to-seven year plan, the expansion was designed to accommodate growth plans through 2016.
The driver behind the expansion was the growth of Patagonia's direct-to-consumer sales from catalogs and the Internet. Adding an additional dealer or additional stores increases throughput; but servicing those accounts typically involves larger orders rather than many smaller orders involving split-case and piece picking.
The direct-to-consumer business, on the other hand, involves substantially more orders with a limited number of pieces. Picking those orders was more labor-intensive. What's more, the facility's roller conveyor system wasn't designed to handle the mailers that are used for parcel shipments. "In the original building, when a carton was released by a packer, it went by conveyor to an automatic weigh station and then was sorted onto the trailer without being touched," says Abeloe. "Moving a 12-ounce mailing bag on a roller conveyor was a challenge, so we ended up manually weighing, sorting and transporting direct-to-consumer orders to the UPS dock."
During peak seasons, that required the equivalent of 3-1/2 full-time associates.
The new system included the belt conveyor system that could handle cartons that may contain many pieces of apparel as well as smaller mailing bags that typically contain just one piece of apparel. The system was also designed to simultaneously fill orders that range from several thousand order lines going to its stores or retail customers, to very small orders that are delivered directly to catalog or web customers.
All of that was done in the context of creating a space that met Patagonia's mission for sustainable building.
Going green
Designing a structure to meet LEED, or green, standards does present challenges, Abeloe says. In part, that's because most architects and builders aren't geared towards designing that way. And in part, it's because traditional ROI formulations may not apply.
"If you as a client aren't asking your architect or contractors for those kinds of improvements, they probably won't bring it up," says Abeloe. That's because those improvements may very well cost more money and require longer-term thinking to make financial sense.
Take the solar array that creates the energy to power the Patagonia store associated with the DC. "In Nevada, there is very little credit for these types of initiatives and we can't generate enough power to run the distribution center," Abeloe explains. "But we do have a lot of sunshine, and by applying a 15-year ROI, it made sense for the retail outlet and we think it can make sense for others as well."
Still, creating a green building was the easy part. There are guidelines and standards for that established by the U.S. Green Building Council.
The materials handling solution was another matter. In the absence of industry standards, Patagonia created its own yard sticks, asking questions like whether a manufacturer was incorporating recycled materials into its products; where the parts for the equipment were sourced so they could assess the carbon footprint associated with production; and whether there were options for more efficient motors. "This was a way for us to determine whether improvements could be made, even though there aren't established standards," says Abeloe.
That's where the new conveyor and sortation system came into play. The belt conveyor was put together in 10-foot long modular segments that can be controlled independently of one another. That independence allows Patagonia to simultaneously maintain the proper gap between products when a 36-inch carton is followed by an 8-inch square mailing pouch followed by another carton that might weigh up to 75 pounds. If a package is too far behind the package in front of it, a section of conveyor speeds up the belt to close the gap; if a package is too close to the one in front, the next section of conveyor slows down. Since the new system now handles parcel and carton shipments on the same belt conveyor, both can now be automatically scanned, weighed and sorted to all shipping services, rather than manually handled.
Instead of 3-1/2 full time associates to handle direct-to-consumer shipments during peak season, Patagonia now needs the equivalent of half an associate.
The end result: Patagonia achieved both of its goals for the facility. The building met the LEED criteria for Gold certification. On top of that, Patagonia improved its materials handling systems by making more efficient use of the space, people and resources in a facility expected to support the company until 2016.
"We have a building with far better lighting and temperature controls that uses far fewer resources than a typical warehouse," says Abeloe. "We're in business to make money, but we don't think that's mutually exclusive with doing the right thing."
This story first appeared in the January 2009 issue of Modern Materials Handling

Patagonia's flexible and efficient material handling
Patagonia's expansion project makes the most of handling cartons, pallets and parcels.
January 28, 2011
About the Author
Bob Trebilcock Bob Trebilcock, editorial director, has covered materials handling, technology, logistics and supply chain topics for nearly 30 years. In addition to Supply Chain Management Review, he is also Executive Editor of Modern Materials Handling. A graduate of Bowling Green State University, Trebilcock lives in Keene, NH. He can be reached at 603-357-0484.
Subscribe to Logistics Management Magazine!
Subscribe today. It's FREE!
Get timely insider information that you can use to better manage your entire logistics operation.
Start your FREE subscription today!
Latest Whitepaper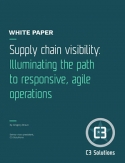 Supply Chain Visibility: Illuminating the Path to Responsive, Agile Operations
Supply chain visibility is not an end, but a tool. It is the means to achieving true supply chain effectiveness, agility and ultimately, corporate profitability.
Download Today!
From the December 2017 Logistics Management Magazine Issue
2018 Customs & Regulations Update:10 observations on the "digital trade transformation"
Moore on Pricing: Freight settlement and your TMS
View More From this Issue
Latest Webcast
2018 Rate Forecast
Join our panel of top oil and transportation analysts for an exclusive look at where rates are headed and the issues driving those rate increases over the coming year.
Register Today!