System Report: Wirtz Beverage adds automation to the distribution mix
With AS/RS, voice-directed picking and high-speed sortation, Wirtz Beverage Illinois takes the lead in wine and spirits distribution.

Latest News
SalonCentric: One Beautiful Network
Q4 2017 Rail/Intermodal Roundtable: Improvements apparent; work remains
The State of the DC Voice Market
New ATA report takes a deep dive into the ongoing truck driver shortage
Freedonia: Stretch film demand to grow 3.8% annually through 2021
More News
Latest Resource
Making the Case for an Integrated Fleet Management Solution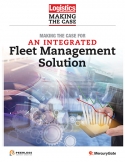 Fleet management technology can drive positive supply chain and business results. Explore this special edition of Making the Case where we lay out the benefits of integrated fleet management technology in your organization.
All Resources
By
Bob Trebilcock
·
July 1, 2013
As the wine and spirits industry consolidates around fewer and larger distributors, leading players are looking to automation to transform their businesses. An industry that was once characterized by lift trucks, floor storage and manual palletizing is embracing high-speed conveyor and sortation systems, voice-directed picking, and a warehouse management system that can deliver cartons in the right sequence for delivery stops. Read more about Wirtz Beverage's hybrid approach.
In suburban Chicago, Wirtz Beverage Illinois is taking that formula to the next level of automation. A family-owned, multi-state distributor with 2,500 employees and revenues of $1.8 billion, Wirtz Beverage worked with a systems integrator (W&H Systems, whsystems.com) to consolidate operations from three facilities into one new 555,500-square-foot distribution center near Midway Airport in Cicero. In addition to the above technologies, the facility is one of the first in the industry to feature an automated storage and retrieval system (AS/RS; Westfalia, westfaliausa.com).
Operating in a 42-foot high area with 22,470 pallet positions, the AS/RS stores and replenishes the 780 fastest-moving SKUs. In all, there are 1.3 million cases stored in just 110,000 square feet. These products represent nearly 75% of the case needs from the facility. The AS/RS is serviced by three tandem cranes, each of which is capable of handling two pallets at a time and a total of 200 pallet moves per hour. Pallets are stored 10 pallets deep. The cranes also replenish eight fully integrated pick-to-belt modules within the AS/RS.
Add in a voice-directed, split-case bottling picking operation, conventional pick areas for slower-moving SKUs, and a high-speed conveyor and shipping sorter, and the facility is handling more than 7,500 SKUs and 2.2 million cases in inventory. The facility picks and loads as many as 85,000 cases for delivery in a 10-hour shift.
"In our final year in our old facilities, we went from 50,000 to 84,000 cases a night with a shipping sorter that could run about 5,300 cases per hour," says Rocky Ruane, regional director of warehouse operations. "That was taking too long for us to get our trucks on the road and service our customers." Within four months of going live in the new facility, Ruane adds, Wirtz Beverage processed 85,000 cases in 10 hours. "Those were sustained rates that we hadn't seen before," he says.
What's more, the system was designed with room to grow. For instance, the AS/RS alone can be expanded to store more than 2.2 million cases in the future. That was important to a family-owned business that plans for the next generation and not just the next quarter.
Consolidation and growth
Wirtz Beverage is the largest wine and spirits distributor in Illinois. In addition, the company has operations in Iowa, Minnesota, Missouri, Nevada and Wisconsin.
The move to automate was driven by business growth, says Art Wirtz, executive vice president of supply chain and operations and grandson of the founder. The company was founded in 1945, when Wirtz's grandfather acquired Judge & Dolph in Illinois and Edison Liquor in Wisconsin. Soon after, Wirtz's father and uncle entered the business. Throughout the 1970s and 1980s, the family business expanded to Minnesota and Nevada and acquired other alcoholic beverage distributors in Illinois. In 1980, for instance, Judge & Dolph purchased Hiram Walker's wholesale operations. In 1989, it bought the Fox River Distributing Company in Aurora and Jaenicke Distributing Company in Rockford.
In the 1990s, the company expanded operations throughout the state of Illinois. In 2003, the distributor began adding warehouses to support its operations after it was selected as the exclusive distributor for all of Diageo's brands in Illinois.
In 2008, the company combined operations in Illinois with Glazers. "With that change, we went from shipping four million to eight million cases a year," says Wirtz. "We were now operating out of three metro warehouse facilities just in Chicago plus an additional office building." The company was also re-branded under the Wirtz Beverage name.
Each of the warehouse facilities in Chicagoland served a special purpose in a just-in-time order fulfillment process managed by Wirtz Beverage's warehouse management system (WMS). One facility, with pick modules and a conveyor and shipping sorter system, was used to consolidate orders and load trucks. A second facility was used for bulk storage, while a third served to consolidate slow-moving SKUs.
Pick modules in the order fulfillment warehouse were replenished with cartons from the bulk storage facility. In addition, slow-moving SKUs were pulled from the two satellite facilities and delivered to that facility. Those cartons were manually inducted onto the conveyor and sorter system and married with the items being picked in the facility. "If we sold 50,000 cases on Tuesday, on Wednesday we were bringing in as many of those 50,000 cases as we could so we could load the trucks," says Ruane. "It was truly just in time."
Although complex, the system worked. However, the company realized it had to consolidate its operations under one roof if it was going to continue to grow. Wirtz, Ruane and Mike Brown, the regional director of finance, along with Anthony Iatarola from Wirtz Realty, spent a year and a half looking for land in the Chicago area suitable for the kind of facility they envisioned. They settled on Sportsman's Park, a 35-acre site in the shadow of Midway Airport. Site of a defunct race track, the land was owned by the city of Cicero.
At the same time it was scouring the area for land, the Wirtz team researched a new approach to conventional beverage distribution. "We toured other facilities and we met with several different potential partners to understand best practices in our industry," says Wirtz. "We knew that we needed to design a system that would support the peaks and valleys of our business, reduce touches and work within our financial model."
A balanced approach
While the new facility appears to be a showcase for materials handling technology, Wirtz Beverage did not automate for the sake of automation. Rather, the distributor took a balanced approach to the design of the facility. "When we decided to build new, we had a clean sheet of paper," says Wirtz. "We knew that we were still going to floor-load our trailers based on the order profile; that we were going to use the same type of delivery equipment; and that we would have very few pallet deliveries. Knowing those things, we wanted to design a system that would accurately build our loads in the most efficient way."
What they decided on was something the Wirtz team refers to as a hybrid approach that combines conventional distribution with automation where technology could be justified. "We were very comfortable with the traditional approach to wine and spirits distribution," Wirtz says. "We understand its limitations and we know the workarounds for the seasonal spikes in our business." Still, they wanted a facility that would optimize the available space, meet their new throughput requirements and accommodate growth.
As the company considered higher levels of automation, three criteria became paramount for now and in the future: Uptime, efficiency and financial feasibility.
The choice of automated storage technologies represented a leap forward for the industry. Up to this point, only one or two other wine and spirits distributors had incorporated AS/RS technology in their operations. For Wirtz, one of the first decisions was how high to build that portion of the building.
"We priced out facilities that were up to 100 feet high," Wirtz says. "We would have spent less money on land, but we would have spent more money on higher strength racking, the sprinkler system and a bigger concrete slab to handle the weight." More importantly, Wirtz adds, "a 100-foot high building isn't as versatile as a conventional building should something change about our requirements in the future."
For that reason, the team decided on a maximum distance of 45 feet to the roof as the most cost-effective building for its purposes and its business model. Pallets are stored five high in the space. And while the AS/RS is currently storing about 1.3 million cases, it can be expanded to close to three million cases in the future.
To streamline the receiving and putaway processes, the AS/RS was erected close to the receiving dock. It was also designed to handle both storage and replenishment duties to get more out of the system. Along with putting pallets away into storage, pallets are placed on flow lanes in each pick face. "On any given night, a pick location is going to go through 10 to 20 pallets," says Ruane. "That's a lot of lift truck moves if a driver has to go into reserve storage and replenish each pick location." In fact, the labor freed up by automating the replenishment activities in the AS/RS was a key factor in delivering the ROI for the system.
Voice-directed picking was another new technology introduced in the Cicero facility. Previously, the company used pick-to-light in its split case, bottle-pick areas in its order fulfillment facility. After visiting a voice reference site where an older associate was picking 600 bottles per hour using voice, the Wirtz team adopted the technology. "The metrics made sense, and we get great reporting from the system," Ruane says. "Plus the associates like it. They challenge themselves to improve on their numbers."
The last improvement was a merge and combiner in the shipping sorter that significantly improved the flow of cases through the facility. That system increased the after-sort buffer from 80 to 90 cases per truck to 425 cases per truck.
Integrating software
Tying together storage, conveyor and picking technologies required the integration of four different software systems. "Prior to this new facility, the transfers between buildings led to a very complicated WMS," says Brown. "In the new facility, we simplified the WMS, but we now have four different systems talking together to synchronize activities across the facility." This was all accomplished with the support from a business partnership with Blue Horseshoe.
The software scheme begins with an enterprise resource planning (ERP) system that manages processes at the highest level. Incoming product is received into the facility and scanned into the warehouse management system. The WMS also directs put away processes into the conventional storage areas. Pallets that will be stored in the AS/RS are scanned and measured when they are inducted into the system by conveyor. At that point, management of the pallet is transferred to the warehouse control system (WCS) in charge of the AS/RS. That system directs the cranes to put pallets into storage locations and directs replenishment of the picking areas.
A third software system creates wave picking plans that are shared with other systems. The WMS directs all of the picking operations. "Once the cranes fill the pick line, the inventory belongs to the WMS again even though it's still in the AS/RS area," says Brown. "We want the WMS to manage all of our pick locations."
Finally, a WCS manages the conveyors, coordinates the delivery of cartons to the shipping sorter, and puts them in the right sequence for loading into trucks.
"Ultimately, we developed a business model when we were designing the system and we have executed that model with the labor we had forecasted," says Wirtz. "We're meeting our budget from a manpower and overtime standpoint."
What's more, the distributor is filling all of its orders and getting its trucks on the road ahead of the competition. "The key to the wine and spirits distribution business is to get your drivers on the road ahead of your competition," says Ruane. "We're doing that, with room to grow."
System suppliers
Systems integration and monitoring software: W&H Systems, whsystems.com
Automated storage and retrieval system and associated software: Westfalia, westfaliausa.com
Warehouse management system: Manhattan Associates, manh.com
ERP: Microsoft Dynamics, microsoft.com/en-us/dynamics/erp.aspx
ERP/WMS systems integrator: Blue Horseshoe, bhsolutions.com
Wave planning system: Contech Systems
Voice picking system: Lucas Systems, lucasware.com
Conveyor and sortation equipment: Intelligrated, intelligrated.com
Spiral conveyor: AmbaFlex, ambaflex.com
Adjustable conveyor: Stewart Glapat, adjustoveyor.com
Fixed scanners: SICK, sickusa.com
Vision capture system: Numina Group, numinagroup.com
Mobile computing and handheld scanning: Motorola, motorolasolutions.com; Intermec, intermec.com
Lift trucks: order pickers & reach trucks, Crown, crown.com; high bay order pickers, reach trucks and walkie riders, Jungheinrich, jungheinrich.com; forklifts, Mitsubishi Caterpillar Forklift America, http://www.mcfa.com/_mcfa/index.cfm
July 8, 2013
About the Author
Bob Trebilcock Bob Trebilcock, editorial director, has covered materials handling, technology, logistics and supply chain topics for nearly 30 years. In addition to Supply Chain Management Review, he is also Executive Editor of Modern Materials Handling. A graduate of Bowling Green State University, Trebilcock lives in Keene, NH. He can be reached at 603-357-0484.
Subscribe to Logistics Management Magazine!
Subscribe today. It's FREE!
Get timely insider information that you can use to better manage your entire logistics operation.
Start your FREE subscription today!
Latest Whitepaper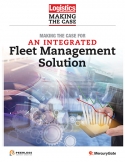 Making the Case for an Integrated Fleet Management Solution
Fleet management technology can drive positive supply chain and business results. Explore this special edition of Making the Case where we lay out the benefits of integrated fleet management technology in your organization.
Download Today!
From the October 2017 Logistics Management Magazine Issue
Q4 2017 Rail/Intermodal Roundtable: Improvements apparent; work remains
LM Viewpoint: Collaboration, Now more than ever
View More From this Issue
Latest Webcast
The State of the Rail/Intermodal Markets
In this webinar our panel will discuss the new service challenges facing rail/intermodal providers and offer practical advice for how shippers can keep efficiency high and costs down.
Register Today!