Transportation Best Practices/Trends: ABCs of improving less-than-truckload relations
LTL carriers are looking to squeeze profit out of better-managed margins and shippers will play a huge role in this movement. Here are four time-tested methodologies to help carriers ease shipments through their systems—and get the right rates and capacity.

in the News
The State of the DC Voice Market
DHL launches Global Trade Barometer
Get the lay of the land with Modex 2018 show map
Breaking Through On Yard Visibility
AGVs: Predictably Flexible
More News
By
John Schulz
·
February 1, 2013
The less-than-truckload (LTL) sector of the trucking industry is in a holding pattern. It produced $32 billion in revenue in 2012, about the same as 2006. But last year's figure is actually up substantially from the recession-battered $28 billion the LTL carriers scored in 2009.
Since UPS acquired Overnite in 2005 for $1.3 billion and rebranded it UPS Freight (following FedEx's foray into the LTL field a few years earlier), the exodus of LTL freight to the huge parcel carriers has mainly stopped. That has certainly helped the LTL carriers on the revenue side, but they report that they now need to focus on profits more than ever.
"LTL market conditions have stabilized," says Satish Jindel, who closely tracks LTL trends as principal of research and advisory firm SJ Consulting. "The LTL guys are not bleeding as much. Simply put, they are looking for ways to make people pay for what they are moving on a truck."
To do that, LTL carriers are looking to squeeze profit out of better-managed margins—and of course, shippers will play a huge role in this movement. Through conversations and interviews with carriers, experts, and analysts, Logistics Management has distilled many ideas into four concrete steps shippers can take now to help them better manage their LTL relationships in the face of rising rates and tighter capacity.
Some of these may seem pretty basic, but most LTL carriers are focusing on controlling customer expense and eliminating freight that's not compensatory for the cost of handling it. And as capacity tightens, carriers will give the best rates—and preferred capacity—to those shippers who manage the business relationship in order that both the shipper and carrier benefit from highly efficient processes. Here's what you can do to join them.
A. Provide an accurate and complete bill of lading.
Carriers will continue to increase the number of bills that are audited and corrected. That's because many are not done correctly the first time. To show the size of the problem, Cass Logistics, a major freight bill payment third party, examines $22 billion in freight charges every year. It wouldn't have all that business if the industry did not cry out for greater accuracy.
It sounds simple, but accurate freight billing is endemic in the trucking industry, says Donald Broughton, the respected trucking analyst for Avondale Partners and whose first job in the industry was as a freight billing analyst.
"Carriers look at everything," Broughton explains. "Is the number of miles correct? Is it the rate we negotiated? Did we get the correct discount? What about accessorials? Is it the right class? It makes sense to the shippers to make sure the rate they're paying is the rate they negotiated. On the trucker side, the carriers have spent a lot of money on technology to make sure your weight class is accurate."
It's simple stuff, but a lot of carriers aren't taking the time or effort to access a rebilling charge for mislabeled freight charges, Jindel says. "However, they ought to," he adds. "They're afraid that the customer is going to complain and take their business elsewhere. I say make people pay. If I'm paying the correct charges and someone else is not, I am subsidizing another customer. How do you think Lowe's would feel if it knew it was subsidizing Home Depot?"
"Giving carriers as much information as possible about one's freight will get a shipper his best price," says David Ross, LTL analyst for Stifel Nicolaus. If a shipper has all this data, he says, it will also help shop the business around and get the best rate in each lane.
"The hardest part is putting the systems and procedures in place to capture and maintain accurate data on your freight, and then it's easy to keep it going," Ross adds. Any blanks left for carriers to fill in will result in higher rates, he says, because they would want to be conservative about unknown variables.
B. Weigh your shipment accurately the first time.
Carriers re-weigh about 80 percent of shipments today because there are so many inaccuracies. Correcting the customer's mistake increases expenses and makes load planning less accurate and efficient for the LTL carriers.
Jindel says that parcel carriers routinely capture the distance, weight, and cubic dimensions of all freight to ensure proper billing. The LTL industry still relies on the honor system—and it's costing plenty.
He estimates that if LTL carriers weighed every shipment accurately the industry as a whole could add 4 percent improvement to its operating margin. In other words, those carriers with a so-so 95 operating ratio (OR) could be running at a healthy 91 OR. Jindel adds that in this era where everything is automated and measured, there is no excuse for LTL carriers to leave this revenue on the table.
"You'll find that some shippers give you a right weight for every shipment," says Jindel. "Then there are those who give you incorrect shipment for every shipment." And the mistakes are not intentional. Sometimes, shippers are used to shipping 800 pounds in 20 boxes every day—and they assume it must be 800 pounds in 20 boxes every day.
"But if the carrier doesn't penalize you and nobody catches you there's no penalty," Jindel notes. "Carriers don't have to nickel-and-dime shippers for every pound, but they shouldn't be routinely giving away 50 pounds or 100 pounds on every shipment. A 10-pound threshold for accuracy would be reasonable." "Boring is boring, but you can get bored all the way to be bank," adds Broughton.
C. Package and secure your freight properly.
When carriers have to re-shrinkwrap a pallet or take extra steps to handle improperly packaged freight, it increases the expense of handling that account. This is mainly an issue for customers with shipments that aren't traditional pallets. Shipping flagpoles, engines, or transmissions "loose" and without crates should come with a penalty.
Some carriers try to build it into the rate—but often the rate penalty is not enough to offset a carrier's additional costs. For instance, if an LTL carrier charges $20 for a loose shipment, but it costs them $40 to put a crate around the engine, that's no bargain. "Carriers don't realize the cost to them," says Jindel. "They need to have a charge that creates an incentive for the customer and not just give it away."
For the carrier, the other potential negative is what happens to a shipment if that loose freight causes damage. What is the risk? "If you don't charge the full amount, then you expose yourself to a claims charge," Jindel says.
Today, palletized freight can make up as much as 70 percent of all LTL shipments. Most will have class rates between 55 and 70, and they tend to be boxes on a pallet, which often moves at the best rate. Shippers should take advantage of these bargain rates by shipping more freight on secured pallets, experts say, to avoid the chance of having to file a cargo claim.
"It's an issue for carriers because they don't want to damage this freight or other freight they're hauling," adds Broughton. "Nobody wants a cargo claim. That's the consolation prize. Let's do it right the first time."
D. Don't incur accessorial charges.
Through sophisticated technology, LTL carriers are exponentially improving their understanding of customers and products. Through increasing use of these analytics, carriers will adjust the minimum prices that they will accept based on the costs of handling that customer's goods.
The LTL industry has been late in coming to the accessorial game, but they are trying to catch up to the parcel giants in these regard. UPS's small package unit has some 45 accessorial charges for everything from home delivery to Saturday service. The LTL industry has perhaps as many as 15 such charges for thing such as residential service, liftgates, appointments, and inside delivery.
Experts say that the LTL industry needs more incentives for shippers to avoid these charges. And they need to put some teeth in the accessorials they do have.
For example, Old Dominion Freight Line, the leader in profitability in the LTL sector, charges just $15 for non-discounted bill of lading correction on an LTL shipment. That could be on a shipment that costs $2,000. UPS, on the other hand, charges a $10 fee for an incorrect parcel shipment that might cost just $12.
"Accessorials at the parcel level are related to residential delivery and targeted at unsophisticated shippers," Broughton explains. "Your Aunt Sally doesn't know how to negotiate a rate, so she gets hit with an accessorial charge. But if I'm distribution manager for Dell and UPS tells me there's an accessorial charge, I'm immediately on the phone with FedEx threatening to move my account. Accessorials are related to unsophisticated shippers and unsophisticated demands."
Know your ABCs
All this may be very old school and not very sexy, but the lack of accuracy by shippers, their use of old tariffs, fuel surcharges that don't properly move with fuel costs, waivers that substantially reduce price, inaccurate bills of lading, incorrect weights, and poor packaging are all now identified and captured by high service carriers—and a cost assigned to each.
"Basically, the easier it is for the carrier to handle the freight, and the more they know about it, the better price and better service the shipper will get," adds Ross. "Easy to handle, data-rich freight is desirable to carriers. So rather than price-shop among carriers and 3PLs, shippers should reexamine their own freight first, and doing so will result in the best possible cost savings."
Carrier executives say that all of these factors are being placed into models that normalize the price the shipper is paying. Their shipments will be priced on these normalized factors so all of the inaccuracies that increase costs for carriers and drive down efficiency will be reflected in their price.
The basic lesson for shippers: Make your freight as carrier-friendly and cost-efficient to handle and process as possible. Those who do will get the best rates and will be slotted first in line for capacity as it tightens.
February 1, 2013
Subscribe to Logistics Management Magazine!
Subscribe today. It's FREE!
Get timely insider information that you can use to better manage your entire logistics operation.
Start your FREE subscription today!
Latest Whitepaper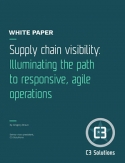 Supply Chain Visibility: Illuminating the Path to Responsive, Agile Operations
Supply chain visibility is not an end, but a tool. It is the means to achieving true supply chain effectiveness, agility and ultimately, corporate profitability.
Download Today!
From the December 2017 Logistics Management Magazine Issue
2018 Customs & Regulations Update:10 observations on the "digital trade transformation"
Moore on Pricing: Freight settlement and your TMS
View More From this Issue
Latest Webcast
2018 Rate Forecast
Join our panel of top oil and transportation analysts for an exclusive look at where rates are headed and the issues driving those rate increases over the coming year.
Register Today!