Transportation pricing trends - July 2011


George Kokoris
·
July 1, 2011
---






Trucking
Up 0.9% from a month ago, average prices for all trucking services increased for the 10th consecutive month in May 2011. Year-over-year, aggregate trucking tags climbed at a 3.6% pace as TL and LTL prices each increased 4.5%. With increasing demand and still-high fuel costs exerting inflationary pressures, our 2011 trucking price forecast has been revised upward to 6.4%. That inflation rate rivals the previous largest annual rate increase: 2008's 6.6% price hike. Back then, most transportation modes saw their prices plummet after that extraordinary '08 inflation boom. Indeed, in 2009, trucking prices plunged 4.6%. This time, our forecast model shows trucking prices falling only 0.5% in 2012.


---






Air
Airliner price data from companies headquartered in the United States reveal a mixed bag of inflationary trends. Air carriers moving mail and freight on scheduled flights managed to increase prices in May, up 0.8% from a month ago and up 11.6% from same-month-year-ago. Expedited courier services also continued their pattern of aggressive price hikes, up 1.7% and 14.9% over the same time periods. Meanwhile, prices for flying freight on chartered U.S.-owned flights plunged 9.4% from a month ago, but remained 3.7% higher than same-month-year-ago. Focusing on airfreight via scheduled flights, our 2011 inflation outlook has been raised from 8% to 9.3%. This will be followed by a 3.8% price decline in 2012.


---








Water
Flooded with a barrage of price hikes, a raging Mississippi river hasn't been the only thing on shippers' minds. Prices charged by barges and other inland waterway vessels increased 0.4% from a month ago and 10.5% from same-month-year-ago. Year-over-year, inland waterway freight prices increased 8.5%. Even worse, according to the Labor Department's survey of U.S. companies, deep sea waterborne freight service prices increased at a year-over-year 15.1% pace in May. Adding it all up, our forecast for the U.S. water transportation services price index has been raised from 5.1% to 6.1% in 2011 and lowered from 4.4% to 2.9% in 2012.


---








Rail
Bulk carload freight and intermodal rail traffic have been on a fast track this past spring, according to reports from AAR. So, strong monthly price increases and an upward revision in our rail service industry price forecast should come as no surprise. Up 2.4% from a month ago, average prices for all rail transport services increased for the ninth consecutive month in May 2011. Year-over-year, aggregate rail tags soared higher at a 6.3% pace as intermodal and carload rail prices grew 7.4% and 6.2%, respectively. Our trend forecast for rail industry prices has been revised upward from 5.3% to 7.5% for 2011. Looking farther ahead, we predict a mild 1.8% retrenchment in rail prices, on average, in 2012.

July 7, 2011
Subscribe to Logistics Management Magazine!
Subscribe today. It's FREE!
Get timely insider information that you can use to better manage your entire logistics operation.
Start your FREE subscription today!
Latest Whitepaper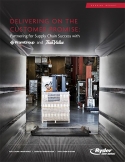 Partnering for Supply Chain Success with FRAM Group and True Value
Disruptive forces such as new technology, changing regulations, talent shortages, and infrastructure bottlenecks continue to be the prime focus for supply chain executives and managers.
Download Today!
From the March 2017 Issue
5 Supply Chain Trends Happening Now
2017 Warehouse/DC Equipment Survey: Investment up as service pressures rise
View More From this Issue
Latest Webcast
2017 Trucking Regulations & Infrastructure Update
In this session our panel brings shippers up to date on the state of transportation regulations. Discussion will revolve around regulatory reform, aspects of the federal highway bill and what the transportation landscape looks like in the early days of the Trump administration.
Register Today!