Special Trucking Report: Collaboration is the game
Carriers are enjoying a solid 2014, but warn of a pending capacity crunch as driver availability worsens amid tighter federal regulations. Bottom line: Shippers who choose not to collaborate with their carriers and streamline operations will most certainly be hit with higher rates.

in the News
The State of the DC Voice Market
DHL launches Global Trade Barometer
Get the lay of the land with Modex 2018 show map
Breaking Through On Yard Visibility
AGVs: Predictably Flexible
More News
By
John D. Schulz
· August 1, 2014
The trucking industry is enjoying a financial renaissance of sorts, and its leading carrier executives are saying it's about time. After five years of so-so results following the Great Recession, carriers report that they're finally getting some rate increases to cover the ever-rising costs of doing business.
"It's good, but not great," says Chuck Hammel, president of the stalwart regional less-than-truckload (LTL) carrier Pitt Ohio. He says capacity is "running between balanced and tight," with rate increases largely dependent upon a shipper's individual freight profile.
Bill Logue, president and CEO of FedEx Freight, the largest single LTL carrier in the nation, said in 2010 that his objective was to get his company back to its historic double-digit margins. In its most recent quarter, FedEx Freight posted a 51 percent increase in operating income—or a $41 million boost—pushing the company closer to that internal profit goal.
Top carrier executives agree that their increased profitability may be a harbinger of future years. "From an overall freight perspective, our focus is now on a good balance between yield and volume," said Logue.
On the volume side, the American Trucking Associations' (ATA) latest shipment statistics include an 8.9 percent year-over-year surge in LTL shipments and a 4.6 percent year-over-year volume increase for truckload (TL) freight. Top industry executives say that those increases are likely to continue right into 2015.
On the TL side, Mark Rourke, president of truckload services for Schneider National, the nation's second-largest TL carrier, calls its second quarter demand "well above average" following a tough winter. "It's too late in the year to be called a weather catch-up situation," says Rourke. "Demand has not dropped at all."
Independent analysts back up these carrier views. In her recent State of Logistics Report, logistics industry analyst Rosalyn Wilson called trucking demands in the first five months of this year the strongest since the end of the Great Recession in 2009.
Steve Williams, president and CEO of Arkansas-based Maverick USA, a major flatbed carrier that operates 1,300 company-owned tractors, says he could easily add 300-400 additional power units—if he could find drivers. He is not alone.
"Capacity problems are being experienced in both the trucking and rail industries as volumes grow," says Wilson. "The impact of productivity-
reducing truck regulations has exacerbated the driver shortage, which further limits capacity despite the strong growth in the size of the truck fleet in 2014."
Over the next few pages we'll examine three major factors pushing up trucking rates and show how they'll affect your shipping decisions over the next few years.
1. Driver shortage
In a nutshell, the driver shortage is bad and getting worse. By most estimates, the industry could use between 20,000 and 50,000 additional drivers right now to augment the 3.6 million or so long-haul drivers currently on the highway. However, that shortage could reach as much as 150,000 in a few years, according to estimates by economist Noel Perry of FTR Associates.
According to David Ross, trucking analyst with investment banking firm Stifel, the lack of drivers is effectively the major capacity constraint in the trucking industry, not capital.
"In the conversations we've had recently with carriers, it is not all about the money," says Ross. "Carriers paying $45,000, $65,000, and $85,000 in annual salary all have unseated trucks. For some dedicated fleets, the driver shortage has become such a problem that shippers have started awarding retention bonuses or pay increases to the drivers.
Carriers are trying everything. Some have started their own internal driving schools, while others, such as Con-way, have stepped up recruiting ex-military personnel returning from Afghanistan and Iraq. Some have instituted sign-on bonuses as high as $5,000 for drivers who stay with their company as little as one year.
Long-haul TL carriers have tweaked their networks to satisfy demands to get drivers home more frequently. Most have also entered the short-haul—under 500 miles—regional TL market and have expanded dedicated operations to satisfy those demands. But despite higher pay across the board, the driver shortage continues to worsen because more drivers are retiring than entering the industry, regulations are getting tougher, and drug and alcohol testing is increasing.
"Getting trucks seated is very difficult," says Rourke of Schneider, a carrier that utilizes about 11,100 drivers for its 9,700 trucks hauling 30,600 trailers. "Capacity is always difficult, but it certainly has ratcheted up in difficulty."
Schneider is plagued not so much by driver turnover—in an industry where 100 percent turnover in a year is the norm—but by lack of available compliant drivers. About 21 percent of Schneider's drivers are ex-military, a stat that has helped with compliance. But to work on attracting new blood, the company has reconfigured its network to get drivers home more predictably and has added more dedicated runs.
However, the shortage remains. "If I thought 10 years ago we could get drivers home weekly, I would have thought we've solved the world's problems," Rourke explains. "But expectations have changed. Now weekly has become daily."
The big advantage LTL companies have is their hub-and-spoke networks that allow drivers to be home nearly every night. Most LTL carriers also utilize a "feeder" system that identifies dockworkers that might be prime candidates for new drivers. But TL carriers don't use many docks, because they travel mainly from point to point directly, so that feeder system is not available to them.
"We have an excellent driver development program from dock employees who look at FedEx as a career," Logue adds. "We can self-feed our driving requirements. Our system is designed to get drivers home every night, so we have an advantage there."
The driver shortage is also the chief catalyst in the surge in intermodal rail freight. Trucking companies are increasingly reluctant to use a driver on a long-haul route with solid rail connections—say, Chicago to Los Angeles or Chicago to Portland—because that driver can better be utilized elsewhere.
2. Mounting regulation
Shorter hours of service (HOS); increased testing for drug and alcohol abuse; electronic on-board recorders to catch mileage cheats; and who knows what's next.
Truckers say that if the federal government had set out on a plan to place a lid on trucking capacity, the last few years of regulatory overload could not have done a better job.
U.S. Chamber of Commerce President and CEO Thomas Donohue, formerly head of the ATA calls it a "regulatory tsunami." Truckload carriers say that the effect of the new HOS regulations, requiring at least two 30-minute breaks for most drivers, has effectively reduced their productivity.
According to a recent two part study conducted by Mary Holcomb, Ph.D., associate professor at the University of Tennessee, and Joseph Tillman, chief researcher of TSquared Logistics, with the assistance of Logistics Management, the actual cut in productivity has been much greater than originally figured.
Not surprisingly, the study of 891 participants, made up of both shippers and carriers, reported that the type of truck transport most affected by the rule change is long-haul moves, followed by dedicated and short-haul moves.
Early in the implementation of the HOS rule change, many shippers thought that the impact on productivity would be in the 1 percent to 4 percent range. According to the results of the most recent study conducted in June, the reality is much more grim: Respondents now expect the loss will be somewhere between 3 percent and 9 percent, with many more shippers anticipating that the deficit to be in the upper end of that range.
"It's clear that the estimates of the impact on productivity were significantly under projected," says Holcomb.
And there are more regulations coming. Electronic on-board recorders, that are backed by most large carriers, should be mandatory in the next two or three years. The ATA says EOBRs will "level the playing field" against those who cheat. The ATA is probably right, but there are also industry estimates that as many as two-thirds of drivers cheat on their paper logs. If enforcement becomes more rigid through electronic means, that likely will mean a further tightening of capacity.
Truckers are also bracing for a proposed rule on speed limiters that would hold carriers to around 63 mph to 68 mph. Considering some trucks currently operate between 70 mph and 75 mph, that is yet another hit on productivity. Sleep apnea testing may also become a requirement, causing the driver availability issue to worsen further.
3. Spot vs. contract rates disconnect
Nowhere is the dichotomy in trucking more evident than when you examine the gap between spot and contract rates. While contract rates are up between 2 percent to 4 percent over 2013, spot, or non-contract rates, have surged between 10 percent and 15 percent in the same time.
Spot rates are a harbinger because they track what is happening in the most recent weeks, as opposed to contracts that typically last a year or longer. According to DAT Trendlines, a data service that tracks spot rates, the national average spot van rate is near a record high of about $2.10 per mile.
Analysts say that this clearly indicates higher rates for everyone. Contract rates often "lag" the spot market because contract renewals come up only every year or so. The higher spot rates would seem to be driven by higher manufacturing output, construction, and agricultural products, which overall is good news for the overall economy.
Economist FTR's Perry is predicting that contract rates will soon be following the spot market lead. He's reporting that second quarter contract rates were rising even as spot rates stabilized, and is now predicting that the trend will continue at least through the end of summer. In a recent analysis, he "sees no sustained softening of capacity conditions through 2016." So, shippers should brace for stiff rate increases for at least the next two years.
Of course, how much rates will rise depends on every shipper's freight profile. Freight that is "driver friendly" with few delays in loading and unloading will be given a break, carrier executives say, because every minute of delay is costly in the new HOS environment.
On the TL side, Schneider's Rourke sees "very solid" contract renewals. Although he declined to give specific rate increases, he says that it's "not only retention, but price performance is exceeding what we had expected doing this year."
Carriers say nearly every customer is concerned about capacity. And with the U.S. industrial economy on a steady uptick, and issues about drivers front and center in everyone's mind, increasingly carriers say shippers are willing to pay more to get ever-tightening capacity.
Increasingly, reliability and capacity are taking on a greater role at contract renewal time, carrier executives say. "A customer bases what's important on quality and reliability," FedEx Freight's Logue says. "They want to make sure you can handle their volumes, and you are flexible and reliable. Those are the first things in any rate discussion in most cases—then pricing comes into play."
What's the bottom line?
According to John Larkin, the veteran trucking analyst for Stifel, the best trucking companies "are morphing into supply chain optimizers to for their customers." And they're doing this by offering services a customer may need to run an efficient supply chain.
Whether it's full TL, LTL, intermodal, or some combination of all three, carrier executives says shippers that collaboratively work with carriers to aid their ease of doing business are nearly certain to get priority when it comes to peak periods of freight demand.
With volumes back to where they were after slumping 25 percent in the depth of the Great Recession, carriers can afford to be increasingly choosy about their customers. As FedEx Freight's Logue says: "Everyone is focused so that the industry doesn't go back to that kind of environment we saw five years ago."
What's the bottom line for shippers? Rates are rising, and will continue in an upward track for at least the next two or three years. Shippers who choose not to collaborate with their carriers will feel the brunt of higher freight rates. However, when you peel back all of the layers, hardly anyone using truck services is immune in today's regulated environment.
About the Author
John D. Schulz John D. Schulz has been a transportation journalist for more than 20 years, specializing in the trucking industry. John is on a first-name basis with scores of top-level trucking executives who are able to give shippers their latest insights on the industry on a regular basis.
Subscribe to Logistics Management Magazine!
Subscribe today. It's FREE!
Get timely insider information that you can use to better manage your entire logistics operation.
Start your FREE subscription today!
Latest Whitepaper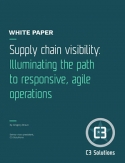 Supply Chain Visibility: Illuminating the Path to Responsive, Agile Operations
Supply chain visibility is not an end, but a tool. It is the means to achieving true supply chain effectiveness, agility and ultimately, corporate profitability.
Download Today!
From the December 2017 Logistics Management Magazine Issue
2018 Customs & Regulations Update:10 observations on the "digital trade transformation"
Moore on Pricing: Freight settlement and your TMS
View More From this Issue
Latest Webcast
2018 Rate Forecast
Join our panel of top oil and transportation analysts for an exclusive look at where rates are headed and the issues driving those rate increases over the coming year.
Register Today!