U.S. Chamber of Commerce head says rebuilding infrastructure is a 2012 business community priority
The U.S. economy is "superbly positioned" for a "new era of growth" as it emerges from three years of economic doldrums, but must make key decisions and investments to take advantage of the rebound, America's top business lobbyist is predicting for 2012.

By
John D. Schulz
·
January 12, 2012
The U.S. economy is "superbly positioned" for a "new era of growth" as it emerges from three years of economic doldrums, but must make key decisions and investments to take advantage of the rebound, America's top business lobbyist is predicting for 2012.

"As growth starts to return, and as we convince our government to remove some of the impediments, then it will be incumbent on business to take a few more risks and to make more investments," U.S. Chamber of Commerce President and CEO Thomas J. Donohue.

But a key ingredient in increasing that risk-taking is maintaining and improving the nation's transport and infrastructure system is through a long-term highway bill, perhaps partially paid for by an increase in the federal fuel tax.

Donohue spoke Jan. 12 at the Chamber's annual "State of American Business" economic outlook before about 200 business leaders at the Chamber's headquarters across the street from the White House.

In a typically blunt but optimistic speech, Donohue implored Washington lawmakers not to "take off" 2012 because it's an election year. Instead, he said 2012 can be a "can-do" year by enacting policies that will drive private-sector growth and create jobs to cut into the nation's official 8.5 percent unemployment rate. That figure stood at 5 percent in 2007 before the recession hit.

Donohue predicted a mere 2.5 percent growth in Gross Domestic Product (GDP), but improving to about 3 percent in the second half of the year, depending on such uncertain factors as the geopolitical worries, the worldwide price and availability of crude oil and how America copes with its ballooning debt.

"As we begin 2012, the state of American business is improving but it is doing slow weakly, slowly and insufficiently to put enough of our country back to work," Donohue said.

Noting that the U.S. is still down 6 million jobs from the start of the recession, Donohue implored Washington to do better.

"We reject the wisdom that nothing gets done in an election year," Bruce Josten, the Chamber's executive vice president and Donohue's right-hand man, said at a press briefing.

"We must grow faster," Donohue said. "And we can—if leaders in Washington work with the private sector to spur growth and create jobs without increasing taxes or adding to the deficit."

Speaking specifically on transportation, the former head of the American Trucking Associations implored Congress to renew the current federal-aid transportation before it expires in March. That program, dubbed SAFTEA-LU, has been funded at about $52 billion a year for the last two and a-half years through a series of short-term funding measures.

"If Congress doesn't act by March 31, the Highway Trust Fund would be cut by 35 percent," Donohue predicted, putting thousands out of work.

The Chamber has been a vocal supporter of a long-term highway bill – "preferably six years," Josten said—that Donohue says would create millions of good-paying construction jobs while modernizing this nation's aging infrastructure.

Short-term funding extensions, he said, are no way to adequately plan for long-term highway and transit programs with any degree of certainty.

Donohue said as many as 1.9 million new jobs could be created if public-private partnerships could be expanded for transport projects.

"I know something about transportation and it's crazy," Donohue said when asked about the highway bill. Typically, under a long-term federal funding measure, the federal government puts up about 80 percent of all funding with states and localities paying the difference.

But uncertainty has dried up the state and local funding, Donohue said.
"States and localities are not putting up any money until they're assured of getting a long-term bill."

At some point, the nation has to face a "fundamental reality," Dononhue said—and that's how to pay for it.

"We haven't had an increase in the federal fuel tax (currently 18.4 cents on gasoline, 23.4 cents on diesel) in 19 years," said Donohue, who in the past has indicated support for higher fuel taxes if that revenue were reserved for transport-only projects. "We have to deal with that issue."

Donohue said there is a "growing understanding" in the House and Senate that a long-term highway funding bill needs to pass this term.

"We are all over it," Donohue said. "It has got to happen. It is the simplest thing that makes us more competitive, makes us safer and creates a lot of jobs."

To be sure, increasing infrastructure spending would spur badly needed growth in manufacturing jobs. Even though there has been a 334,000 increase in U.S. manufacturing jobs in the past two years, that number should not be looked at in a vacuum. That's because more than 2.3 million manufacturing jobs were lost in the U.S. in the decade before this latest growth spurt.

According to the Labor Department, manufacturing jobs account for less than 9 percent of all U.S. jobs today, down from a peak of 30 percent in 1955. There are currently 11.8 million Americans employed in manufacturing, down about 9.7 percent from 1949's peak, according to the Labor Department.

Those manufacturing jobs drive freight demand. Carriers are hesitant to add much capacity to their networks because they are unsure of long-term demand levels for manufacturing and retail. This, in turn, affects shippers, who are worried about not having adequate transport capacity when the economic recovery returns.

"What we have to do is continue to expand manufacturing," Donohue said, adding the U.S. is still the largest manufacturing country. "We will continue to have a high-end manufacturing base."

This week President Barack Obama proposed new tax incentives to "bring jobs home," in an effort to offset decades of jobs outsourcing with what is now dubbed "onshoring."

But Congressional Republicans blame the complex U.S. tax code for driving jobs offshore. Donohue said the U.S. business community is united in its desire to invest and compete—if the federal government would sweep away impediments to growth and investment.

"Real leaders understand that Americans can have big differences in philosophy but still find common ground," Donohue said. "The nation has always succeeded when we have worked together."

On the issue of truck drivers hours of service, Donohue said there is an "explosion" of regulations in the pipeline overall in Washington. But he indicated the Federal Motor Carrier Safety Administration (FMCSA) has finally ruled adequately in the decades-only issue of HOS.
While stressing cooperation and the need to find common ground, Donohue said the right-leaning Chamber would hold lawmakers and candidates accountable for their positions on jobs. The Chamber is launching what Donohue called the most aggressive voter education effort for the upcoming election in its 100-year history.

"In overwhelming numbers, Americans believe that the country is on the wrong track," Donohue said. "They want their leaders to lead, to find solutions to our problems, and to stop playing political games with people's jobs, livelihoods and life savings."

Toward that end, Donohue outlined five priority areas that the Chamber is backing to help boost American competitiveness:
-Rebuilding infrastructure and producing American energy. The Chamber wants the administration to approve the Keystone XL pipeline from Canada to put 250,000 Americans to work over the life the project. It also wants a long-term highway bill adequately funded;
-Expand trade, investment and tourism. The Chamber wants America to renew a Trans-Pacific Partnership (TPP) agreement with eight of our best commercial partners in the Asia-Pacific region. It is also calling for bilateral investment treaties and expanded visa-waiver programs to help restore the U.S. travel market to 2001 levels, creating 1.3 million jobs "at no cost to American taxpayers," Donohue said;
-Advance significant regulatory and legal reform. The Chamber wants to curb what it calls "regulatory overreach" by the Environmental Protection Agency and the National Labor Relations Board that is "sucking the vitality out of our job creators.";
-Develop an innovation agenda. That would protect U.S. intellectual property-related industries and its 19 million workers by passing legislation that would cut off what it calls "rogue websites" from the U.S. market place; and
-Finally, control spending and reform entitlements. The Chamber is favoring "reasonable, phased-in changes" to Medicare, Medicaid and Social Security "in order to save these programs" as the nation's baby boomers enter in retirement.

The country is on pace to rack up an addition $1 trillion this year, or about $14 trillion in total. That equates to about $47,000 for every person in this country, Donohue said.

"All of us need to face the fundamental reality is the only way to continue these programs is to make constructive changes—and do them now," Donohue said.

Donohue is calling for an overhaul in the U.S. tax system. The Bush-era tax cuts are scheduled to expire at the end of 2012. If they are not renewed, Donohue said it would have a "devastating impact" on the U.S. economy.

"We're the most productive and innovative country in the world," he said. "America leads the world in manufacturing, services and higher education. The business community is excited about building on these strengths. We want to hire. We really do want to put people back to work."

If the U.S. government starts to remove some impediments, Donohue said the business community will be more likely to take greater risks—and hire more people.

"This is no time to sit and wait and sit on our legacy," he said. "It's time to stop apologizing for the one system that works—the U.S. free enterprise system."

January 18, 2012
About the Author
John D. Schulz John D. Schulz has been a transportation journalist for more than 20 years, specializing in the trucking industry. John is on a first-name basis with scores of top-level trucking executives who are able to give shippers their latest insights on the industry on a regular basis.
Subscribe to Logistics Management Magazine!
Subscribe today. It's FREE!
Get timely insider information that you can use to better manage your entire logistics operation.
Start your FREE subscription today!
Latest Whitepaper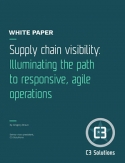 Supply Chain Visibility: Illuminating the Path to Responsive, Agile Operations
Supply chain visibility is not an end, but a tool. It is the means to achieving true supply chain effectiveness, agility and ultimately, corporate profitability.
Download Today!
From the December 2017 Logistics Management Magazine Issue
2018 Customs & Regulations Update:10 observations on the "digital trade transformation"
Moore on Pricing: Freight settlement and your TMS
View More From this Issue
Latest Webcast
2018 Rate Forecast
Join our panel of top oil and transportation analysts for an exclusive look at where rates are headed and the issues driving those rate increases over the coming year.
Register Today!