United States Postal Service heeds the call for postal legislation to help ail financial woes
USPS Postmaster General Patrick Donahoe pointed out that the 112th Congress adjourned without passing postal legislation, which he said could quickly restore the USPS to profitability and put it on stable, long-term financial footing

Jeff Berman, Group News Editor
·
January 4, 2013
Mired in a tenuous financial situation for various reasons, the United States Postal Service (USPS) continues to ring the bell for Congressional assistance in order to become solvent.
In a statement issued this week, USPS Postmaster General Patrick Donahoe pointed out that the 112th Congress adjourned without passing postal legislation, which he said could quickly restore the USPS to profitability and put it on stable, long-term financial footing, adding that the lack of action is disappointing.
"The Postal Service has worked closely with the Congress over the past two years to advance a framework for a viable business model that will allow us to quickly respond to the evolving needs of our customers," said Donahoe. "As a result of frequent communication with Congressional leaders, we have modified important parts of our five-year comprehensive business plan, including the pace of consolidation of mail processing facilities, to give Congress maximum flexibility to make needed legislative changes. Unfortunately, Congress has not enacted these changes. As we sought to provide solutions to enable legislative change, we pursued cost-reducing and revenue-generating activities. Over the past two years we have reduced head count by approximately 60,000 career employees. We have consolidated 70 of our mail processing facilities. We moved to reduce hours at many of our Post Offices. We also have worked to substantially increase our package volume along with introducing a same-day delivery service."
Donahoe stressed the fact that the USPS is "on an unsustainable financial path" and is currently losing $25 million per day and defaulted on $11.1 billion in Treasury payments and exhausted its borrowing ability.
This has led, he noted, to an undermining the confidence of its customer base and the $800 billion mailing industry it serves. The USPS will be discussing various accelerated cost cutting and revenue generating measures designed to provide it with some financial breathing room with its Board of Governors, he said.
In November, the USPS reported it incurred a record net loss of $15.9 billion for fiscal year 2012, compared to a $5.1 billion loss in fiscal year 2011.
Representing $11.1 billion—or nearly 70 percent—of this loss are mandated prefunding health retiree benefits which are part of a Congressionally-mandated 10-year payment schedule at an average of about $5.5 billion per year to create a fund to pay future retiree health benefit premium, among others. This summer, the USPS announced it could not make $5.5 billion in mandated prefunding health retiree benefits to the Treasury, which was due August 1, as well as a $5.6 billion payment due on September 30.
The USPS has been unable to fund this obligation from operations and has used all of its retained earnings and drawn down from its $15 billion borrowing authority from the U.S. Treasury.
The USPS stressed that in order to resolve the prefunding requirement and to provide more commercial flexibility to allow it to manage its business it needs legislative changes to fully implement its business plan to become financially solvent.
As reported, among the things it has proposed to get back into the black are consolidating its network in the form of facilities, processing equipment, vehicles, and staff, which it said would result in a savings of $2.1 billion and serve as a big chunk of its network optimization initiative that it projects to save up to $3 billion by 2015.
And the USPS said along with resolving the accelerated schedule to prefund retiree health benefits and has the flexibility to sponsor its own healthcare program for employees and retirees, other components of its plan include:
allowing the Postal Service to determine delivery frequency;

allowing the Postal Service to offer non-postal products and services;

developing a more streamlined governance model for the Postal Service that would allow for quicker pricing and product decisions;

instructing arbitrators that, during labor negotiations, they must take into account the financial condition of the Postal Service when rendering decisions; and

resolving the overfunding of the Postal Service's obligation to the Federal Employees' Retirement System (FERS).
Fiscal year 2012 shipping and package services business revenues for the USPS were up $926 million—or 8.7 percent—at $11.6 billion, and volumes were up 201 million pieces at a 6.6 percent annual growth clip.
These services include Priority Mail, Express Mail, Parcel Select and Parcel Return services and account for 2.2 percent of total USPS volume and 17.8 percent of total revenue. USPS officials pointed to e-commerce fulfillment and last-mile services as drivers for its strong performance.
The upswing in shipping and package revenues is helping to counter the ongoing losses the USPS continues to experience on the Mailing Services side, due to the ongoing diversion to electronic alternatives, including e-mailing business documents and online purchasing orders, as well as other electronic mailing processes.
First Class Mail revenue for fiscal year 2012, said the USPS, dipped 3.9 percent to $28.867 billion, with volume down 5.3 percent or 3.826 billion pieces.
Given its myriad fiscal challenges, the USPS said that at the end of fiscal year 2012, the USPS has reached its statutory debt ceiling of $15 billion for the first time, explaining that liquidity remains a large concern and demonstrates its need for legislation that provides for a more flexible business model to improve its bottom line.
The Wall Street Journal reported that the Postal Service says it will run out of cash in October 2013 without congressional intervention.
"The USPS is not in good operating shape," said Jerry Hempstead, principal of Hempstead Consulting, in Orlando, Fla., in a recent interview. "It is maxed on its borrowing limit and almost out of cash although the election produced $500,000 in postage, which is a temporary booster shot and twice the amount that the 2008 election produced.
He also pointed out areas where the USPS can drive efficiencies and save money, including 3,000 underperforming post offices that can be closed or consolidated into other facilities; it has 150 too many processing centers that can be closed or consolidated; and too many employees for the amount of volume it handles, among others.
"Congress needs to man up," said Hempstead. "They can, now that the election is behind us and we have two years before the next congressional election, pass legislation that allows the USPS to operate as a commercial business. I am also in favor of raising postage rates on transactions less than 1 lb, because they need to cover their operating costs and they are a monopoly. It is nuts that the government operates a monopoly, and the monopoly looses money. That speaks volumes about how we run our fiscal house."
In in April 2012, the U.S. Senate laid out a plan, entitled The 21st Century Postal Service Act (S. 1789), which passed by a 62-37 margin and aims to help the USPS regain its financial footing.
The main objectives of the bipartisan bill, which was sponsored by Sen. Joe Lieberman (I-Conn.), chairman of the Homeland Security and Governmental Affairs Committee, and Senator Susan Collins (R-Maine), Senator Tom Carper (D-Del.) and Senator Scott Brown (R-Mass.), in order to help the USPS become financially solvent include:
giving the Postmaster General access to money USPS has overpaid into one of its retirement funds to provide incentives to encourage 100,000 eligible employees to retire.
This would help voluntarily "right-size" the workforce to take into account the steep decline in first class mail volume in recent years;
reducing the amount of money that USPS has to prefund for retiree health benefits by amortizing the costs over 40 years and calculating those costs more appropriately;

retaining overnight delivery of first class mail, but limit it in some cases to shorter geographic distances;

preventing the Postal Service from going to five-day delivery for the next two years and require it to exhaust all other cost-saving measures first;

requiring USPS to set standards for retail service across the country, consider several alternative options before closing post offices, and provide for increased opportunity for public input;

allowing USPS to sell non-postal products and services in appropriate cases;

allowing USPS to ship beer, wine, and distilled spirits.

creating a Chief Innovation Officer to foster innovation at USPS

reforming the Federal Employees Compensation Act, the federal workers' compensation program; and

the bill expands the alternatives USPS must consider before closing a post office and it establishes a Strategic Advisory Commission, to be composed of prominent citizens and charged with developing a new strategic blueprint for the Postal Service.
See more United States Postal Service stories from Logistics Management
January 9, 2013
Latest Whitepaper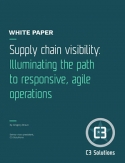 Supply Chain Visibility: Illuminating the Path to Responsive, Agile Operations
Supply chain visibility is not an end, but a tool. It is the means to achieving true supply chain effectiveness, agility and ultimately, corporate profitability.
Download Today!
From the December 2017 Logistics Management Magazine Issue
2018 Customs & Regulations Update:10 observations on the "digital trade transformation"
Moore on Pricing: Freight settlement and your TMS
View More From this Issue
Latest Webcast
2018 Rate Forecast
Join our panel of top oil and transportation analysts for an exclusive look at where rates are headed and the issues driving those rate increases over the coming year.
Register Today!