UPS and Teamsters come to terms on two new tentative five-year deals
UPS said yesterday that it has reached a tentative agreement with the Teamsters on two, new five-year contracts for UPS's small package and freight business units.

John Schulz
·
April 26, 2013
When it comes to labor negotiations, situations can change quickly for better or worse. In the case of the negotiations between transportation and parcel bellwether UPS and the International Brotherhood of Teamsters, it is the former.
UPS said yesterday that it has reached a tentative agreement with the Teamsters on two, new five-year contracts for UPS's small package and freight (less-than-truckload) business units.
These contracts cover roughly 250,000 UPS and UPS Freight employees, according to Teamsters for a Democratic Union (TDU).
UPS added that the tentative contracts were hammered out well ahead of their July 31, 2013 expiration date and need to be presented to the UPS Teamsters-represented employees for ratification. When the contracts are officially ratified, UPS said the new agreements would take effect on August 1, adding that the new contracts enable UPS to remain highly competitive, customer-focused, and positioned to deliver transformative technologies growing areas of the company like healthcare logistics and e-commerce on a global basis.
"These agreements are a 'win-win-win' for our people, customers and shareholders," said Scott Davis, UPS chairman and CEO, in a statement. "The fact that we have reached agreements well before our current contracts expire is a testament to the skills and determination of all those involved in these negotiations."
Another positive development highlighted by Davis was that the company's labor negotiations with the Teamsters—prior to the announcement regarding the tentative agreements—made significant progress and resolved the most important issues in their labor contract and were optimistic a deal will be reached very soon.
On its Web site, TDU outlined key aspects of the tentative contracts, which include:
-all UPS Teamsters in company health plans being moved to union health plans;
-$1 per hour increases in contributions to pension and healthcare benefits each year, which matches the previous contract; and
-wage increases under the five-year deal are reportedly 70 cents in each of the first three years, followed by raises of 90 cents and $1 in the last two years
Teamsters officials said that the tentative agreement for UPS package employees moves 140,000 employees into the Teamsters-controlled health plans to maintain current strong benefits for all UPS Teamsters and also grow funds for Teamsters for all industries into the future.
The Teamsters also said that for UPS Freight the tentative agreement resolves subcontracting issues by putting all laid-off road drivers back to work, with UPS Freight employees receiving substantial wage increases and lower co-pays for health insurance, coupled with providing the ability for more part-time workers to become full-time employees.
The possibility of this deal coming to fruition was in jeopardy as recent as a few weeks ago, with the Teamsters Union having drawn a line in the sand over health care in labor negotiations with UPS, which floated the idea that the 260,000 Teamsters for the first time make a small co-pay contribution toward their health care premiums.
During a negotiation session in March, Teamsters union President James P. "Jim" Hoffa said a group of Teamsters began chanting, "We won't pay!!" in a loud display of their opposition to the proposal, adding that it was a non-starter for the union.

Prior to yesterday's announcement, UPS officials repeatedly declined to negotiate publicly and refuse to discuss any details of their negotiating strategy.

Ken Hall, the Teamsters' general secretary treasurer and the union's point man for the Teamsters negotiations with UPS, said in March that the talks were tough but that was not a surprise. UPS, though, had expressed a desire for an early settlement to avoid any freight diversion to non-union carriers.

"The ball is in UPS's court," Hall said in March. "If they don't want shippers to walk away, it's in their best interest to agree to a fair deal."
Wolfe Trahan analyst Ed Wolfe wrote in a research note that his firm's initial sense is that the economic impact to UPS from the deal seems more favorable than past contracts, adding that the relatively early agreement also seems like a near-term positive for UPS and negative for FedEx.
April 26, 2013
Subscribe to Logistics Management Magazine!
Subscribe today. It's FREE!
Get timely insider information that you can use to better manage your entire logistics operation.
Start your FREE subscription today!
Latest Whitepaper
B2B Sellers Prefer a Unified Approach for Ecommerce
A new study from Forrester Consulting, commissioned by NetSuite, found that many midmarket, B2B sellers say their ecommerce solutions have contributed to their growth in sales, new customer acquisitions and improved customer relationships.
Download Today!
From the August 2016 Issue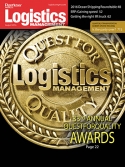 Megatrends in ocean freight
Ocean Cargo Roundtable: What's in store for 2017?
View More From this Issue
Latest Webcast
Getting the most out of your 3PL relationship
Join Evan Armstrong, president of Armstrong & Associates, as he explains how creating a balanced portfolio of "Top 50" global and domestic partners can maximize efficiency and mitigate risk.
Register Today!