YMS: Harmony
Today's yard management systems offer improved synchronization of the first- and last-mile activities outside the four walls—and shippers are beginning to listen to the benefits.

Bridget McCrea, Editor
·
August 13, 2010
When considering the supply chain software market, acronyms like WMS, TMS, and GTM get a lot of attention from shippers looking to gain visibility over shipments while saving both time
and money through automation. Often missing from the list, however, is YMS, or the yard management systems that track and report on what goes on outside the warehouse walls and away from the dock doors.
At their core, yard management systems handle the scheduling of inbound and outbound freight appointments while effectively managing yard resources.
Unlike WMS and TMS—that focus on warehouse management and transportation management—YMS gets down and dirty, and is most commonly credited with increasing efficiency and throughput runs associated with a shipper's distribution yard and docks.
"Basically, the YMS handles appointment scheduling and dock door management on the receiving and inbound side," says Mike Pujda, project manager at supply chain consultancy Tompkins Associates in Raleigh, N.C. "For inbound activity, the YMS handles the arrival event and vehicle check-in."
Once shipments are onsite, YMS tracks their movement and flow in and out of the dock doors, thus providing visibility into what is available for immediate unloading—and what's not. "When you have this information on hand, you can make the most effective decisions regarding prioritization of shipments and trailer movement," says Pujda. "Then you can turn around and do the same thing for outbound shipments, only in reverse."
March 5, 2013
Latest Whitepaper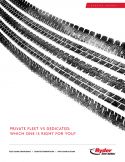 Private Fleet vs. Dedicated: Which one is right for you?
Having the right fleet for your business can give you an advantage over the competition and lower transportation costs.
Download Today!
From the April 2017 Issue
Information Management: Wearables come in for a refit
2017 Air Cargo Roundtable: Positive Outlook Driven by New Demand
View More From this Issue
Latest Webcast
Maximize Your LTL Driver Adherence with Real-time Feedback
This webinar shows how companies are using real-time performance data to optimize the scheduling of their city fleets, as well as the routing of their standard, accelerated and time-critical shipments.
Register Today!