2011 State of Air Cargo Special Report: Will fuel determine the course?
Today, fuel and capacity issues continue to loom large for air cargo carriers, while shippers are being told that tactical adjustments, especially in the growing Intra-Asia trade, will need to be made at a moment's notice as carriers re-adjust their networks.

Patrick Burnson, Executive Editor
·
March 1, 2011
There's a very good reason that the theme for the upcoming Air Forwarders Association (AFF) annual conference in San Diego will be "A World of Opportunities: Asia 2011," says Brandon Fried, the association's executive director.
"Simply stated, Pacific Rim growth has been driving the global economic recovery," adds Fried. "Granted, the transpacific lanes were the first to feel the negative impact of the recession, but our constituents are very bullish on the strengthening prospects in this region."
Indeed, an entire general session at the AFF event will be devoted to examining this dynamic market. Meanwhile, other major air cargo associations are banging the same gong, heralding the Lunar New Year as an auspicious one to begin investing in new routes and distribution strategies in the Asian market.
The International Air Transport Association (IATA) notes in its most recent report that the economies of China and India continue to lead the region's recovery. Asia Pacific airlines—with a 45 percent market share of the entire market—grew by 24 percent year-to-date in December 2010, and that trend is predicted to persist. One needs only to examine the upcoming calendar of global industry events to see that shippers are seeking new intelligence for market penetration.
The International Air Cargo Association's (TIACA) Executive Summit and Annual General Meeting 2011 is taking place in Bangkok, Thailand, this April, with organizers telling constituents that the time is right to begin regional investment again.
"Intra-Asia traffic had grown as big as the Europe-Asia trade lane did by 2008," says TIACA's Secretary General Daniel Fernandez. "So, airfreight flows change. Today, Thailand, Cambodia, and Vietnam are all major links in this supply chain."
Fernandez notes that products earlier in their life cycle—new evolutions of technology such as tablet computers and e-books—could expect to have a positive impact on airfreight for many years. "Still," he says, "carriers face major decisions about their future fleet needs."
With shippers so keyed up on finding new business in Asia, it comes as scant surprise that the airlines are bringing on new capacity. And according to the airline executives we interviewed, there will not only be more lift, but better efficiencies coming on line over the next few years.
Airlines bring it on
While Asia remains the focus, demand for global air cargo transport in general rebounded sharply in 2010 after a calamitous 18-month decline that began in May 2008. Boeing executives insist that in spite of this downturn, world air cargo traffic will triple over the next 20 years, compared to 2009 levels, averaging 5.9 percent annual growth.
"The number of airplanes in the freighter fleet will increase by more than two-thirds over the same period," says Thomas Hoang, Boeing's regional director of cargo marketing in Seattle. "China is the main engine for this growth, but nearly every developed country in Asia will be a factor."
Boeing analysts note that in 2009, world air cargo traffic declined 11.3 percent after declining 1.8 percent in 2008 and growing 3.3 percent in 2007. The 2008-2009 period marked the first time that air cargo traffic has contracted in two consecutive years. The decline affected nearly every geographic market; however, regions connected to industrial freight flows generally fared worse than regions that are less dependent on these flows. Remember, it was the rising price of fuel that diverted air cargo to less expensive road transport and maritime modes beginning in 2005.
Although the tepid rate of world air cargo traffic growth between 2005 and 2008 can be attributed in part to rising fuel prices, the nearly 13 percent drop in cargo traffic during the two years ending in 2009 reflects the steep plunge in industrial activity connected to the global economic downturn.
According to Hoang, new orders for larger, newer, and more fuel-efficient aircraft are in the offing to help offset some of those fuel-related concerns.
"We began our drive for more fuel-efficient models as we discovered that industrial activity started to recover, particularly in Asia," says Hoang. "The pace of air cargo traffic contraction, which had approached 30 percent in the first half of 2009, began to ease. Monthly air cargo traffic statistics turned positive in November 2009, and the first eight months of 2010 saw an estimated 24 percent growth in traffic, compared to the same period in 2009."
Hoang says that the strong rebound is expected to propel world air cargo traffic to regain the peak it attained in 2007 by the end of 2010. Indeed, anecdotal evidence suggests that many industrial shippers have turned to air cargo in response to the overcorrection that constrained capacity in the other modes of transport—particularly in containerships.
"But this does not mean we'll see a reduction of sea-air distribution strategies," says Hoang. "On the contrary. Some shippers will opt for a dual-mode solution for commodities like consumer electronics and appliances that are not as time-sensitive or in such great demand."
Should the air cargo industry feel threatened by such a plan? An emphatic "no" comes from Huang. "We regard sea-air as a compliment to any supply chain—not as a competitive element at all," he says. "Our commodity study indicates that a systemic change in the way cargo is moved is not underway. Some goods must always move by air."
Asia's air cargo markets will continue to lead the industry in average annual growth, according to Boeing research. Their findings also reveal that the Intra-Asia market alone is expanding 7.9 percent per year, and markets connecting developing economies to established economies will equal or exceed the average world growth rate.
Furthermore, Boeing says that over the next 20 years, the number of airplanes in the freighter fleet is forecast to expand by more than two-thirds, from 1,755 airplanes in 2009 to 2,967 airplanes in 2029. Large freighter aircraft will lead fleet additions, growing from an overall share of 27 percent to 33 percent as traffic continues to build on long-haul, international trade lanes.
Fuel costs loom
Robbie Anderson, president of United Cargo, notes that China leads all current and future cargo growth forecasts.
"Our strategic direction is determined by our shippers—we follow their lead," says Anderson. "They are making the business decisions to invest and conduct business in Asia's burgeoning economies, and we provide the bridge for their logistics." United Cargo operates more than 159 wide body aircraft to 378 worldwide destinations.
Anderson says that during 2010, Asia was a key driver of United's cargo growth, spurring combined revenue up 28.6 percent, to more than $1.1 billion. But energy costs are still a major concern, says Anderson, who adds that fuel is United's largest expense at 26.6 percent of operating costs; and, as a consequence, is a constant focus for efficiency. The rising drumbeat of fuel prices created an increase of $517 million in United's fuel costs in the fourth quarter alone.
"Consider that each run up of one dollar in the price of crude carries a $100 million incremental cost to United," he says. "That's pretty startling."
Matt Buckley, Southwest Airlines' senior director of cargo and charters, concurs that rising fuel costs will make a significant impact on the bottom line, thereby ultimately increasing shipping costs. Fuel is Southwest's second largest expense behind salaries, wages, and benefits.  
"But considering the tremendous amount of manufacturing being done throughout parts of Asia, and the volume of those goods being imported to the U.S., Asia will continue to be a strategic focus for many of our shippers for years to come," adds Buckley. At the same time, he says that "near-shoring" is becoming a practical alternative to doing business overseas.
"We are seeing many forwarders working with manufacturers that are near-shoring in places like Mexico," says Buckley. "As the costs of doing business in places like China continue to rise, I would expect near-shoring to increasingly become a more viable choice."
Cautionary perspective
The escalating fuel picture has industry analysts concerned, too, and not everyone in the air cargo arena is completely sold on Asia being the engine for economic growth. Given a longer time frame—say 20 years—one prominent expert feels that there will be a profound shift in shipping and sourcing.
Brian Clancy, managing director of Logistics Capital & Strategy, LLC, insists that Boeing and Airbus may be overbuilding in anticipation of demand that will begin to diminish by 2021.
"Airline manufacturers would have shippers believe that because of slow steaming, ocean freight providers can't deliver time-definite service. But that's not the case," he says.
Clancy says that ocean carriers have been "bifurcating" their strings into slow steaming mega-vessels, with faster, more nimble ships providing point-to-point service in the major trade lanes.
"APL's Ocean Guaranteed model is a perfect example, as are the transpacific shuttles introduced by Horizon Lines and Matson," he says. "Take the cargo off the ship, put it on a fast train or truck, and your supply chain has all the velocity it needs."
The real issue, says Clancy, is not speed, but reliability. Ocean carriers have demonstrated that they can adhere to schedule integrity while operating at a lower cost. Air cargo has not grown as fast as the ocean container industry, and that trend will continue, he adds.
"Airline manufacturers, who like to provide analytics in their forecasts to sell planes, will take issue with this, but they can't argue with the facts," Clancy says. "Does this mean a reduction in air cargo services? The short answer is no."
According to Clancy, it means we'll see a shift in weighted line haul segments and a redistribution of aircraft. Manufacturing origin points will change, and the flow patterns will follow.
Which brings him to address the real object of his passion these days: the so-called "BRICs."
"First, let's take China and India out of the long-term equation," he says. "China's manufacturing springs are winding way down, and we see a marked decline in their goods being consumed locally. Remember, only a relatively small percentage of its population is sharing any of the perceived prosperity of this huge economic upheaval."
According to Clancy, U.S. demand for cheap goods is not going to be enough to sustain China's growth, and he sees it as a "conveyor belt" that will be feeding fewer boxes to the West beyond the next decade.
Meanwhile, says Clancy, India will never have the transportation infrastructure to become a manufacturing powerhouse.
"So far, that country has done a good job of elevating its profile as a service industry provider," he says. "They have the Internet super-highway, and this is a great advantage for outsourcing knowledge-based services. But when it comes to moving goods overseas or even domestically, they don't have the real physical highways to achieve that."
So that leaves Russia and Brazil, notes Clancy, and both have enough natural resources to remain viable GDP leaders.
"But the same can be said for the NAFTA (North American Free Trade Agreement) countries," he says. "Mexico and Canada have tremendous stores of minerals, fuels, and other raw materials that can make this a dominant trading block again. And with more near-sourcing, you'll see a new direction in airline scheduling."
And while the aviation industry continues to be a leader in innovation, and has been a major driver of economic growth worldwide, its resiliency will be sorely tested in the coming years. The consensus seems to be that a unique set of challenges is most surely shaping the future of the air cargo industry.
March 21, 2011
Latest Whitepaper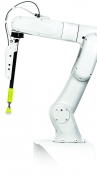 Warehouse Management Systems (WMS) / Inventory Management Technology: 6 Trends for the Modern Age
Here's how the next generation of warehouse and inventory management systems are evolving to help logistics operations operate more efficiently and improve their bottom lines in our brave, new digital age.
Download Today!
From the March 2018 Logistics Management Magazine Issue
Reverse Logistics in the "Age of Entitlement"
Logistics Management's Viewpoint on E-commerce: Leveraging available tools
View More From this Issue