2014 Rail/Intermodal Roundtable: Riding high
Through record-high investments and a keen focus on service, rail and intermodal providers are still delivering on their service promise to shippers—and doing it with improved efficiency. Our panel of top analysts takes a deep dive into what railroads are doing to stay lean and powerful during these still uncertain times.

Jeff Berman, Group News Editor
·
June 1, 2014
Perhaps more than other modes, the railroad and intermodal sectors have shown impressive flexibility in being able to roll with the economic changes and demand trends since the depths of the Great Recession. And since that time, the modes have made steady annual gains and are on track to meet or exceed pre-recession volumes on the intermodal side—with carload volumes not that far behind.
And amid a flurry of concerns over the regulatory framework of the industry as well as safety, the railroads continue to do their part, making annual capital investments into their infrastructure and networks to meet shipper objectives for things like improved transit times and increased efficiency.
In the midst of this continued progress, railroad carriers still face an array of challenges, including the possibility of re-regulation and increasing pushback from shippers that are less than pleased with rates.
To help put these vital modes into perspective, Logistics Management is joined by three of the nation's foremost railroad and intermodal experts to explain the current market outlook. Our panelists include Brooks Bentz, partner in Accenture's Supply Chain Practice; Tony Hatch, rail analyst and principal of ABH Consulting; and Bill Rennicke, partner at Oliver Wyman, a Boston-based management consultancy.
Logistics Management (LM): What's your take on the current state of the railroad and intermodal markets?
Bill Rennicke: Underlying demand is strong, but still recovering from this past winter and the weather-related service issues and bottlenecks. The recent Surface Transportation Board (STB) hearing suggested that the service issues should be worked out by early June, with service levels improving. In the meantime, record agricultural loadings and strong crude-by-rail (CBR) will provide growth in carload and domestic containerization along with modest international flows.
Brooks Bentz: I'll add that the luxury of fluidity in the network that resulted from the recession has disappeared in a number of areas, which is having an impact on network performance, creating congestion, and otherwise disrupting service. As Bill mentions, this has been exacerbated by a harsh winter, so maintaining adequate schedule reliability is proving increasingly difficult. Further complications have arisen from the large influx of volume stemming from shale field production and related traffic.
Traffic such as 'frac' sand, pipe, and drilling fluids has had a more than insignificant impact on rail service, particularly in the West.
So, despite very large infusions of capital for expanding infrastructure, it's becoming progressively more difficult to keep pace with growth. Our thesis has been that productivity improvements need to be generated in new ways, and that "Next Gen" productivity gains will be heavily influenced and driven by technology, in addition to the more traditional means.
Tony Hatch: As Bill and Brooks both emphasize, the demand is clearly there, and the secular trends—oil prices, driver shortage, the state of the highway versus rail networks—remain the same. However, the recent service issues at Chicago, the world's rail hub, and in North Dakota have put a near-term damper on things.
It's important to keep in mind that the service issues aren't permanent. They reflect a combination of across the board growth from coal, grain, carload, intermodal, and the new CBR business combined with a record bad winter all focused around the northern Midwest.
LM: Year-to-date carload volumes show slight growth and have yet to catch up to pre-recession levels. Overall, are things moving in the right direction for carloads?
Bentz: Carload volume seems to be doing just fine. Growth seems to be present in a number of key areas, such as automotive and the above-mentioned commodities relating to energy production. Also, a good amount of air traffic is shifting to ocean, so over-the-road freight will gradually shift back to carload in certain markets to offset increasing costs of highway transport and the delay time incurred with congestion in major markets. It just won't be as fast a shift.
Hatch: Coal has taken a secular hit as new natural gas opportunities and, even more importantly, new regulations have driven down utility coal, the former base-load commodity. That business won't ever fully come back, and rails have shown real flexibility in moving past the coal age.
Rennicke: Indeed, we see several sources of growth that should gradually increase carload traffic. Building materials show some strength in regional markets, and chemicals join CBR for further support. As Tony touched on, the severe winter had run down coal piles at utilities, with many at inventory levels of less than 100 days. But I suggest we look for increased coal volume as inventories are built back up.
LM: Intermodal is having another strong year, especially on the domestic side, and continues to outpace carload volumes. How sustainable is the ongoing strength of intermodal?
Hatch: It's very sustainable, more demonstrably so after the service recovers—and it's recovering on a daily basis with the improved weather. (Editor's note: Click here to read a white paper Hatch wrote earlier this year which was sponsored by the Association of American Railroads and the Intermodal Association of North America)
Rennicke: I agree. As intermodal gains volume and density, service frequencies improve and departure options increase. The combination of these factors should continue the strong support of domestic intermodal, particularly in the face of hours-of-service, the driver shortage, and other capacity constraints faced by the over-the-road truckers.
Bentz: Tony and Bill are both right on. I think growth in intermodal is theoretically sustainable. The constraints on expansion will largely be self-imposed, either by not being able to build capacity quickly enough to keep pace, or by mini-melt-downs whenever there is a surge in volume, whatever the reason.
LM: In recent years, intermodal has seen its primary growth on the container side, with trailers largely on the decline. Is this permanent as opposed to a long-term trend?
Rennicke: It's unlikely that trailers will increase in the share of intermodal. Domestic containers continue to replace trailers at a great pace.
Hatch: Trailers are the "gateway drug" of intermodalism. Try them and then you want the good stuff—the economics of double stacking. I see this trend continuing.
Bentz: I would actually say it's both: a permanent and a long-term trend. Stack train economics are so compelling that the trailer is doomed to be a second-tier player. Hauling "wheels-on-wheels" does not make sense from the standpoint of economics, physics, and environmental impact.
LM: As we mentioned earlier, railroad service has been a topic of interest lately, especially in Q1, which saw service declines for a number of reasons, including the difficult winter weather. What is the current state of railroad service in your opinion?
Bentz: Yes, the problems stemmed from bad winter weather for an extended period, coupled with surges in energy and energy-related traffic. Service will likely rebound as the weather improves, but that also brings the warm-weather construction season, which is sorely needed to plow money into capacity expansion.
Rennicke: Those are good points, and I would add that service is in a recovery mode. Even when the weather-induced bottlenecks are totally freed up it will take some weeks for the national system to get cycle times back to levels from Q3 2013.
Hatch: I have to say that the amount of capital expenditures (capex) put into play to solve the services issues is impressive. I'm just back from a rail research trip to North Dakota, and you can see the work that's being done in terms of things like sidings and double tracking.
LM: What can shippers expect in terms of service over the next year?
Bentz: I think it's going to be a bumpy ride for a while yet, until some of these issues mentioned above sort themselves out. I don't think there's a silver bullet lying around, just waiting for someone to pick it up and fire it. Railroads will need a combination of lever-pulling in order to get service back to where shippers expect it.
Hatch: My projection is that service will be close to "normal" by the end of this quarter, and should go back to a level of continuous improvement based on the management focus, the dollars spent—some 19 percent of revenues, more in some cases—and the IT involved as well.
Rennicke: Carriers continue to invest billions in infrastructure and new locomotives to add capacity and reduce bottlenecks, so I would add that continued long-term improvements should be expected.
LM: In what ways are market conditions affecting capacity and rates for rail and intermodal?
Rennicke: Railroads continue to require increased rates to fuel the billions of dollars of capacity investments that are required. I would expect rate increases where market conditions permit.
Hatch: Slot capacity has been affected by the combination of cyclical (carload), episodic (grain), new (CBR), and secular (intermodal, particularly domestic intermodal) growth all at the same time. This, too, shall pass.
Bentz: Keep in mind that trucking is going through an interesting period, with volumes backed up due to capacity constraints, rising prices, driver shortages, and the same bad weather that affected the railroads. This has helped shove more volume to intermodal, which is going to be a continuing trend as energy costs remain high and likely go higher.
The really interesting dynamic will be how well the railroads can penetrate the shorter-haul markets. They do very well in the long-haul lanes, but the vast bulk of U.S. freight moves on much shorter lanes, under 750 miles. Some rail carriers are making an effort to go after this, and their ability to succeed in this space will be instructive.
LM: Is pricing where it needs to be, given that rails are on the hook for the lion's share of their capex, which continues to hit record levels?
Hatch: Pricing needs to continue to be unregulated and go up on a consistent basis to continue to grow ROI, which leads to capex—which leads to capacity and service.
Rennicke: There is a high correlation between operating income and capex. Operating income is significantly fueled by increased rates. Railroads should continue to increase rates to support the private sector funding of the national network.
Bentz: I think the railroads have a manifestly greater understanding currently of their operating costs, margin requirements, capital needs and––probably most importantly—what the competition, meaning trucking, is doing. So, they are now much better at fine-tuning their pricing to remain competitive.
As mentioned earlier, the biggest challenge will be in creatively pricing in the short-haul markets where rail's traditional inherent advantages are at their weakest. So, yes, on balance I think pricing is largely about where it needs to be, for now.
LM: How will the rail and intermodal markets look five years from now?
Bentz: I can answer two ways, by expressing what I think and what I hope. I think we will continue seeing very large commitments of capital for capacity expansion. It won't be enough to ward off congestion, because volume will continue to grow apace.
I think the railroads will continue trying to improve operationally to cope with additional volumes and continue growing. I also think that their financial results will bear this out. The net result will be both robust carload and intermodal business on just about every network, even in the face of potential issues implementing PTC (positive train control).
On top of all that, I hope the railroads amend their strategic vision to place a heavier influence on the use of technology-enabled solutions for core functions, such as rolling and linear assets and end-to-end transportation management to facilitate providing complete supply chain visibility and event management to their beneficial cargo owners.
Rennicke: The state of the industry and the ultimate structure will largely depend on what happens with regulation and legislation. We are nearing a fork in the road. We can embrace a private sector rail industry that fully supports capex from its earning, or we can pursue a path of increasing regulation and price controls that lead to an industry that will not be able to support itself from earnings.
The latter path may be fraught with all of the public underfunding issues that face our highways, airports, and waterways. The latter path could also lead to the railroad looking more like a regulated utility.
Hatch: The markets will be bigger and more important, have better service metrics, and still be tight in terms of demand/supply.
June 15, 2016
Latest Whitepaper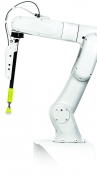 Warehouse Management Systems (WMS) / Inventory Management Technology: 6 Trends for the Modern Age
Here's how the next generation of warehouse and inventory management systems are evolving to help logistics operations operate more efficiently and improve their bottom lines in our brave, new digital age.
Download Today!
From the March 2018 Logistics Management Magazine Issue
Reverse Logistics in the "Age of Entitlement"
Logistics Management's Viewpoint on E-commerce: Leveraging available tools
View More From this Issue