2015 State of TMS: Mid-market shippers key to growth
With transportation networks becoming increasingly global and complex in nature, why aren't more shippers investing in transportation management systems (TMS)? We attempt to answer this age-old question and reveal how TMS providers aim to turn the tide on adoption.

Transportation in the News
ODFL reports solid tonnage trends in November update
U.S.-China trade truce buys supply chain managers a little more time
Travel Time Forecast Infographic
The 5 factors you must consider before selecting a TMS
project44 announces acquisition of Denmark-based GateHouse Logistics
More Transportation News
Transportation Resource
Travel Time Forecast Infographic
Combining traffic speed insight with highly localized weather forecast data to help more accurately predict travel time.
All Resources
By
Bridget McCrea, Editor
·
January 1, 2015
Today's transportation networks are more global and complex than they've ever been in the past, yet just 35 percent of shippers say they're using transportation management systems (TMS) to manage these increasingly complicated networks of freight.
And while Logistics Management's 2014 Technology Usage Study showed that shippers are aware of the scheduling, routing and rating, freight payment/auditing, carrier selection, and load forwarding support that a TMS provides, about 70 percent of users have been using the same software packages for the last several years and have no plans to change that approach.
Gartner's Dwight Klappich says that shipper size could be having an impact on TMS adoption and upgrade numbers. He breaks the
market down into large shippers (over $100 million in annual freight spend), mid-sized firms ($25 million to $100 million), and small companies (under $25 million). He estimates a TMS adoption rate of more than 50 percent for the top tier, and says that the penetration is "pretty low" for the other two levels of ship volume.
However, the tides could turn in 2015 as more vendors take aim at the under-$100 million freight spend quadrant. "We're starting to see a lot more interest paid to the mid-sized shipper," says Klappich. "That's where a lot of the action is right now."
Over the next few pages we'll examine some of the reasons TMS adoption rates remain so low among logistics organizations, explore the most active markets within the software sector, and find out what's on the horizon in terms of TMS capabilities.
Low-hanging fruit is picked
As defined by technology research firm ARC Advisory Group, TMS helps companies move freight from origin to destination efficiently, reliably, and cost effectively. ARC segments the TMS market into two basic solution types: planning and execution solutions are systems for freight moves involving carriers; and fleet management solutions are systems for freight moves involving transportation assets owned by the company.
In its recent TMS market research study, ARC found that respondents indicated freight savings of approximately 6 percent with the use of a TMS application. According to the report, those freight savings can be attributed to lower cost mode selections, better routing, and better procurement negotiations.
"The TMS product set continues to improve with new forms of optimization, mobility enhancements, improved usability, and better analytics," states the ARC report. "Multi-tenant solutions continue to offer some distinctive capabilities that many companies find attractive. Aside from the freight savings, today's TMS solutions can provide improved customer satisfaction, warehouse efficiencies, new delivery capabilities, inventory reductions, and cash flow improvements."
However, in assessing the low TMS adoption rates, Chris Cunnane, ARC senior analyst, points to the logistics service provider (LSP) sector as a possible answer as to why more shippers aren't buying their own solutions. In fact, he says that shippers that currently lack TMS should explore the growing sophistication of what their third-party LSP can offer in terms of technology.
"Historically, one of the leading complaints about the LSP market was that their technology was not good enough," says Cunnane. "As LSPs overcome that barrier, potential TMS customers may increasingly choose the managed services path."
As an example of the increasing sophistication of LSPs, such organizations are solving problems that cannot be solved by a traditional TMS solution. "The biggest untapped optimization opportunity is collaborating with other shippers on backhauls," says Cunnane, who adds that solving this problem is only partly about math. "It really requires network visibility, matchmaking, and extensive hand holding. The best examples of collaborative multi-shipper back haul solutions have been provided by LSPs."
The cloud is one growth area for TMS. For example, Cunnane says ARC has tracked single-digit growth year-over-year in cloud-based TMS applications. "Even though many companies are moving toward cloud models, the bigger players are still heavily reliant upon software implementations," says Cunnane, who points to Oracle's move to the cloud as a development that could affect the long-term growth of this revenue type.
In September 2014, Oracle rolled out Oracle Transportation Management Cloud and Oracle Global Trade Management Cloud and began offering its solutions for transportation and global trade management functionality on a single, unified, cloud-based platform.
The battle for the mid-market
If there's a bright spot in the mature TMS sector, it's shining on the small- to mid-sized companies that are still using a patchwork system of Excel spreadsheets, disparate software programs, phone calls, and faxes to manage their increasingly complex transportation components.
Klappich says that those shippers hovering in the $25 million to $75 million-per-year freight spend category are particularly ripe for new software implementations and upgrades. He estimates that 10 percent to 15 percent of that segment is currently using TMS in the U.S., and says that number drops to zero in the global market.
"We're seeing a lot more vendors trying to compete for that mid-tier level of business," says Klappich. And while TMS vendors aren't limiting themselves to the smaller market, he says vendors like MercuryGate and 3GTMS are particularly well positioned to soak up the opportunities being presented by smaller shippers.
"There's a lot of untapped potential out there right now," says Klappich, who expects more vendors to jump into that game and help heat up the competition for the under $75 million freight spend shipper. "It's an area that vendors really were not targeting, but now I think we're going to see a lot more selling in that market."
Like Cunnane, Klappich sees Oracle's move into the cloud-based TMS business as another market driver for the year ahead. "Oracle has a good TMS to begin with, but quite frankly there may have been some 'over capabilities' within the solution for Oracle's JD Edwards customers," Klappich explains. "Now, with the solution moving into the cloud, the platform will be more appealing."
Finally, Klappich sees the large ERPs move into the supply chain space. Take for example Microsoft Dynamics' recent acquisition of Blue Horseshoe's Transportation for AX [TRAX] technology as another potential market driver for TMS in 2015.
"The large ERPs haven't really focused much attention on TMS in the past," says Klappich, who expects these entities to also focus attention on the mid-market, knowing that the low-hanging fruit of the top tier has been picked. "Surprisingly, there are still a few large shippers not using TMS yet, but right now most of the activity we're seeing involves the mid-size shippers. There's huge potential there."
In terms of the very low end of the shipper market—those companies with less than $25 million in annual freight spend—Klappich says most are hard pressed to justify the cost of a full-blown TMS. That spells good news for cloud-based providers that can parse out their solutions on an as-needed, subscription basis.
"Companies like Cloud Logistics and IBM with its e-tendering platform are especially well positioned to offer up solutions that lack the bells and whistles that you find at the higher end of the spectrum," adds Klappich.
More growth in store
Sundip Naik, vice president, supply chain at Capgemini Consulting, is bullish on TMS' prospects during the year ahead.
Over the last six months, Naik says that the company has seen a "surprisingly high level of interest" in the software, despite the fact that industry adoption levels are hovering in the 35 percent range. In most cases, he says that shippers are interested less in implementing software and more in changing their operating models to accommodate a more complex and global transportation network scenario.
"A lot of shippers are moving towards shared services or completely outsourcing their TMS components to outside sources, such as 3PLs," says Naik, who adds that the software sector as a whole has become somewhat commoditized in nature.
In addition, Naik says the desire to move financial costs from capital expenditures to operating expenditures for budgeting and tax purposes is helping to drive more interest in cloud-based TMS and managed services. Finally, he says that the increasingly global nature of the average supply chain is pushing shippers to extend TMS capabilities overseas on a standardized basis.
"About half of the proposals we're receiving involve the standardization of operating models across the globe," says Naik.
That global viewpoint presents opportunities for TMS vendors, says Naik, particularly when it comes to finding ways to fill in the "gaps" in current transportation management models. And from a shipper's standpoint, he says that the focus should be on ensuring end-to-end visibility and business process standardization across all global entities.
"When shippers achieve this, they're able to truly leverage the scale of their global operations and effectively reduce their transportation costs," Naik adds.
Going forward, Cunnane sees steady growth ahead for the TMS market, namely due to the strong and documented ROI provided by such solutions. "The shift towards cloud-based models is driving growth, and the fact that the TMS product set continues to improve with new forms of optimization, mobility enhancements, improved usability, and better analytics," he adds.
June 15, 2016
About the Author
Bridget McCrea, Editor Bridget McCrea is a Contributing Editor for Logistics Management based in Clearwater, Fla. She has covered the transportation and supply chain space since 1996 and has covered all aspects of the industry for Logistics Management and Supply Chain Management Review. She can be reached at
[email protected]
, or on Twitter
@BridgetMcCrea
Subscribe to Logistics Management Magazine!
Subscribe today. It's FREE!
Get timely insider information that you can use to better manage your entire logistics operation.
Start your FREE subscription today!
Latest Whitepaper
Travel Time Forecast Infographic
Combining traffic speed insight with highly localized weather forecast data to help more accurately predict travel time.
Download Today!
From the November 2018 Logistics Management Magazine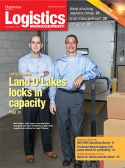 Land O'Lakes lock in Texas-based capacity
How will the tariff war with China affect U.S. container ports?
View More From this Issue
Latest Webcast
The Future of Multi-Carrier Shipping Systems (Beyond the Shipping Label)
How confident are you that the shipping solution you have in place today will meet emerging delivery and customer service trends over the next five years? In this webinar transportation technology expert Ken Fleming, COO of Logistyx Technologies, discusses the key trends shaping supply chain delivery today and how they're influencing shipping system requirements.
Register Today!