2017 Warehouse / Distribution Center Survey: In the thick of e-commerce adjustments
As e-commerce fulfillment pressure continues to climb, our annual survey points to the many changes taking hold—from more investment in automated approaches to piece picking, more use of robotics, increased interest in throughput metrics and general process improvement.

By
Roberto Michel
·
November 1, 2017
During the adaptation of industry trends, there comes a point when you pass the early stages of adjustment and dive into really doing things differently. Our "2017 Warehouse and Distribution Center (DC) Operations Survey" shows us an industry that's now in the midst of that change—and we're getting into the thick of e-commerce adjustments.
The tweaks include more investments in automated order picking, voice-directed systems and other technology. We're also seeing pain points continue to swell; foremost among these is the struggle to find qualified workers. Also emerging are data that suggest respondents may be reshaping their DC networks with smaller facilities to serve as fulfilment centers closer to the point of demand.
The survey, conducted annually by Peerless Research Group (PRG), drew more than 300 responses this year from professionals in logistics and warehouse operations management across multiple verticals. One of the clearest data points, and the issue that is likely driving change of many types, is the level of e-commerce involvement, according to Don Derewecki, a senior consultant with St. Onge Company, and Norm Saenz, Jr., a managing director with St. Onge, a supply chain engineering consulting company and partner for this annual survey.
In fact, 19% of respondents now say they do omni-channel fulfillment, up 3% from last year, while 37% say they do e-commerce, up by 2% from last year. This steady growth in e-commerce and all the pressures that brings around piece picking, labor management, and cycles times, is driving deep change for respondents, notes Derewecki.
"Overall, what we're seeing and what seems to be consistent with the study results is that there is more of requirement for speed and accuracy, driven very much by e-commerce expectations," says Derewecki.
In response, the survey shows that some technologies that had been flat the last few years are on the increase this year. Many of these involved each picking that is a hallmark of e-commerce fulfillment, notes Saenz. "The investments are increasing a bit more for certain areas like voice, pick- to-light, and put walls, which points to operators applying some technology to e-commerce pressures," says Saenz.
The annual survey of decision makers for warehouse/DC operations spans multiple areas, including facility; labor and other operations trends; use of technology; capital expenditure levels; and use of metrics. We also ask about disruptions from natural disasters. And with the disastrous hurricane season of 2017 fresh on people's minds when the survey was in the field, the response for this question jumped, with 15% saying they had experienced a catastrophic event, up from just 6% in 2016.
Most participating companies came from manufacturing (46%), followed by distributors (27%), third-party logistics providers (11%) and retailers (6%). Leading verticals included food & grocery, automotive & aerospace, general merchandize, electronics, fabricated metals, and paper products.
Operations snapshot
In recent years, the survey has trended toward "more" as the norm when it comes to factors like facility clear heights and labor forces. This year's survey results, however, has some data that runs contrary to these recent trends, but is consistent on others like the nature of inbound and outbound shipments, as well as the steady march of e-commerce.
For 2017, 14% of respondents handle full pallets on the outbound side, up from 9% last year. On the inbound side, full pallet was only at 13%, which is the same as last year. On the outbound side, 45% handle full pallet, case and split case, while 24% handle case and split case, for a total of 69% for those two answers, the same as last year. Thus, while the response for outbound "full pallet only" grew slightly, the outbound profile is relatively consistent.
Wholesale (67%) and retail (58%) remain the most common channels serviced, with wholesale staying equal to the previous year's 67%, and the response for retail down by 2%. This year, 37% say that they service an e-commerce channel, up from 35% in 2016. Additionally, 19% say they have an omni-channel service environment, up from 16% last year.
While there is likely some overlap on these answers, 56% now say they service omni-channel or e-commerce needs.
How channels are being fulfilled—in terms of using third-partly logistics (3PL) sites, servicing channels in-house (self-distributed) from one DC, or self-distributed with separate DCs for different channels—also experienced some change. Those saying they self-distribute for all channels from one DC fell from 42% last year to 37% for 2017, while 30% now say they self-distribute with separate DCs for different channels, up from 24% in 2016.
The survey's findings on inventory where slightly different from the previous year. The average number of SKUs declined to 13,130 this year from 13,774 the previous year. The percentage of SKUs that are conveyable or can be handled robotically was 29%, down from 36% the year previous. Annual inventory turns for 2017 came in at 8.5 turns, a decline from 9.2 turns the year previous.
While more turns is typically desirable, a couple of factors may be playing into the slower movement. One, notes Derewecki, is that the cost of financing remains low, so there is less cost involved in carrying more inventory than if rates were higher.
The widening of the Panama Canal and enhancements to some U.S. ports to accommodate larger freighters also has tended to increase the volume of cargo that can be imported at an attractive cost. Such factors may be contributing to a tendency to carry more inventory, notes Derewecki, in addition to the need to maintain high service levels for multiple channels.
At the same time that some of these macro-level factors may be driving inventory levels higher, respondents are after better, tighter inventory control. In fact, when asked about actions taken to lower operating costs, "improving inventory control" was the second most common answer, with a 63% affirmative response, up from 60% the previous year.
DCs and labor forces
The trend toward "bigger, taller and more" when it comes to facilities and labor altered slightly for the 2017 survey. For example, when asked about most common square footage for buildings in the DC network, the average for 2017 was 193,190 sq. ft., down slightly from 199,040 feet last year.
Average clear height of buildings was 29.8 feet for 2017, down from 31.1 feet in 2016, and 30.8 feet the year previous. However, 27% of respondents said that clear height ranged from 30 feet to 39 feet, up 1% from 2016.
Total square footage in the network averaged 473,400 sq. ft., down from 539,00. The median dropped as well, from 240,410 to 176,600, while the "mega-sized" DC network response (two million sq. ft. or more) stayed at 10%.
When it comes to the most common square footage for a single DC, when the network is four buildings or more, the average square footage for 2017 was 264,675, up slightly from 264,445 last year. For networks of three buildings or less, the average square footage was 159,510 in 2017, down from 178,090 last year, but very close to the 158,955 sq. ft. back in 2015.
Why the shift in facility and DC network sizes? To some extent, there is natural variation year to year due to different sets of respondents. Another factor at play may be the growth of e-commerce, notes Saenz. With industrial real estate availability tight, and a growing need to service e-commerce orders quickly, it may be that some operators are opening relatively smaller fulfillment centers versus big DCs that service traditional channels and large regions.
"I think e-commerce is really starting to drive some of the survey results we're seeing, even in areas like clear heights or smaller facilities," says Saenz. "Buildings last a long time, so some smaller facilities built decades ago may be getting repurposed as fulfillment centers for e-commerce. Also, I think the growth in e-commerce volume has pushed the need to have the inventory and processes set up in a separate building. As a result, some of the findings that at first glance seem confusing start to make sense once you realize that e-commerce growth is driving various changes."
When asked about DC expansion plans, 23% said that they plan to expand square footage, down slightly from 27% last year. However, 17% say they plan to expand the number of buildings, up 3% from 2016. Employee/labor expansion plans for DCs also are on the rise. Over the next 12 months, 36% are foreseeing expansion in the number of employees, up from 33% last year.
The number of employees in a DC network trended slightly downward. For 2017, the average number of employees for a network was 228, down from 278 in 2016. However, the 1,000-plus employee bracket drew a 12% response, up slightly from 10% in 2016.
The "less than 25" employee bracket grew significantly, while the 500 to 999 employee range decreased from a 11% response in 2016, to just 5% this year. These changes might be due to a different mix of respondents, or deeper shifts in DC networks that may be developing.
Capital expenditures continued the general growth pattern of recent years. The average current capex reached $1.43 million in 2017, up from $1.37 million last year. Median capex increased from $242.95 million last year to $250,000 this year.
When it comes to estimated capex for the next year, the average projection is $1.51 million, up from $1.39 million from last year, while the median for projection comes to $303.19, down from $358.69 the previous year. "There's some new level of investment that's indicated," notes Saenz. "It's not an outrageous increase, but consistent with what might be expected in trying to handle e-commerce more efficiently."
Solutions and metrics
The types of technology investments respondents are interested in generally align with the pressures of e-commerce order picking and fulfillment. For instance, 10% indicated that they use some form of automated order picking, up from 3% from last year and the 7% from 2015.
Among specific picking technologies, 12% say they are using a "parts-to-person" system, up from 10% in 2016.
Voice assisted solutions with no scanning came in 7%, up from 3%, while voice with scan verification was also 7%, down 1% from the previous year. Robotic or other automated technology was in use by 5% of respondents, up from 3% last year. Use of automated storage and retrieval systems was up by 1%, while automated guided vehicle use grew from 3% to 6%.
When it comes to "order filling" techniques, 20% use a "put" to order method, up from 15% in 2016. Use of put walls also grew by 2%.
Use of warehouse management system (WMS) software, from various types of vendors as well as legacy/homegrown, grew from 83% across all types last year to 87% this year. Best of breed WMS grew slightly from 11% to 13%, but somewhat surprisingly, so did the response for use of legacy systems, up by 7%.
While it's possible that packaged solutions from ERP and WMS vendors have been around so long that some consider older packaged solutions as legacy, the overall trend is that WMS is in use at the vast majority of respondent locations. In keeping with that use level, 60% of respondents say their primary data collection method to gauge productivity is "automated through a WMS," up from 59% last year. Manual data collection methods are used by 55% of respondents, down from 57% last year.
Overall, the technology portion of the survey reflects that operators are layering in more automation, though not necessarily big ticket, fixed automation systems. "The e-commerce world drives the need for more labor, and as a result, you have the need to use some forms or automation to give you the productivity gains you need," says Saenz.
Derewecki agrees that there is strong interest in technology as a means of dealing with the labor-intensive requirements of e-commerce, especially solutions that are quick to reconfigure and change as DC workflows evolve.
"There is greater interest in flexible technology solutions like voice-directed solutions or RF-directed picking, and to some extent, robotics," says Derewecki. "Generally, the technologies of interest are all trending with the piece picking volumes associated with e-commerce. Companies are interested in finding ways to fulfill orders with fewer people, because people aren't easily available right now."
The percentage of respondents using some type of productivity metric grew from 82% last year to 86% this year. Common metrics used include units/pieces per hour (44%), orders per hour (34%), cases per hour (27%) and lines per hour 26%. Use of "percent of an engineered standard" remained at 17%, the same as last year. Metrics that gained a bigger response this year were units/pieces per hour, orders per hour, and lines per hour.
Respondents continue to take a range of actions to lower operating costs, with 95% taking an action of some kind. Common actions include improving warehouse processes (70%), while 63% tell us they're trying to improve inventory control, an action that grew by 3% over 2016. Changing racking and layouts increased by 5%, while reducing staff as a means of lowering costs decreased to 21% this year from the 23% who used that as a cost reduction measure in 2016.
Survey findings show continued strong use of metrics as well as interest in cost management methods such as improving warehouse processes and inventory control—pointing to an industry that wants to streamline and standardize as much as possible, both to manage costs and to respond to customer expectations.
"Companies are looking to standardize processes as part of making it easier to comply with rising customer expectations for quality and turnaround time," says Derewecki. "There is an increasing emphasis on continuous improvement—on streamlining and standardizing—as a means of managing costs and delivering more value to customers."
Labor as top issue
Given the picking, packing and shipping tasks associated with e-commerce, it's not surprising that the inability to attract and retain labor has become the top industry pain point. Whereas last year, "insufficient space for inventory or operations" remained the leading pain point, this year it gave way to the inability to find hourly workers, which grew from 41% last year to 49% this year.
The insufficient space issue—at 40% this year—still ranked number two on the list of major issues, followed by inadequate information systems support (36% this year) and outdated storage, picking, or material handling equipment (33%). What's more, the fifth most cited issue—the inability to attract and retain qualified supervision—shot up from 11% in 2016 to 25% this year.
"There is a lot of competition to find and retain good, quality employees, so DCs are struggling to find good people," says Saenz. "This issue is driven in large part by the increase in smaller order handling. E-commerce is driving change in terms of space, different types of facilities, for people, as well as automation."
For the first time in recent years, the percentage of respondents performing value added services (VAS) reached 90%. Frequently cited types of VAS include special labelling (54%), lot number control (34%), product assembly (31%), serial number control (30%), and kitting (29%). Of these, assembly was up by 4% and kitting by 3%.
The majority of respondents (64%) report that their systems have SKU weight and dimension data in their item masters. This is down from 68% last year, but only 12% see it as a major industry issue, just like last year.
The survey includes an open-ended comment section about "significant change" respondents are seeing. And while responses vary, common comments included adding 3PLs, becoming more automated, adding space or racking, implementing technologies like voice picking or RF scanning, concerns about finding labor or improving the workforce, improving warehouse processes.
These types of comments make sense in the current environment. E-commerce is marching on, the economy is good, so challenges operators have been experiencing the last few years are only accelerating, concludes Derewecki.
"E-commerce has really become a game changer in warehouse operations," says Derewecki. "When you couple that with the expectation that the general economy will get better, it puts increasing pressures on DCs on many fronts—on turnaround times, on being able to find more space on short notice, or finding good hourly workers and supervisors."
As a result, Derewecki adds that we will continue seeing operators trying to standardize and upgrade processes, and applying some automation. "They're automating where it's justified, to reduce the long-term dependence on a large labor force, and also, to be readily able to absorb surges in demand."
November 1, 2017
About the Author
Roberto Michel Roberto Michel, an editor at large for Modern Materials Handling (MMH), has covered manufacturing and supply chain management trends since 1996, mainly as a former staff editor and former contributor at Manufacturing Business Technology. He has been a contributor to MMH since 2004. He has worked on numerous show dailies, including at ProMat, the North American Material Handling Logistics show, and National Manufacturing Week. He can be reached at
[email protected]
Subscribe to Logistics Management Magazine!
Subscribe today. It's FREE!
Get timely insider information that you can use to better manage your entire logistics operation.
Start your FREE subscription today!
Latest Whitepaper
Travel Time Forecast Infographic
Combining traffic speed insight with highly localized weather forecast data to help more accurately predict travel time.
Download Today!
From the November 2018 Logistics Management Magazine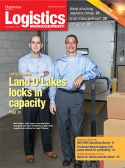 Land O'Lakes lock in Texas-based capacity
How will the tariff war with China affect U.S. container ports?
View More From this Issue
Latest Webcast
The Future of Multi-Carrier Shipping Systems (Beyond the Shipping Label)
How confident are you that the shipping solution you have in place today will meet emerging delivery and customer service trends over the next five years? In this webinar transportation technology expert Ken Fleming, COO of Logistyx Technologies, discusses the key trends shaping supply chain delivery today and how they're influencing shipping system requirements.
Register Today!