29th Annual Salary Survey: Experience pays
Our 2013 survey finds that the highest salaries in logistics and supply chain management will be earned by those sticking to time-honored values: education, hard work, and company loyalty.

Patrick Burnson, Executive Editor
·
April 1, 2013
According to the findings of Logistics Management's (LM) 29th Annual Salary Survey conducted by Peerless Media Research Group (PRG), median earnings and compensation are on an even keel. But if a sudden tidal surge occurs in 2013, it will not be one that lifts all boats. Indeed, our research team contends that the winners will be those who have kept faith with time-honored values: education, hard work, and company loyalty.
Our research team also finds that the demographic "sweet spot" for salary is still in the middle-age range of 45 years old all the way to 63 years old; however, we found that younger professionals on the fast track can eclipse their current salaries with added education. But for that happen, says our research team, they will have to strive for excellence when it comes to introducing decision analysis, IT tools, cross-functional and cross-organizational teaming, as well as finance—and do it for the same company for a while.
In fact, company loyalty—a concept widely rejected in other industries—continues to pay off for logistics professionals. Aside from strong salary growth, those managers who have spent some time with their current employer tell us that the "feeling of accomplishment" is the number one value (63 percent) by a significant margin over pay (44 percent) in the job satisfaction category.
As in years past, ongoing education remains a key differentiator in compensation, although it no longer means spending great sums of money to obtain an MBA. Online certification, for example, is being offered by even the most esteemed universities as a way to help executives move up the corporate ladder.

This year's results—based on 1,262 qualified LM reader respondents—indicate that 60 percent did see a salary increase in 2012. Of that number, the median raise was 3 percent with the average raise coming in as high as 6 percent.
According to Judd Aschenbrand, director of research for PRG, the "median" metric is the one to watch, as it paints a more accurate picture of today's marketplace. "The median is regarded by most statisticians as the most reliable benchmark," he says. "But the average is important too. Apart from 'standard deviation,' our system provides a fairly complete overview of who's earning what levels in the market."
Those respondents with the title of "logistics manager" earned an average salary of $94,145—down substantially from the $99,600 average posted last year. But the median salary is just $87,00—up slightly from the $85,000 posted in 2012.
"What this means," says Aschenbrand, "is that several senior executives are bringing in the really big bucks, while others who may work at smaller corporations are just treading water." Indeed, based on response from logistics managers, salaries may have actually decreased in the median range.
Critical thinkers needed
For many professionals in the business, the "logistics manager" title is not specific enough to describe the functions that our readers are charged with these days—nor does it outline the scope of responsibilities. Duties ranging from procurement to payroll are often folded into the job description.
"Today, we're looking for young people who can hit the ground running and create a specialized environment that brings immediate value to logistics and supply chain management in its own space," says Lynn Failing, vice president of Kimmel & Associates Inc., a national executive search firm specializing in the logistics and supply chain.
Laura Birou, Ph.D, who currently serves on the faculty for the Sustainable Supply Chain Management program at Louisiana Tech University, agrees. "Logistics managers are becoming recognized as diversified corporate leaders in Fortune 500 companies, and we see that filtering down to the smaller enterprises as well," she says. "We believe that the bottom-line value of these logistics decision-makers will reshape the current structure of many manufacturers and retailers."
Jim Kelly, founding CEO of JVKellyGroup, Inc., a consultancy specializing in cost reduction and risk mitigation in the supply chain, says that the next generation of logistics leaders will have to be masters of "change management."
"In particular, managers will have to create dashboards that measure both internal and external data that can be flexible and change as behavior changes," says Kelly. "If you don't measure it, you don't control it; but if you measure the wrong items, it's a waste of time."
Not surprisingly, survey respondents recognized this demand for critical thinking in today's logistics marketplace. In fact, 42 percent say that have pursued professional certification to improve their understanding of logistics strategy, while 20 percent have graduate degrees in logistics or supply chain management.
"Because there are so many variables that need to be considered when sourcing materials, logistics managers will need to measure and understand the procurement process as well," says Randall Wilson, global vice president, chemical for Uti Worldwide. "Today, global companies especially will need to be more nimble in their approach to logistics and supply chain management."
However, obtaining this kind of sophisticated skill set can cost one dearly, admits Dr. John Fowler, chair of the Supply Chain Management Department at the W. P. Carey School of Business at Arizona State University (ASU). He says that some students are opting out of MBA programs because of their expense and time commitment; but that doesn't mean that ongoing education is coming to a halt.
"On the contrary. We're anticipating a surge in demand for on-line learning and accreditation," says Fowler, adding that this fall ASU will offer a Master of Science in Supply Chain Management and Engineering geared to mid-level working professionals with approximately five years of experience in logistics management.
Joel Sutherland, managing director of the Supply Chain Management Institute at the University of San Diego, was impressed with the high percentage of survey respondents who felt that continuing online education would help in their salary negotiations.
"This is an important indicator of the value of online programs," says Sutherland. "We offer an online Master of Science in Supply Chain Management, but we're also considering new 'massive open online courses' platform for online delivery. Given that there are fewer logistics managers that will want to endure a post-graduate gauntlet, we believe online education will become more relevant in order to provide quality education to the masses."
New era
According to educators at the University of Tennessee (UT), there has indeed been a fundamental shift in how logistics and supply chain managers are perceived and rewarded.
Fifteen years ago, the UT staff says that the logistics and supply chain leader in most companies held a title such as "vice president of logistics." It was largely a functional role that relied on technical proficiency in discrete areas: knowledge of shipping routes, familiarity with warehousing equipment and distribution center locations and footprints; and a solid grasp of freight rates and fuel costs.
"He reported to the chief operating officer or chief financial officer, had few prospects of advancing, and had no exposure to the executive committee," says J. Paul Dittmann, Ph.D., executive director of the Global Supply Chain Institute at UT. "The way companies need to think of the modern supply chain executive has changed dramatically."
Dittmann, who recently teamed with colleagues on tracking "game changing" trends in the industry, notes that logistics and supply chain executives still need to be experts at managing supply chain functions such as transportation, warehousing, inventory management, and production planning. But the supply chain process extends end-to-end and even outside the firm, including the relationships with suppliers and customers on a global basis.
"Leading firms now see the supply chain functional leader as the executive to coordinate the end-to-end supply chain process, even though he or she does not control it all," says Dittmann. "Because of that added dimension of cross-function, cross-company coordination, senior supply chain executives must possess a number of unique characteristics."
April 23, 2013
Latest Whitepaper
Travel Time Forecast Infographic
Combining traffic speed insight with highly localized weather forecast data to help more accurately predict travel time.
Download Today!
From the November 2018 Logistics Management Magazine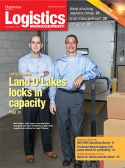 Land O'Lakes lock in Texas-based capacity
How will the tariff war with China affect U.S. container ports?
View More From this Issue
Latest Webcast
The Future of Multi-Carrier Shipping Systems (Beyond the Shipping Label)
How confident are you that the shipping solution you have in place today will meet emerging delivery and customer service trends over the next five years? In this webinar transportation technology expert Ken Fleming, COO of Logistyx Technologies, discusses the key trends shaping supply chain delivery today and how they're influencing shipping system requirements.
Register Today!