ABF, Teamsters cite signs of progress in labor negotiations
Following meetings last week in Kansas City between ABF representatives and the Teamsters national negotiating committee, the Teamsters said that some progress has been made in that ABF has withdrawn its initial proposal and agreed to work from the existing agreement, as well as reaching tentative agreements on what it called various non-controversial items.

John Schulz
·
March 5, 2013
Negotiations for a new labor contract between ABF Freight System and the Teamsters union may be on the verge of progress, based on recent updates provided by each concern.
Following meetings last week in Kansas City between ABF representatives and the Teamsters national negotiating committee, the Teamsters said that some progress has been made in that ABF has withdrawn its initial proposal and agreed to work from the existing agreement, as well as reaching tentative agreements on what it called various non-controversial items. ABF and the Teamsters will resume talks next week, the Teamsters said.
"We think it is a step in the right direction that the company has agreed to bargain from the existing contract and address proposals in a more traditional manner," said Gordon Sweeton, Teamsters ABF National Negotiating Committee Co-Chairman. "But with just a month to go before expiration, the company needs to get realistic on the core issues that remain open."
ABF also expressed that things are moving in a better direction, in regards to the negotiations, than they previously were.
"ABF is pleased to report progress on various operational flexibility issues that will allow us to better serve our customers in a marketplace that continues to undergo significant change," the company said in a statement. "Through hard bargaining on both sides of the table, we are comprehensively addressing the first set of substantive issues on various operational needs to help ABF better compete. Work on those operational issues continues and we look forward to continued discussions in the coming weeks on specific economic terms that remain."
And based on the current state of negotiations and progress made to date, ABF said that good faith negotiations could continue—as required by federal law—past March 31, when the current collective bargaining date expires, as long as both sides continue to make progress.
These signs of progress represent a significant turnaround compared to where things stood in late December.
After breaking away from chief rival YRC Worldwide in an attempt to negotiate separately with the Teamsters National Freight Industry Negotiating Committee (TNFINC), ABF made an initial contract offer in December that the union said insulted ABF's 7,500 drivers, dockworkers, mechanics and clerical staff.

The Teamsters immediately responded with a statement that called that initial offer insulting and a "non-starter."

A second round of negotiations in Kansas City starting Jan. 7 did not fare much better, according to Sweeton.

"ABF's initial contract proposals ... seek to destroy the NMFA standards that have been in effect for decades and served ABF well," Sweeton said in a statement. "We hope the company will bargain in a traditional manner so that we can make progress on the important issues from the start."

Among the initial demands by the nation's sixth-largest LTL carrier, ABF wanted to eliminate all supplemental agreements to the basic contract; reduce paid time off; eliminate the longstanding grievance procedures that have been in effect for more than half a century; expand use of nonunion subcontractors, expand use of worker surveillance; and create new, lower-paying part-time positions in most job classifications.

ABF responded with details of its current financial plight. Its stock price has plummeted by more than 80 percent in the past two years to trading around $9 a share at press time. It says its high labor costs are responsible for more than $230 million in losses since 2009.

ABF says its goal is to secure a new contract that allows ABF to "substantially lower its costs, become more flexible and better compete in a rapidly changing marketplace" that has seen hundreds of union carriers go out of business and non-union carriers proliferate.

In describing its negotiating goals in general terms, ABF said it is negotiating its own national contract to create "an unprecedented opportunity" for both parties to work together and fix the labor cost problems that have led to its current financial plight.

In its statement, ABF says was "disappointed" to see a public update distributed by the Teamsters prior to the start of its contract talks stating that "management labor costs" are excessive, and that an economy growing at 4 percent annually would somehow fix ABF's problems.

"Neither of these statements is correct, and it is important to clarify misconceptions and focus on what ABF really needs to compete," the company said in its statement.

As for executive compensation, the company says that parent Arkansas Best Corp. CEO Judy McReynolds' salary and incentive was 58 percent of the average of the other similar industry companies' CEOs in 2011. In other words, ABF says she was paid about 40 percent less than her peers. In addition, all of the compensation of ABF officers including Ms. McReynolds adds up to less 0.5 percent of ABF's costs, according to the company.

ABF claims chief rival YRC paid its former CEO Bill Zollars $2.5 million in total compensation for just five months in 2011 before he left the company. That's nearly twice what Arkansas Best's CEO was paid for the entire twelve months of 2011, ABF says.

In contrast, ABF says its Teamster employees enjoy the highest levels of pay relative to all of their peers in the LTL industry in total compensation including wages, health and welfare, and pension. Last year alone, ABF paid $244 million in just union pension, health & welfare. More than half of that huge amount, $132 million went to union pension expense alone.

Further complicating matters are two extraneous factors that privately are infuriating the Teamsters:
-The union is currently the subject of a lawsuit by ABF over the 15 percent wage givebacks that the union rank-and –file approved to keep financially ailing YRC Worldwide, its chief competitor, alive; and
-Last June's purchase by ABF parent Arkansas Best Corp. of Panther Expedited, a non-union expedited carrier specializing in same-day shipments, for $150 million.
ABF says its problems will not be fixed by an improvement in the economy but must be solved by lowering its costs and gaining greater flexibility.

It claims that since 1999, six out of 10 union LTL jobs have disappeared while non-union jobs have increased 160 percent. Even during periods when the economy was strong, this trend continued. Following a peak of 500,000 Teamsters covered by the National Master Freight Agreement in the 1980s, ABF is now negotiating on behalf of just 7,500 workers.

ABF says these structural changes and job trends in the LTL industry will not be fixed by an improvement in the economy. "In any case, there is no projection or past level going back to historical growth trends since the 1930s that will produce the levels of growth needed to bring ABF back to its pre-recessionary earnings," the company says.

ABF is playing hardball. It says that unless it can "dramatically lower" its union labor costs and gain flexibility through mutual agreement with the Teamsters, it will make "extensive changes" to the network including closure of terminals and distribution centers will occur.
"The severity of those changes depends upon the savings ABF is able to achieve," the company says. It says its current cost structure of wages, health and welfare and pension "simply is not sustainable" in today's LTL market. "Burdensome costs have directly resulted in lost market share and lost jobs at ABF. That is a fact," the company says bluntly.

The Teamsters responded by accusing ABF of "cherry-picking" statistics from the LTL competitors.

"To say the least, this initial offer from ABF is a real non-starter and will do nothing to advance the dialogue between the parties," Sweeton said in a press release. "We know the company needs some relief. But this strategy is going nowhere fast with our committee."

The Teamsters say ABF is "misguided" in its belief that its labor costs are primarily to blame for ABF's financial losses.

"The poor state of the economy over the past four years created losses at all large LTL companies and the labor-intensive type of freight operations ABF conducts are issues as well," Sweeton added. "As for pensions, the company's pension costs in its largest fund, the Central States, have been frozen the past two years with health and welfare costs only seeing modest increases during that time as well."

The Teamsters are calling on ABF to take a "more balanced" approach in its contract talks.

"Teamsters have worked hard to make ABF successful," Sweeton said. "Management needs to understand this and respect our members' efforts, not denigrate those efforts.
March 5, 2013
Subscribe to Logistics Management Magazine!
Subscribe today. It's FREE!
Get timely insider information that you can use to better manage your entire logistics operation.
Start your FREE subscription today!
Latest Whitepaper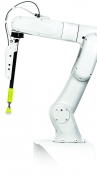 Warehouse Management Systems (WMS) / Inventory Management Technology: 6 Trends for the Modern Age
Here's how the next generation of warehouse and inventory management systems are evolving to help logistics operations operate more efficiently and improve their bottom lines in our brave, new digital age.
Download Today!
From the March 2018 Logistics Management Magazine Issue
Reverse Logistics in the "Age of Entitlement"
Logistics Management's Viewpoint on E-commerce: Leveraging available tools
View More From this Issue