Air Cargo Relationships: Contracting with purpose and trust
It's easy for shippers to fall in love with an air carrier or forwarder when short-term goals are met, but these vital relationships require a long-term commitment. These two short case studies demonstrate how to succeed.

Patrick Burnson, Executive Editor
·
May 1, 2013
While the recent marriages between air cargo carriers has captured headlines, the real story for shippers is still one of "staying the course." The fragile nature of business relationships in the logistics arena is made evident when major disruptions occur, so it's edifying to see just how players are working together to avoid them. Pairing two narrative accounts from shippers and forwarders makes this point loud and clear.
SOS Global Express: Zero margin for error
Having done business with Southwest before it acquired AirTran in 2011 may have given SOS Global Express a reason to look elsewhere for priority service. But the forwarder soon found that the carrier's culture had not been compromised following the deal.
The first real test, said SOS CEO Stephen O'Connell, was getting his shippers—some of the leading video and broadcasting companies in the world—on board for approval.
"We fill a niche for companies that prefer one contact point, instant access 24 hours a day, 365 days a year, with true operational control," says O'Connell. "Problems may arise with afterhours shipments, the need for damage control, or absolute minute-by-minute control over a very sensitive shipment."
The most recent example of this logistical challenge came with the 2013 Super Bowl in New Orleans. During the four-week period that includes setup and break down for this game, SOS Global was responsible for hundreds of shipments, and thousands of individual pieces comprising more than a million pounds of cargo. Each individual shipment had a specific need, not duplicated.
"One of 50 or 60 of our media customers needed his shipments delivered on January 30th to only Gate D of the Mercedes-Benz Superdome at exactly 9 a.m.—any earlier and the crew would not be in yet, any later and a crew of 40 people would be left standing around without gear to work," recalls O'Connell. "Meanwhile the other shippers are demanding entirely different services on the same day."
During the four-week period that includes setup and break down for this game, SOS Global was responsible for hundreds of shipments, from pieces as small as a computer hard drive to twenty-foot long television set pieces and staging. Each individual shipment had its unique place in shaping the overall look and feel of the game for the audiences at home and in the stadium.
Given this complexity, more than one cargo airline must be engaged, admits O'Connell. But the carrier with the most aggregated set of trade lanes gets most of the business.
"Like all of our vendor partners, we look for an air carrier willing to sign on for the project and commit the resources necessary to ensure its success," says O'Connell. "Once our team is in place, we begin to lay out a plan that identifies everyone's part and how they are to play it. Our air cargo partners are included in the fine details of the plan and we count on their input to make the plan better."
In this case, O'Connell found that Southwest Airlines' operating hours, lift capacity, and key people could be incorporated into the master blueprint for the overall project. "The planning and execution is similar to rehearsing a fine orchestra and then performing flawlessly night after night," he says. "There's a very narrow margin for error."
Given that SOS has 25 years of experience certainly doesn't hurt. But every game and city has a different setup and needs, including new security rules every year. SOS Global starts planning as early as November and sets up its onsite team, typically anchored by some of its most seasoned people. This team is backed up by an operations and customer service team at headquarters that operates around the clock.
"SOS Global then teams up every year with vendor partners that we've come to know and trust with such an important project," says O'Connell.
"Some are local to the game city but most are national partners such as airlines and trucking companies."
He adds that SOS expects these companies to "sign on" for the project and commit the resources necessary to ensure its success. The sports metaphors don't end there, however. "Once our team is in place, we begin to lay out a plan that identifies everyone's part and how they are to play it," concludes O'Connell. "Our partners are included in the fine details of the plan and we count on their input to make the plan better."
INDEX Group: Delivering on promise
Our second case study demonstrates why "speed dating" is a poor way to build air cargo relationships. With the merger in 2010 of United Airlines and Continental, shippers had to choose between staying with their proven provider—whether it be with United or its newly-acquired partner—or seek alternatives elsewhere.
For the Esslingen, Germany-based INDEX Group, the main issue was transparency—not a big surprise when one considers that INDEX is a leading manufacturer of precision-made turning machines for global engineering and electronics companies.
"Mergers and acquisitions aside, we work with any airline that can deliver on promises," says Jean-Claude E. Toussing, export purchasing manager for INDEX in Noblesville, Ind. "Velocity is the goal, but transparency is key. Shipper, forwarder, and carrier must all have access to the same tracking and tracing data," he adds.
According to Toussing, an urgent shipment of custom machined auto parts destined for factories in Stuttgart was feared to be lost or missing when INDEX was first evaluating carriers. Fortunately, they had been working with a freight forwarder who could deliver the most reliable information available, irrespective of carrier.
Freight-Base, a U.S. Customs broker and international freight forwarder based in Bensenville, Ill., had proven to be the right fit for the German manufacturer several years ago. "Because Freight-Base and the airlines use variations of the same TMS software we have back-up when we absolutely must find the shipping status of our parts," he says. "This provides a second layer of security, too."
With its own certified cargo screening facilities and in-house X-Ray and explosive trace detection equipment, the forwarder is also able to expedite shipment.
Jack Groat, president of Freight-Base, recalls when a test shipment for INDEX was temporarily placed in limbo because the airline lost track of its status. But because the forwarder uses photos and backup commercial invoices on its web page, the matter was cleared up fairly quickly.
"The cargo was inadvertently placed in a remote corner of a warehouse," recalls Groat. "Without our GPS and other enhancements, we would have to wait for the airline to find it with just their own resources. But that's how a partnership works. We stay on the same page and work things out for the shipper."
Strengthening the bond
Now that a federal bankruptcy judge has approved AMR's Corporation's plans to merge with US Airways, shippers will be looking for innovative ways to work with the new mega-carrier.
Indeed, this merger will create the single biggest airline company in the world. Operating under the American Airlines name, it will join United Continental, Delta Airlines, and Southwest Airlines as carrier leaders capturing more than 80 percent of U.S. reservations and cargo bookings.
And beginning this month, American Airlines Cargo will provide shippers with GPS tracking and sensor monitoring devices as part of its partnership with OnAsset Intelligence, Inc.
"These devices can be added to domestic and international shipments to monitor temperature, pressure, and humidity, as well as to detect motion and vibration," says Matt Maynard, American's cargo media representative. "It is designed for shippers who are booking time-critical, high-value and temperature-sensitive cargo."
Keeping shipper, forwarder, and carrier on the same page is OnAsset, an Irving, Texas-based provider of tracking solutions. The advanced technology directly maps into the immediate requirements of intricate supply chains involving multiple modes of transportation, and is the cornerstone of in-house models used by forwarders like Freight-Base.
According to the consulting firm Frost & Sullivan, OnAsset's partnerships with mobile network operators (MNO) ensure that information is transferred efficiently, even in cases of multi-mode transportation. "Targeting this space and succeeding in it has allowed OnAsset to safeguard against any current competition," says Rahul Vijayaraghavan, a research analyst at Frost & Sullivan. "The compelling benefits of its solution have enabled it to get more approvals for commercial aircrafts than any other company."
The company's domestic mobile network partners have helped to establish international rate plans with the necessary connectivity, thereby easing global adoption of this technology.
"Connectivity brings people to business, and delivers products to markets," observes Tony Tyler, director general and CEO of the Geneva-based International Air Transport Association (IATA). "Within a few miles of the tarmac the most remote region can be connected to the global community. And that could mean access to vital sources of health care and emergency assistance; jobs selling products in global markets; or opportunities for education, exploring the world or creating business."
Tyler says that air cargo carrier consolidation should not be regarded as a threat to shippers, or represents a reduction of choice. Indeed, he contends that with meaningful air cargo partnerships every flight brings with it enormous possibilities to make our world a better place and generate wealth—"both material and of the human spirit."
October 28, 2013
Latest Whitepaper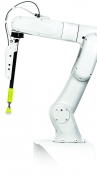 Warehouse Management Systems (WMS) / Inventory Management Technology: 6 Trends for the Modern Age
Here's how the next generation of warehouse and inventory management systems are evolving to help logistics operations operate more efficiently and improve their bottom lines in our brave, new digital age.
Download Today!
From the March 2018 Logistics Management Magazine Issue
Reverse Logistics in the "Age of Entitlement"
Logistics Management's Viewpoint on E-commerce: Leveraging available tools
View More From this Issue