Crude by rail safety improvements are a top priority for U.S. railroads and DOT
With a sharp eye on safety in the wake of tragic accidents from crude by rail (CBR) operations, major U.S.-based Class I railroads and United States Transportation Secretary Anthony Foxx recently rolled out what they described as a rail operations safety initiative comprised of new voluntary operating standards for moving crude by rail.

LM Staff
·
February 26, 2014
With a sharp eye on safety in the wake of tragic accidents from crude by rail (CBR) operations, major U.S.-based Class I railroads and United States Transportation Secretary Anthony Foxx recently rolled out what they described as a rail operations safety initiative comprised of new voluntary operating standards for moving crude by rail.
"We share the Administration's vision for making a safe rail network even safer, and have worked together to swiftly pinpoint new operating practices that enhance the safety of moving crude oil by rail," said Association of American Railroads (AAR) President and CEO Edward R. Hamberger, in a statement. "Safety is a shared responsibility among all energy-supply-chain stakeholders. We will continue to work with our safety partners – including regulators, our employees, our customers and the communities through which we operate – to find even more ways to reinforce public confidence in the rail industry's ability to safely meet the increased demand to move crude oil."
The steps to be taken, by railroads, according to the AAR, include:
-Increased Track Inspections – Effective March 25, railroads will perform at least one additional internal-rail inspection each year above those required by new FRA regulations on main line routes over which trains moving 20 or more carloads of crude oil travel. Railroads will also conduct at least two high-tech track geometry inspections each year on main line routes over which trains with 20 or more loaded cars of crude oil are moving. Current federal regulations do not require comprehensive track geometry inspections;
-Braking Systems – No later than April 1, railroads will equip all trains with 20 or more carloads of crude oil with either distributed power or two-way telemetry end-of-train devices. These technologies allow train crews to apply emergency brakes from both ends of the train in order to stop the train faster;
-Use of Rail Traffic Routing Technology – No later than July 1, railroads will begin using the Rail Corridor Risk Management System (RCRMS) to aid in the determination of the safest and most secure rail routes for trains with 20 or more cars of crude oil. RCRMS is a sophisticated analytical tool, developed in coordination with the federal government, including the U.S. Department of Homeland Security (DHS), PHMSA and FRA. Railroads currently use RCRMS in the routing of security sensitive materials. This tool takes into account 27 risk factors – including volume of commodity, trip length, population density along the route, local emergency response capability, track quality and signal systems – to assess the safety and security of rail routes;
-Lower Speeds – No later than July 1, railroads will operate trains with 20 or more tank cars carrying crude oil that include at least one older DOT-111 car no faster than 40 miles-per-hour in the federally designated 46 high-threat-urban areas (HTUA) as established by DHS regulations. In the meantime, railroads will continue to operate trains with 20 or more carloads of hazardous materials, including crude oil, at the industry self-imposed speed limit of 50 miles per hour;
-Community Relations - Railroads will continue to work with communities through which crude oil trains move to address location-specific concerns that communities may have;
-Increased Trackside Safety Technology – No later than July 1, railroads will begin installing additional wayside wheel bearing detectors if they are not already in place every 40 miles along tracks with trains carrying 20 or more crude oil cars, as other safety factors allow;
-Increased Emergency Response Training and Tuition Assistance – Railroads have committed by July 1 to provide $5 million to develop specialized crude by rail training and tuition assistance program for local first responders. One part of the curriculum will be designed to be provided to local emergency responders in the field, as well as comprehensive training will designed to be conducted at the Transportation Technology Center, Inc. (TTCI) facility in Pueblo, Colo. The funding will provide program development as well as tuition assistance for an estimated 1500 first responders in 2014; and
-Emergency Response Capability Planning – Railroads will by July 1 develop an inventory of emergency response resources for responding to the release of large amounts of crude oil along routes over which trains with 20 or more cars of crude oil operate. This inventory will include locations for the staging of emergency response equipment and, where appropriate, contacts for the notification of communities. When the inventory is completed, railroads will provide DOT with information on the deployment of the resources and make the information available upon request to appropriate emergency responders.
AAR officials added that railroads will continue to work with the Administration and rail customers to address other key shared safety responsibilities, including federal tank car standards and the proper shipper classification and labeling of oil moving by rail, also noting that PHMSA is currently reviewing public comments on increasing federal tank car standards.
"These steps have proved necessary after the spate of incidents, as well as the new and growing concept that Bakken light crude is somehow different (to whit: more explosive!) than 'ordinary' or any other crude, really," noted Tony Hatch, principal of ABH Consulting, in a research note. "That was the awful surprise after these accidents – why did this product explode rather than just slowly leak? Intuitively, there has to be something in the Bakken crude."
As for the Bakken, the U.S. DOT yesterday issued an Emergency Order requiring all shippers to test product from the Bakken region to ensure the proper classification of crude oil before it is transported by rail, while also prohibiting the transportation of crude oil in the lowest-strength packing group.
"Today we are raising the bar for shipping crude oil on behalf of the families and communities along rail lines nationwide —if you intend to move crude oil by rail, then you must test and classify the material appropriately," said DOT Secretary Anthony Foxx in a statement. "And when you do ship it, you must follow the requirements for the two strongest safety packing groups. From emergency orders to voluntary agreements, we are using every tool at our disposal to ensure the safe transportation of crude."
DOT officials said this represents the fourth one related to CBR movements in the last year.
And it explained that those who offer crude oil for transportation by rail must ensure that the product is properly tested and classified in accordance with federal safety regulations. The Emergency Order also requires that all Class III crude oil shipments be designated as Packing Group I or II, thereby requiring the use of a more robust tank car. Packing Group III, a lower risk designation, will not be accepted, until further notice.
"Shippers are required to use nine hazard classes as a guide to properly classify their hazardous materials," DOT said. "Proper classification will ensure that the material is placed in the proper package and that the risk is accurately communicated to emergency responders. Shipping crude oil – or any hazardous material – without proper testing and classification could result in material being shipped in containers that are not designed to safely store it, or could lead first responders to follow the wrong protocol when responding to a spill."
Despite some recent tragic accidents, hauling crude oil by rail is a safe and efficient mode of transport as well as a rising profit center for the nation's five Class 1 railroads, the chief executive of Norfolk Southern Corp. recently told business leaders.

Charles W. "Wick" Moorman told the U.S. Chamber of Commerce second annual infrastructure that he was "optimistic" that new and improved methods of hauling crude on rails will be found that will make the system even safer.

Recently, in the wake of several high-profile tragedies involving derailments of trains hauling highly volatile crude oil, leaders of the Class I U.S. railroads met with Transportation Secretary Anthony Foxx and federal safety regulators to talk about improved procedures in hauling crude oil from the nation's burgeoning inland deposit sites to refineries..

"We're working on lot of things to make sure we are routing it in safest possible manner," Moorman said. "I am optimistic we will meet a consensus."

A recent investigatory report by the Associated Press showed that at least 10 times since 2008, North American freight trains hauling crude oil have derailed, causing explosions. The AP found those derailments released almost 3 million gallons of oil. That's nearly twice as much as the largest pipeline spill in the U.S. since at least 1986. The deadliest wreck killed 47 people in the town of Lac-Megantic, Quebec, last summer.

A self-described "big kid who loves trains," Moorman insisted at the Chamber, "It is safer to work for a railroad than to work for a hotel."

He said he favored more inspections of rail cars, which are usually not actually owned by the railroads but are owned by leasing companies and shippers. Also, tougher tank car standards are probably in the works as a result of the recent spate of accidents.

"It is very clear the (DOT 111) tank car is not hard to breach in the highly unlikely event of an accident," Moorman said. "The process is under way to come up with an even higher standard. I am optimistic we will meet a consensus."
February 26, 2014
Subscribe to Logistics Management Magazine!
Subscribe today. It's FREE!
Get timely insider information that you can use to better manage your entire logistics operation.
Start your FREE subscription today!
Latest Whitepaper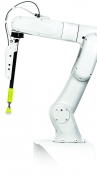 Warehouse Management Systems (WMS) / Inventory Management Technology: 6 Trends for the Modern Age
Here's how the next generation of warehouse and inventory management systems are evolving to help logistics operations operate more efficiently and improve their bottom lines in our brave, new digital age.
Download Today!
From the March 2018 Logistics Management Magazine Issue
Reverse Logistics in the "Age of Entitlement"
Logistics Management's Viewpoint on E-commerce: Leveraging available tools
View More From this Issue