Holiday hiring time has arrived for the transportation and logistics sector
The time for holiday hiring has arrived, with three of the biggest household names in the freight transportation and logistics sectors-UPS, FedEx, and XPO Logistics, each making announcements to that effect over the last few days.

Jeff Berman, Group News Editor
·
September 17, 2018
The time for holiday hiring has arrived, with three of the biggest households in the freight transportation and logistics sectors-UPS, FedEx, and XPO Logistics, each making announcements to that effect over the last few days.
The need for extra help, in form of staffing, is not a new, or novel, approach by any stretch. Instead, it is something that is required, and needed, in order to keep up with heightened demand that this new age of e-commerce and related last-mile logistics efforts, brings with it.
And when you factor in the holidays, well, it becomes quickly apparent that every one of these additional hires, even if temporary for the most part, are truly needed and serve as vital cogs in the fulfillment, distribution, warehousing, and delivery processes for each of these three companies.
Greenwich, Conn.-based XPO said today it plans to hire 8,000 North American-based logistics staffers for the peak holiday season. This looks to be a good decision at a good time, as the company said that its retail logistics volume through August is up around 20% compared to 2017, with the gains paced by consumer-demand for e-commerce and omnichannel retail fulfillment.
"We're ramping up for the holiday season and another significant increase in e-commerce activity," said Troy Cooper, XPO president, in a statement. "We expect to add 8,000 seasonal jobs before November – a significant increase over last year's holiday hiring. Our modern warehouses are filled with automation that is an attractive choice for workers and helps us to be as productive as possible for our customers."
UPS, as usual, announced a significant seasonal staffing increase, with an expected 100,000 seasonal staffers to support what it described as its anticipated package volume increase from November through next January.
Big Brown said these seasonal positions are both full- and part-time, mainly for package handlers, drivers, and driver-helpers. What's more, it noted that these seasonal roles have long served as a spring board to full-time employment, as was as the case for UPS CEO David Abney and other senior UPS executives as well. UPS also said that over the last three years, 35% of the seasonal staffers it brought on became full-time staffers once the holiday season wrapped up.
"Every year, we deliver the holidays for millions of customers," said Jim Barber, UPS chief operating officer, in a statement. "In order to make that happen, we also deliver thousands of great seasonal jobs at our facilities across the country."
Lastly, when announcing the move for its FedEx Ground subsidiary to up its U.S. operations to six days a week, Memphis-based FedEx announced it plans to increase hours for some existing staffers and hire roughly 55,000 positions for the holiday season. It also noted that FedEx Ground again plans to run six- and seven-day operations through the holiday season and also continue six-day operations throughout its U.S. network on a year-round basis.
FedEx said it expects a record influx of volume for this year's holiday season and beyond, too, due to (you guessed it) increasing e-commerce demand. And FedEx made it clear that the rise in demand for e-commerce goes beyond peak, observing it is a "year-round phenomenon" and FedEx is prepared to meet that demand.
No matter how these companies word it, the fact remains that more e-commerce activity means more package volume, which means more staffers are needed to fill. While unemployment is low, it stands to reason that these seasonal jobs may not be as easy to fill as they may have been in the past. But the opportunities are there, to be sure, and as in the case of UPS CEO Abney can potentially open the door to a bright future in the logistics field.
Buoyed by decent economic fundamentals and people shopping more than ever from the "virtual mall," it is clear this is more than a trend and has been that way for more than a while, too. That will likely play out in the form of growing package volumes and the constant need for seasonal help.
November 5, 2018
Latest Whitepaper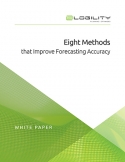 8 Methods to Improve Your Forecast Accuracy
In this paper we will take a brief look at eight methods that have produced superior results for Logility's many clients in a variety of industries and market conditions around the world.
Download Today!
From the February 2019 Logistics Management Magazine Issue
State of Global Logistics: Time for a reality check
Preview some of the innovations you will see at ProMat 2019
View More From this Issue
Latest Webcast
Freight Tech: Separating Need from Noise
In this webinar experts will share practical advice for selecting solutions that provide quick time-to-value while readying your supply chain for long-term success.
Register Today!