November non-manufacturing data is strong, reports ISM
The index ISM uses to measure non-manufacturing growth—known as the NMI–rose 0.4% to 60.7 (a reading above 50 indicates growth), following a 1.3% decline in October (coming off of September's all-time high of 61.6), and grew for the 106th consecutive month.

Jeff Berman, Group News Editor
·
December 6, 2018
Non-manufacturing activity in November saw modest growth in November, according to the Non-Manufacturing Report on Business, which was issued by the Institute for Supply Management (ISM) today.
The index ISM uses to measure non-manufacturing growth—known as the NMI–rose 0.4% to 60.7 (a reading above 50 indicates growth), following a 1.3% decline in October (coming off of September's all-time high of 61.6), and grew for the 106th consecutive month. The November NMI is 1.8% above the 12-month average of 58.8.
ISM reported that 17 non-manufacturing sectors reported growth in November, including: Educational Services; Professional, Scientific & Technical Services; Health Care & Social Assistance; Transportation & Warehousing; Construction; Wholesale Trade; Real Estate, Rental & Leasing; Management of Companies & Support Services; Information; Finance & Insurance; Retail Trade; Other Services; Mining; Accommodation & Food Services; Public Administration; Arts, Entertainment & Recreation; and Utilities. The only industry reporting a decrease in November is Agriculture, Forestry, Fishing & Hunting.
The report's key metrics, including the NMI, were mixed in November, including:
business activity/production up 2.7% to 65.2, growing for the 112th month in a row;
new orders were up 1.0% to 62.5, growing for the 94th consecutive month;
employment decreased 1.3% to 58.4, growing for the 57th consecutive month;
supplier deliveries slowed down at a slower rate% at 56.5 (a reading above 50 indicates contraction) and slowing for the 35th straight month;
prices rose 2.6% to 64.3, growing for the 33rd straight month;
inventories were up 1.5% at 57.5, heading up for the ninth month in a row; and
backlog of orders fell 5% increase to 53.5, up for the tenth straight month
Comments from ISM member respondents included in the report were fairly positive, although concerns over tariffs and trade remained intact.
"The business is preparing for the later phases of tariffs by slowing down growth and capital investment until the future becomes clearer," observed a retail trade respondent. "We are starting to pull months of inventory in before the next round of tariffs hit, so there is a lot of activity on our logistics side."
An information services respondent said business is booming and labor costs are rising. A commercial construction respondent noted that the sector is strong, but employment is struggling, due to a lack of qualified talent. And a wholesale trade respondent said that it is still experiencing low transportation service levels.
"This NMI reading is very consistent with what our respondents have been telling us all year, in that 2018 was going to be a strong year and is going to finish up very strong," said Tony Nieves chair of ISM's Non-Manufacturing Business Survey Committee, in an interview. "We don't know at which rate it will finish the year, but it will carry over into 2019, as there are not pitfalls on the horizon, other than perhaps the uncertainty surrounding tariffs and other geopolitical situations. The economy is poised to keep going, as long as nothing catastrophic happens."
Other factors serving as non-manufacturing growth drivers, cited by Nieves, include consumer confidence being at an all-time high and unemployment being at an all-time low, coupled with the tax cuts and deregulation efforts stimulating growth on both the business and consumer sides.
While things are largely positive, Nieves noted there are also challenges, too, such as issues with employment resources for skilled labor and construction, transportation issues and capacity constraints, as well as capacity utilization being a bit of a struggle at the moment, too. And he also said that capital reinvestment has stalled, due to the tariff uncertainty.
With an inventory buildup intact in November and supplier deliveries slowing (and not as fast) and backlog of orders slowing a bit, Nieves attributed that to increased volumes, as there has been spending efforts to increase inventories and offset volume gains and capacity constraints.
"We are looking at it as there is still a shortage of trucks and drivers, as well as slow railroad service," he said. Exports are growing (down 3.5% to 57.5 and growing for the last 22 months), but it is just a little slower as the previous month was in anticipation of tariffs and any customs and duties that may be imposed. Overall, though, it has been consistent month-to-month."
December 6, 2018
Latest Whitepaper
Travel Time Forecast Infographic
Combining traffic speed insight with highly localized weather forecast data to help more accurately predict travel time.
Download Today!
From the November 2018 Logistics Management Magazine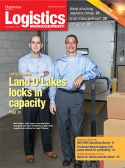 Land O'Lakes lock in Texas-based capacity
How will the tariff war with China affect U.S. container ports?
View More From this Issue
Latest Webcast
The Future of Multi-Carrier Shipping Systems (Beyond the Shipping Label)
How confident are you that the shipping solution you have in place today will meet emerging delivery and customer service trends over the next five years? In this webinar transportation technology expert Ken Fleming, COO of Logistyx Technologies, discusses the key trends shaping supply chain delivery today and how they're influencing shipping system requirements.
Register Today!