ODFL reports another quarter of strong earnings growth
Total revenue, at $1.033 billion saw a 23% annual gain, with LTL services revenue up 23.2% to $1.018 billion.

Jeff Berman, Group News Editor
·
July 26, 2018
Thomasville, N.C.-based Old Dominion Freight Line (ODFL), the number three less-than-truckload (LTL) carrier by revenue posted strong second quarter earnings results earlier today.
Total revenue, at $1.033 billion saw a 23% annual gain, with LTL services revenue up 23.2% to$1.018 billion. Operating income, at $220.4 million, rose 37.4%, and net income, at $163.4 million headed up 66.1%. The company's operating ratio (a company's operating expenses as a percentage of revenue) was strong, coming in at 78.7, down from 80.9. Earnings per share, at $1.99, were up 67.2%, which beat Wall Street expectations of $1.81 per share.
"Old Dominion Freight Line continued to produce strong financial and operating results for the second quarter of 2018," said Greg C. Gantt, ODFL president and CEO, in a statement. "Our financial results reflect the positive yield environment as well as ongoing strength in the domestic economy. We believe the key to our substantial profitable growth, however, is our ability to consistently win market share by delivering superior service at a fair price while also maintaining adequate network capacity. The 23.0% growth in revenue during the second quarter included balanced increases in both volume and yield, which supported our ability to improve our operating ratio by 220 basis points and grow earnings per diluted share by 67.2%."
Total LTL tons for the quarter were up 14.6% to 2.4 million, with shipments up 11.2% to 3.049 million. LTL revenue per hundredweight saw a 7.4% annual increase to $20.74, with LTL revenue per hundredweight, excluding fuel surcharges, up 4.1% to $17.94. LTL revenue per shipment was up 10.7% to $334.95 and LTL revenue per shipment, excluding fuel surcharges, was up 7.3% to $289.69.
These final quarterly LTL operating metrics were in line with operating metrics released by ODFL recently for the month of May, which included: LTL tons per day up 15.3% in May on an annual basis, with the main drivers being an 11.0% increase in daily LTL shipments and a 3.9% increase in LTL weight per shipment. And through May on a quarter-to-date period, LTL revenue per hundredweight was up 6.7% annually.
Robert W. Baird & Co. analyst Ben Hartford wrote in a research note that ODFL's second quarter results were "exceptional," with "both tonnage and yield growth solid and largely within expectations, while operating ratio was remarkable."
In a recent interview, Gantt told LM that ODFL is busy across the entire market, whether it is the industrial economy, the retail economy, and everything else it is in, like its medical business, for example.
"It really applies to all aspects of our industry relating to our customers' business lines," he said. "There is some impact on the last-mile side, too, and there are some different ways to 'skin that cat' by hauling product out from the Amazon's of the world and deliver it to somebody's home. That is one aspect. A company like Amazon not only has last-mile, they also have middle mile, with somebody bringing freight into a DC that does not always come in as a truckload. A lot of it arrives via LTL, and we think that is where we fit maybe in many cases better than in the last-mile piece of that business. But we have outlets for that, too."
August 1, 2018
Latest Whitepaper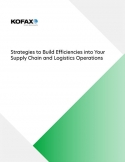 Strategies to Build Efficiencies into Your Supply Chain and Logistics Operations
This white paper outlines key areas where third party logistics (3PLs), carriers, retailers and manufacturing companies can replace manual repetitive work within their operations with new and innovative robotic process automation technology solutions.
Download Today!
From the November 2018 Logistics Management Magazine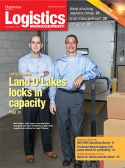 Land O'Lakes lock in Texas-based capacity
How will the tariff war with China affect U.S. container ports?
View More From this Issue
Latest Webcast
Leveraging the Internet of Things (IoT) in Manufacturing
Is digital transformation a risk or an opportunity? This webinar will detail Manufacturing industry challenges and how using IoT can address these challenges through optimizing logistics, improving processes and gaining meaningful insights.
Register Today!