Q&A: Doug Waggoner, Echo Global Logistics CEO
Logistics Managment's Jeff Berman recently talked to Echo Global Logistics CEO Doug Waggoner on a wide range of industry topics, including the freight economy, technology, last-mile logistics, and ELD, among others.

Logistics in the News
U.S.-bound retail container volume set new record, says Port Tracker
"Trade Truce" with China proved to be a remarkable prediction
U.S.-China trade truce buys supply chain managers a little more time
Transportation Management 2018: Navigating the new realities
project44 announces acquisition of Denmark-based GateHouse Logistics
More Logistics News
Logistics Resource
New White Paper focuses on the ABC's of Anti-Dumping/Countervailing Duties
While the U.S. government has always prioritized protection of U.S. companies against imports that are sold at below market prices, or unfairly subsidized, the Trump administration clearly intends to raise the bar with regard to trade policy enforcement.
All Resources
By
Jeff Berman, Group News Editor
·
September 20, 2018
Logistics Managment's Jeff Berman recently talked to Echo Global Logistics CEO Doug Waggoner on a wide range of industry topics, including the freight economy, technology, last-mile logistics, and ELD, among others. A transcript of the conversation between Waggoner and Berman follows below.
Logistics Management (LM): How do you view the current state of the freight economy and the macro-economy?
Doug Waggoner: I will answer that from a market-based perspective. I think it is a great market if you are in our business, because demand is high, capacity is tight, consumer sentiment is high, shippers are bullish, and unemployment is low. It seems like the stars are all aligned. A lot of the investors we talk to think this is as good as it gets and we are at the end of the cycle…but we don't see that. Short of having another recession, which we cannot see happening anytime soon, capacity is going to stay tight simply because there are not enough truck drivers.
LM: When we spoke in April 2017, we talked about the potential impact of the ELD (electronic logging device) mandate, which took effect in December 2017. At the time, you said that what we are experiencing now, in terms of a tight market, will likely get worse. What is your position on that now, with ELD in effect for a little more than nine months or so?
Waggoner: It has actually played out the way we thought it would back then, to be honest.
LM: How about the impact of ELD on the pricing side, in terms of the relation to rates and the concept of shippers needing to work with their transportation providers to come up with pricing arrangements that make sense for both parties?
Waggoner: One of the things we have done with a couple of shippers is actually pull ELD data from a third party and look at all the customer locations and geo-fence them. This allows us to look at how many trucks went in and out of the geo-fenced area, which represents their location. We can measure how much time the truck is delayed by whether it is for loading or unloading and provide feedback. In one case, we had a customer who had been hurt pretty bad last year by increased rates and was looking to become a better shipper by better managing transportation costs. One thing a shipper can do is make sure its trucks are getting loaded and unloaded efficiently. If you don't, you are cutting into a truck's workday and taking away their opportunity to make money, and they are either going to want to charge you more or they are not going to want to deal with your company. We were able to use our data science team and vet ELD data to provide very granular data by location on how they stack up and compare to themselves and other companies. For them, it was very helpful because they were able to go back to those locations and go to work on ways to improve their processes and become a better shipper.
LM: Will Echo do more of this going forward?
Waggoner: Yes, we are happy to do this, because we see this as a great way to partner with a customer going forward to add value using data. We are happy to help shippers with that analysis.
LM: The last-mile logistics market continues to gain traction. How do you view the market overall and what is Echo's presence in it as well?
Waggoner: There are a lot of different flavors of last-mile, depending on what you are delivering. We do a little bit of it, as it is not a big segment for us. We are studying all the time and looking for ways to penetrate that market. There are a lot of venture-backed start-ups with lots of last-mile solutions, using Uber-like technology and delivery people. There is demand from big-box retailers who want to compete with Amazon and give their customers an option to have a sale delivered to their doorstep without having to come into the store. The problem, though, is that there is no nationwide full-coverage last-mile delivery solution, or at least not many of them, so that means that retailers then need to find regional players and piecemeal a solution together that covers the country. I think there is opportunity. Amazon is obviously dominant in how they are going to market so it is going to force other companies to hone their e-commerce options and solutions…and that is going to require last-mile transportation. As for Echo, there could be a scenario where we get involved and deeper in it through M&A activity, because, I think, to start something up from scratch is a bit of a chicken and an egg problem in that you cannot really grow that business until you have a nationwide solution. That is kind of a slow build, and you burn a lot of investment to do it. We are looking at different opportunities. I think it is a key market segment that we ought to be in at some point.
LM: Looking at Amazon, as it relates to what it is doing to force other retail shippers to be proactive or deal with the consequences, are non-Amazon retailers collaborating with companies like Echo to comes up with ways to survive/thrive or keep up with the times?
Waggoner: We see that. Most people can sell through Amazon but some refuse to do that as it eats into profits. I know there are some investment efforts out there to create a distribution network that can pull multiple retailers free and mimic what Amazon does, but we are not involved with that. Many people are eyeing the space and the opportunity, and e-tailers are looking for solutions.
LM: Shifting gears, how do you view what is going on with NAFTA at the moment, as it relates to your business.
Waggoner: We do quite a bit of business into and out of Mexico and Canada, and there is plenty of opportunity as it exists today if they can lower the ggoner:barriers and the tariffs and improve trade volumes, it can only be a benefit. We do see Mexico and Canada, regardless of any NAFTA trade agreement, as a huge growth opportunity, because we have density in 48 states, and there is a lot of cross-border and intra-country trade, so that is a growth area for us.
LM: Looking at logistics technology, what are some of the key developments Echo is up to, as well as some of the other things happening like blockchain, cloud, and autonomous vehicles, and drones, among others?
Waggoner: I would say, for Echo, we are making a big IT investment, adding 70 engineers to our IT department this year to accomplish two things. One has to do with the blinding speed of technology these days. Even for a 13-year old company like Echo, you are continuously looking at how you can upgrade your systems, and, in some cases, you are making use of new technologies and new platforms like Cloud and are always trying to keep your technology relevant. One of the reasons we are doing it is because if you let your systems become too outdated, they can become hard to work on. We are constantly doing what I would call continuous modernization of our platform. What that allows us to do is to move quickly to develop new capabilities and functionalities. We are going to be rolling out some new customer-facing technologies soon and some carrier-facing technologies, too. A big part of our IT efforts nowadays is integrating our data analytics into our applications. It is one thing to build artificial intelligence models and algorithms and use them in the laboratory, but they are most effective when they are being integrated into your workflow and improve the decision-making of your employees to make them more efficient so they can process more transactions. And because we produce so much of our own data-and there is so much third-party data available-we are trying to put the data to work so that takes a lot of effort on the part of your data science team and also your IT team to incorporate those mathematical solutions. There is a lot of work being done by us and others to improve our freight matching capabilities to benefit shippers and carriers, and better price discovery. Those are all areas of focus for us for technology.
LM: What is your take on 2018 Peak Season activity to date?
Waggoner: It was strong last year, and it stayed strong in the second quarter. We reported in July on our Q2 call that we were seeing growth in the 30% range. It has stayed strong. You normally see a little bit of a seasonal dip in August, and it then starts to pick up again for peak in September and October. We don't see anything different this year than what we would normally see other than we are now operating on kind of an elevated base.
LM: Echo is involved, to a point, with intermodal. Has Echo been impacted by declining railroad service at all?
Waggoner: Intermodal is always going to be cheaper and slower than truckload, and, for whatever reason, the rails are not real responsive on the service. It then starts to be an economic decision when fuel prices go up for shorter length of haul, when truck capacity is tight and intermodal gets more interesting although intermodal rates tend to follow truck rates.
LM: Regarding the regulatory landscape, there has been a push with legislation focused on lowering the minimum truck driver age to 18 from 21How do you view that?
Waggoner: I have an 18-year old son, and I am fine with him driving the family minivan, but I don't want him driving and 80,000-pound truck. He does not have enough experience for that. I think you need to look long and hard at that. Traditionally, when carriers have hired drivers, not only do they want them to have a CDL but they also want a couple years of driving experience. If you want to be a professional truck driver, you really need to start out driving something smaller in a commercial setting to get some experience before you can even get hired by a larger trucking company. I think that makes it tough if you lower the age.
September 26, 2018
About the Author
Jeff Berman, Group News Editor Jeff Berman is Group News Editor for
Logistics Management
,
Modern Materials Handling
, and
Supply Chain Management Review
. Jeff works and lives in Cape Elizabeth, Maine, where he covers all aspects of the supply chain, logistics, freight transportation, and materials handling sectors on a daily basis.
Contact Jeff Berman
Subscribe to Logistics Management Magazine!
Subscribe today. It's FREE!
Get timely insider information that you can use to better manage your entire logistics operation.
Start your FREE subscription today!
Latest Whitepaper
Travel Time Forecast Infographic
Combining traffic speed insight with highly localized weather forecast data to help more accurately predict travel time.
Download Today!
From the November 2018 Logistics Management Magazine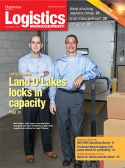 Land O'Lakes lock in Texas-based capacity
How will the tariff war with China affect U.S. container ports?
View More From this Issue
Latest Webcast
The Future of Multi-Carrier Shipping Systems (Beyond the Shipping Label)
How confident are you that the shipping solution you have in place today will meet emerging delivery and customer service trends over the next five years? In this webinar transportation technology expert Ken Fleming, COO of Logistyx Technologies, discusses the key trends shaping supply chain delivery today and how they're influencing shipping system requirements.
Register Today!