Q&A: Abtin Hamidi, chief vice president and co-founder of CargoChief
Logistics Management recently spoke with Abtin Hamidi, chief vice president and co-founder of Mountain View, Calif.-based CargoChief, a provider of transportation and logistics technology focused on providing shippers with securing over-the-road capacity and pricing, among other services.

Jeff Berman, Group News Editor
·
November 30, 2015
Logistics Management Group News Editor Jeff Berman recently spoke with Abtin Hamidi, chief vice president and co-founder of Mountain View, Calif.-based CargoChief, a provider of transportation and logistics technology focused on providing shippers with securing over-the-road capacity and pricing, among other services. Berman and Hamidi discussed a wide range of topics, including the current state of truckload capacity, rates, and the spot market, among other topics. A transcript of their conversation follows below.
Logistics Management (LM): How do you view the current truckload capacity environment compared to where things were six-to-12 months ago?
Abtin Hamidi: When we look multiple sources of data, including ours and ITS (Internet Truckstop) and some other multi-$100 million brokers we are not looking at the more "traditional" stuff in terms of how many trucks or loads are available. Instead, we are looking in between the lines to see what we can find. And what we have found is drivers are sitting around empty and not making money. That seems to be true regardless of what type of year it is, and what the capacity crunch looks like, among other things. The top 100 carriers and top 100 brokers are aligned to capture their own needs…but some other people are also learning how to work in the new ecosystem. Carriers know they cannot sit around empty-handed and position themselves in order to get another load, and what you are seeing is people are starting to get ahead of that and then capacity loosens up again. We are predicting this to be more pronounced with carriers and truckers really starting to pay more attention to data and different trends.
LM: In what ways?
Hamidi: One way is not being reactionary to the spot market and not just shipper trends but also what is happening on the carrier side as well, too.
LM: In regards to the new ecosystem and related trends, what are some of the things or key themes you are seeing, or drivers, when viewing the market?
Hamidi: Everybody has amnesia right now. There was the Polar Vortex that created a capacity crunch before, as an example. Nobody is looking at years of data, they are looking at 12 months of data and not 20 years of data. One of the things is figuring out how we get around dollars per mile and what is a good lane or a bad lane, and carrier profitability. At the end of the day, it comes down to how much money is that driver going to make and if it is enough for that driver to live on. We are telling drivers not to worry about dollars-per-mile on a specific lane. The bigger challenge is to make sure drivers are making enough money per month, per week, and per year. If you promise the driver a fixed rate, like $2 per mile, he would not care where he goes, and one of the things we are trying to do is really understand that data and environment and for carriers not use a driver for just one load, but, instead, for three weeks, and at the end of those three weeks the driver gets $7,000 to walk away with. Now, that makes things different, with the driver working for that carrier and hustling, which leads to higher service levels, because the driver wants that contract all over again and does not really care where he goes.
LM: Is that a long-term solution?
Hamidi: Yes. One of the solutions we are trying to come up with is these mini-contracts for with carriers for a week or 20 days, for example, and they can pick it. The problem is the back-end technology within the brokerages has to be so strong and data has to be spot on to ensure profitability. You are no longer putting the jeopardy on the carrier-now the broker has to do more of that, which is a different approach. Before the broker was a travel agent for where the freight was going, and now it is very directional and we are acting almost like an asset-light carrier.
LM: Is that sort of the new normal? It seems like there is more attention being paid to the importance of contract pricing as opposed to the spot market, with spot rates down considerably compared to not long ago.
Hamidi: We encourage most of our shippers to go off the spot market, as it is so volatile and nobody has any confidence as to what is going to happen with capacity and pricing. Customers who are looking for contract pricing are locking these carriers and brokers in for anything more than three months, and then the price goes so high because everyone is trying to protect themselves. And what we are seeing is retail plus 30 or 40 percent on contract rates, with transactions being all over the place, because you never know what you are going to get. In studies we have done internally, net—net, the customer is almost always better off transactionally, and so is the carrier. Unless you are one of the top 100 carriers, contracts don't work as well, as there are struggles with commitments and capacity, with the economy growing in an unusual way. All these variables that used to be consistent are really not as consistent now. There is this whole shift happening in the economy and transportation and technology is at the core of it. That is what makes those mini-contracts appealing. It is a much easier conversation to have with carriers, too.
LM: How are the mini-contracts being analyzed? Are they based on regular service standards and agreements?
Hamidi: It is in the initial phases in terms of trying it out. I don't think it is so much that these contracts are the answer, but more of that we need to stop doing business the way we were doing business and figure out a new way to engage everybody, because clearly what we are doing right now is not working. If it was we would not be compressed on all sides, with everyone losing cash. This is just an attempt at using technology to look at the market differently and do something differently and make everybody happy.
LM: What about service levels?
Hamidi: Every contract is kind of different depending on the client or types of commodities or region. What we are trying to do is keep assets fully utilized and in a good and profitable range for us and reward the driver and not have the driver continually focused on things like fuel costs and instead focus on doing a good job through the duration of the contract.
LM: What are some of the things happening in the market that play into this in terms of how they reconcile with your objectives?
Hamidi: When we talk with our shippers, they tell us they are concerned about capacity and price, and are not talking about high inventory levels or things like that. They are telling us everyone is starting to order again, and it will be a busy fourth quarter and likely a busy first quarter, too. They are more worried about getting a truck on time and what the rate will be. It is kind of the opposite of what the economic indicators suggest. They just want to have service available for their customers.
LM: So the capacity commitment is the key?
Hamidi: Yes and what is more interesting is that the fear is the capacity is going to be sucked up quickly. The core of our customer base is small-to-midsized companies, and if capacity is absorbed quickly by larger carriers there is a concern they will have to pay exorbitant rates. There is a fear that their actual commodity will be priced out of the marketplace because the cost of transportation is going to be so high because all the asset-based player have deep relationships with companies like Wal-mart and others.
LM: What is happening on the technology side to shape and shift the story in the current environment?
Hamidi: When everyone talks about technology, they talk about everything in a different manner. What we are specifically doing that is different than anyone else is that instead of being off the shelf like many large brokerages, we did not build it as a transportation technology, we built it as an integration technology. It was data-driven, and the thinking was that we need to link up with other people that have data, and the first thing we need to do is build a platform that is so agile and maneuverable that we can hook up with people rapidly. Competitors are using legacy systems that are secure and stable, but also clunky and time-consuming to make things really work well. We had a customer from one of the top brokerages in the country reach out to us to do an integration in a day, which is powerful because that is real optimization, and the customer does not have to pick up the phone all day to call a carrier. That is saving time, energy, and money and when the customer really becomes happy and where out margins expand.
LM: What are you focused on going forward as it relates to technology and transportation?
Hamidi: We want to continue to develop and mine data and create an atmosphere where we can really approach the carriers in a much different fashion. The goal is to be the broker that pays the carriers the most and keeps them the happiest. If we can do that and secure capacity…and also engage and reward carriers, then we don't have to scrape the bottom of the barrel. There is enough inefficiency in the market right now that if we can solve that, there is then more opportunity for carriers to make money and brokers, too.
LM: What are those inefficiencies?
Hamidi: A lot of them are operational in nature like track and trace. In one typical transaction, there is something like 16 calls for track and trace between broker/dispatcher/customer. There is so much activity to trace one truck and it just seems silly that with something like Uber it is automatic. It is adopting that same mentality and user acceptance and bringing over to this side of the world so everyone has visibility and it removes hidden costs and fees, as well as other things related to compliance and safety.
November 30, 2015
About the Author
Jeff Berman, Group News Editor Jeff Berman is Group News Editor for
Logistics Management
,
Modern Materials Handling
, and
Supply Chain Management Review
. Jeff works and lives in Cape Elizabeth, Maine, where he covers all aspects of the supply chain, logistics, freight transportation, and materials handling sectors on a daily basis.
Contact Jeff Berman
Subscribe to Logistics Management Magazine!
Subscribe today. It's FREE!
Get timely insider information that you can use to better manage your entire logistics operation.
Start your FREE subscription today!
Latest Whitepaper
Travel Time Forecast Infographic
Combining traffic speed insight with highly localized weather forecast data to help more accurately predict travel time.
Download Today!
From the November 2018 Logistics Management Magazine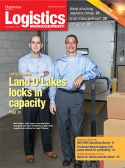 Land O'Lakes lock in Texas-based capacity
How will the tariff war with China affect U.S. container ports?
View More From this Issue
Latest Webcast
The Future of Multi-Carrier Shipping Systems (Beyond the Shipping Label)
How confident are you that the shipping solution you have in place today will meet emerging delivery and customer service trends over the next five years? In this webinar transportation technology expert Ken Fleming, COO of Logistyx Technologies, discusses the key trends shaping supply chain delivery today and how they're influencing shipping system requirements.
Register Today!