Q&A: Abtin Hamidi, chief vice president and co-founder of CargoChief
Logistics Management Group News Editor Jeff Berman recently spoke with Abtin Hamidi, chief vice president and co-founder of Mountain View, Calif.-based CargoChief.

Logistics in the News
U.S.-bound retail container volume set new record, says Port Tracker
"Trade Truce" with China proved to be a remarkable prediction
U.S.-China trade truce buys supply chain managers a little more time
Transportation Management 2018: Navigating the new realities
project44 announces acquisition of Denmark-based GateHouse Logistics
More Logistics News
Logistics Resource
New White Paper focuses on the ABC's of Anti-Dumping/Countervailing Duties
While the U.S. government has always prioritized protection of U.S. companies against imports that are sold at below market prices, or unfairly subsidized, the Trump administration clearly intends to raise the bar with regard to trade policy enforcement.
All Resources
By
Jeff Berman, Group News Editor
·
July 26, 2016
Logistics Management Group News Editor Jeff Berman recently spoke with Abtin Hamidi, chief vice president and co-founder of Mountain View, Calif.-based CargoChief, a provider of transportation and logistics technology focused on providing shippers with securing over-the-road capacity and pricing, among other services. Berman and Hamidi discussed a wide range of topics, including the current state of truckload capacity, rates, and the spot market, among other topics. A transcript of their conversation follows below.
Logistics Management (LM): Given the uneven nature of the trucking market, how do you view the current environment for the sector?
Abtin Hamidi: Large shippers are deconsolidating their shipments, and small to medium sized carriers are struggling even more so now and are scrambling to find rates and stay busy and profitable.
LM: What does that mean for large carriers?
Hamidi: In a down economy or period, they are slashing prices in a down economy and are running tight. And brokers are being perceived to be doing poorly, because the rates have dropped so much, but I think in actuality are starting to gain more traction that will eventually start to show.
LM: How are things looking year-to-date in the market?
Hamidi: We are having an unusual year, part of that is due to the economic climate and seasonality. I expect Q3 and 4 to be stronger than years past. There are some global economic concerns that are keeping a lot of high volume moving. And there is an evolution in transportation and manufacturing and near shoring and buying behaviors are also changing. Nobody has really figured it out yet, as it is still in motion right now. As things move on in the coming cycles, we are in the first or second, people will develop a higher level of confidence and that will trigger buying and all of these other things to happen.
LM: What about from a freight level perspective?
Hamidi: The way I look at it is freight levels have been fairly consistent year in and year out. People freak out about being up or down 3 or 4 percent, but generally speaking, things are still pretty consistent. And while the first half of 2016 was slow, it will pick up again at some point.
LM: Where do you see things on the pricing front when looking at how loose capacity translates into lower spot rates and less demand, too? And what about the differences in spot pricing compared to truckload contractual pricing?
Hamidi: Some people see it as same marketplace and not two separate ones. They are interchangeable and the way shippers are and the way these contracts are written there is really very little loyalty because the second pricing drops at one point, the spot market becomes significantly tighter or lower priced in the contractual truckload market. That prompts those contracted truckload carriers will go to the spot market
LM: what does all that mean from an IT perspective in terms of pricing and rates, as well as brokerages continuing to have a large piece of the market?
Hamidi: It means the world is becoming more and more transactional. What we are seeing and have seen is that larger shippers have always seen some percentage of transactional freight, and we are seeing more of their contractual freight enter the transactional side.
LM: In what ways is that happening?
Hamidi: They are doing that in kind of an experimental fashion. The way I look at it is technology is enabling brokers and carriers to be able to engage in a transactional manner using contractual pricing. If you look at some of the brokerage divisions of large carriers, they are outpacing the growth of non asset-based brokerages. Some have grown by $200 million in 3 or 4 years. That tells me they have been able to figure out a way to satisfy and serve the same exact customers as transactional spot carriers by leveraging tech and relationships.
LM: With sluggish volumes and low GDP in the background, some analysts say shippers are showing a lack of loyalty to carriers when it comes to negotiations on contracts. How do you view that?
Hamidi: There is a lot of movement going on when it comes to pricing. Carriers got beat up for years badly, especially small- and medium-sized ones. And they finally got their hands on some data, saying "enough is enough" and fired 50 percent of their lanes and are only going to use ones they can make money, essentially saying "take it or leave it." That started at the top with the freight that the large truckload carriers did not want to take and fell to the bottom with small- and medium-sized brokerages for small- and medium-sized carriers. And then they are making sure they are in the right place at the right time to capture that freight and making sure it is profitable freight and not just taking volume and losing money on it at time of transaction. The shipper is really paying the cost of this, and when the market turns and the carriers have to slash their pricing and shippers are happy to pay the lower pricing what they are seeing is that it comes with an additional cost because the carrier has to make some sort of adjustment in order to be totally profitable. That adjustment comes in terms of services or quality of work or paying OT. What we are seeing now is shippers, although they are not always loyal, they are very committed to high-value solutions, and they don't care about the lowest price, they care about the one that can do it the best and reasonably priced—that is where we see the market shifting the most.
LM: What is the current state of things as it related to the "Uberization" of trucking?
Hamidi: The response has been tremendous, with an initial focus on small and medium shipper and all types of companies like Fortune 500 companies being frustrated by their current solution and recognize need for a change and are sniffing around for that. That has been a good trend with the other trend being the deconsolidation of procurement from some of the Fortune 500 companies. It has really tied nicely into our hypothesis that the spot market is going to eventually win, and we can service folks in the spot market with the same level of service as a contractual carrier and that is what we are seeing. We center our business around making things easier for carriers and that has created an opportunity for us to learn more and get more data, and things are evolving to next phase of smart capacity.
LM: How do you view the currently regulatory environment, especially the pending ELD changes coming by the end of 2017?
Hamidi: These are necessary changes. We have to make the roads safer and things more systemic. It is causing a lot of tension in the marketplace and taking drivers off the road, and we are probably not doing a great job of rolling out the changes. The ELD mandate is going to have a major effect on the industry with some predicting capacity will drop by 25-35 percent once the ELD mandates are out. It is going to be huge, I think.
July 27, 2016
About the Author
Jeff Berman, Group News Editor Jeff Berman is Group News Editor for
Logistics Management
,
Modern Materials Handling
, and
Supply Chain Management Review
. Jeff works and lives in Cape Elizabeth, Maine, where he covers all aspects of the supply chain, logistics, freight transportation, and materials handling sectors on a daily basis.
Contact Jeff Berman
Subscribe to Logistics Management Magazine!
Subscribe today. It's FREE!
Get timely insider information that you can use to better manage your entire logistics operation.
Start your FREE subscription today!
Latest Whitepaper
Travel Time Forecast Infographic
Combining traffic speed insight with highly localized weather forecast data to help more accurately predict travel time.
Download Today!
From the November 2018 Logistics Management Magazine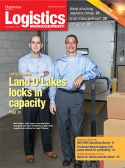 Land O'Lakes lock in Texas-based capacity
How will the tariff war with China affect U.S. container ports?
View More From this Issue
Latest Webcast
The Future of Multi-Carrier Shipping Systems (Beyond the Shipping Label)
How confident are you that the shipping solution you have in place today will meet emerging delivery and customer service trends over the next five years? In this webinar transportation technology expert Ken Fleming, COO of Logistyx Technologies, discusses the key trends shaping supply chain delivery today and how they're influencing shipping system requirements.
Register Today!