Rail shipper group takes BNSF to task over URCS and revenue adequacy determinations
The Western Coal Traffic League filed a petition with the Department of Transportation's Surface Transportation Board (STB) requesting that the STB issue an order that would adjust the Uniform Railroad Costing System of Class I railroad carrier BNSF Railway Company.

Jeff Berman, Group News Editor
·
September 30, 2011
The Western Coal Traffic League (WCTL), a voluntary association comprised of consumers of coal produced from United States mines located west of the Mississippi River, filed a petition this week with the Department of Transportation's Surface Transportation Board (STB) requesting that the STB issue an order that would adjust the Uniform Railroad Costing System (URCS) of Class I railroad carrier BNSF Railway Company.
According to the STB, URCS is its railroad general purpose costing system that is used to estimate variable and total unit costs for Class I U.S. railroads. URCS only develops costs for U.S. Class I railroads.
This request by the WCTL would adjust the URCS for BNSF for 2010 and subsequent years, according to the STB. And the WCTL is asking the STB to declare that it exclude the write up in BNSF's net investment base attributable to the difference between the book value and the price that Berkshire Hathaway Inc. paid to acquire BNSF in 2010, as well as make corresponding changes in BNSF's annual URCS depreciation calculations.
Berkshire Hathaway paid roughly $34.5 billion for BNSF in a transaction that was made official in February 2010.
Consumers United for Rail Equity (CURE) a rail shipper concern, maintains that if BNSF has the right to inflate its asset base for regulatory purposes by a portion of the "premium" Berkshire paid to purchase all the stock of the railroad and take it private, it could spell higher rates for shippers served by BNSF.
"It is unfair and ridiculous to expect rail shippers to foot the bill for Berkshire Hathaway and the BNSF," said Glenn English, Chairman of CURE, in a statement. "This accounting maneuver could raise shipping rates even higher and is harmful to our country's coal, agriculture and manufacturing industries as well as a detriment to U.S. jobs and export growth."
In its petition with the STB, the WCTL said BNSF's write up would have significant detrimental effects on BNSF shippers that can bring rate cases before the STB because the write up would raise BNSF's variable costs, which in turn would raise the quantitative jurisdictional threshold for rate proceedings—rates that equal or exceed 180 percent of the carrier's variable costs.
The WCTL also noted that the write up would increase the maximum rates for shippers that are able to obtain maximum rate relief from the STB because BNSF's increased variable costs would translate into a higher rate floor.
BNSF said in the petition that the STB and its predecessor the Interstate Commerce Commission and the Railroad Accounting Principles Board and the courts have often stated that "acquisition cost is an economically accurate measure of current market value," adding that WCTL has not presented evidence that or argument that merits a general proceeding to revisit the use of acquisition cost for URCS costing or any other regulatory purpose.
Anthony B. Hatch, principal of New York-based ABH Consulting told LM that BNSF is the only one of the seven Class I railroads that has been allowed to mark its assets for the market.
"Its cost base has been increased, whereas everything else kind of stays the same and has depreciated," said Hatch. "This makes things more accurate and it makes BNSF different than the other carriers. It is part of the strangeness of the vestige of the regulatory world that would be best solved by removing all the regulation."
What's more, Hatch noted that BNSF and all the other Class I railroads continue to make major capital investments despite indifferent traffic this year and an uncertain outlook for next year and are highly unlikely to have any type of huge cutbacks in capital expenditures. And in order to do that he said that railroads need to have projections of improved returns of which improved rates play a big role in.
October 1, 2011
Hub Group Resources
Not Your Grandfather's Intermodal
Transportation of freight in containers was first recorded around 1780 to move coal along England's Bridgewater Canal. However, "modern" intermodal rail service by a major U.S. railroad only dates back to 1936. Malcom McLean's Sea-Land Service significantly advanced intermodalism, showing how freight could be loaded into a "container" and moved by two or more modes economically and conveniently. As with all new technologies, there were problems that slowed the growth, which influenced many potential customers to shy away from moving intermodal.
Click here to download
Latest Whitepaper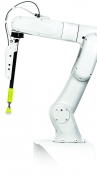 Warehouse Management Systems (WMS) / Inventory Management Technology: 6 Trends for the Modern Age
Here's how the next generation of warehouse and inventory management systems are evolving to help logistics operations operate more efficiently and improve their bottom lines in our brave, new digital age.
Download Today!
From the March 2018 Logistics Management Magazine Issue
Reverse Logistics in the "Age of Entitlement"
Logistics Management's Viewpoint on E-commerce: Leveraging available tools
View More From this Issue