Warehouse/DC Equipment & Technology: Materials Handling Trends and Future Spending Plans
While more companies report plans to increase investment this year, the future looks even rosier for 2011 and 2012. Our warehouse/DC engineer presents the highlights of the 2010 survey and explores how the upturn is influencing current materials handling trends and future spending plans.

Maida Napolitano
·
June 23, 2010
Encouraging, strengthening, and growing: Over the past few months that's the way market specialists and economists have been describing what had been an embattled U. S. economy. A recent report released by the Federal Reserve shows factory production slowly but surely climbing as sales and inventories continue to grow.
It looks like the tide is turning, and there's a sense of optimism permeating the air.
This same positive outlook is reflected in the results of the 2010 State of Materials Handling Survey conducted for Logistics Management and sister publication Modern Materials Handling by our internal research team. However, some of that upbeat news does come with a few cautionary notes.
While there may be more companies—31 percent, up from 28 percent in the previous survey in 2008—planning to pull the trigger on material handling solution plans this year, a large majority—69 percent—are still either holding off on investing or taking a "wait and see" approach, saying that they need to move slowly with their decisions during the course of 2010.
However, when asked about spending plans two to three years from now, companies are clearly seeing a rosier future, with 58 percent of survey respondents reporting that they plan to increase their material handling investments—up from a low of 47 percent in the 2008 results.
This turn-for-the-better is certainly what everyone is seeing right now, according to Scott Pribula, principal and market sector leader with TranSystems, a consulting firm specializing in transportation and supply chain services.
"People are a lot more optimistic, and we've seen a lot more activity at the beginning of this year than we did the whole of last year."
Conducted in February 2010, our survey aims to better understand the current state, trends, and practices in manufacturing, warehousing, and distribution environments while tracking changes in the material handling market over the past year. Questionnaires were emailed to Logistics Management and Modern Material Handling readers in February yielding 353 total respondents mostly from manufacturing and warehousing/distribution companies with revenues both large (41 percent have sales of $100 million or more) and small (18 percent are under $5 million). Only those responses from management and personnel directly involved in the purchase decision process of material handling solutions were considered.
Over the next few pages we'll present the highlights of the 2010 survey results and explore how the economy has influenced material handling trends and capacities. Then we'll take a look internally and examine the areas in which warehouse and distribution managers are planning to invest, what issues are gaining importance, what green initiatives they're considering, and how they're currently making material handling purchase decisions. This is a great opportunity to see how your plans match up with those of your peers.
More money, but not nearly enough
After sealing their wallets tight in late 2008, many were starting to pry them open again at the beginning of this year. A higher percentage of respondents (46 percent, up from 42 percent in 2008) have pre-approved annual capital expenditures budgeted specifically for material handling solutions.
Of those with money to spend, over 50 percent are looking to spend $100,000 or more, with the largest percentage of respondents spending from $100,000 to $249,999. There are even more signs of optimism for 2011, as 37 percent of respondents claim that their companies are planning increases in spending next year—a jump up from the 16 percent that say they're increasing this year.
Pribula, however, remains perplexed. "It's just amazing to me that the pre-approved capital expenditure is so low—$100K to $250K for an entire year. With so many respondents grossing $100 million or more, that's just one to two percent of their gross."
Don Derewicki, assistant vice president with TranSystems, agrees. "It's pretty easy to blow through a quarter of a million dollars, especially if there's an investment made in software and automation."
More automation, fewer jobs
So, just what are companies buying with the available capital? According to this year's results, sixty-nine percent plan on investing in new equipment or equipment upgrades over the next 18 months. Information technology follows at 37 percent.
Topping the list of specific material handling equipment and systems investments is radio frequency identification (RFID) at 43 percent. Derewicki speculates that this renewed interest in RFID could be driven by customer requirements. "With a majority of the respondents coming from manufacturing companies, many are in a reactive mode where customers, like Wal-Mart, may be mandating that they have to have RFID. If they want to do business with Wal-Mart, then they have to invest in RFID."
While the push for technology, specifically (1) RFID, (2) automated storage, and (3) bar code scanners, may lead the charge of material handling investments in the next 18 months, it's spelling more bad news for the labor market, according to Pribula. "Those jobs that were lost in this economic downturn may not be coming back. Instead, they're going to get replaced by automation and by being that much more efficient than they are now," he says.
For example, a global apparel retailer and manufacturer saw a reduction of about a third of its pickers when the company decided to install a state-of-the-art unit sorter that automatically sorts individual units of apparel to the company's fleet of stores. In another company, checking stations were cut from 10 to three when radio frequency (RF) scanning devices were used at picking to verify orders, reducing the need for manual checks.
And with this continued drive for automation, it's then logical for companies to put the most emphasis on warehouse control systems (WCS) among all information technology investments. "Once you get into the automated end of material handling equipment, you start to require more from the WCS which runs it," explains Derewecki.
Under capacity in a struggling economy
With low demand and reduced inventories, the recession caused a major impact on plant and warehouse capacity utilization. This year's survey confirms how most plants and warehouses will be operating well under capacity through 2010. Manufacturing plants report 65 percent average capacity utilization, while warehouses that support manufacturing and stand-alone warehouse and DCs have 59 percent and 67 percent average capacity utilization, respectively.
Derewecki feels that this state of "under-capacity" is tempering the surge to improve operations. "Warehouse and DC managers are not likely to be doing anything much until the economy picks up to the point where they're starting to feel the strain and the pain on their systems again."
What continues to be important?
It's no surprise that survey respondents rank "continuous improvement," "labor productivity, measurement, management," and "lean" as the top three best practices that they consider very important—and will continue to consider as very important in the next two years—in both manufacturing and distribution sectors.
Derewecki does find it a little surprising that less than half of respondents consider value-added services as very important. "For warehousing and distribution that's how you differentiate yourself from the guys down the block. It should be more important to respondents," he says.
Trading partner collaboration, which in turn enables cross docking, are the top two practices that in two years have undergone significant jumps in importance. Companies are clearly recognizing that by working with trading partners they can facilitate the movement of product to market and create more cross-docking opportunities.
In the 2008 survey, "safety," "cost containment," and "company growth" were the top concerns to respondents. In 2010, "safety" and "cost containment" remain the top two concerns while "company growth" has dropped down to number five, replaced by "throughput." As the economy recovers, the survey reveals that companies are typically more concerned about increasing throughput capacity with resources that they already have—much of which may have been scaled-down by the economic downturn.
Security or privacy issues, particularly the release of customer information and financial information, have also become more sensitive issues for 51 percent of respondents. Pribula notes that four years ago, security concerns would have revolved around company-owned assets. "Now we're talking about securing data because it's more electronic, with more connectedness between systems and more information being shared among manufacturers, distributors, retailers and customers."
A look at green efforts
Predictably, recycling continues to dominate as the most popular environmentally sustainable initiative currently in use (76 percent). But other up-and-coming "green" ideas have certainly piqued the interests of many respondents.
Most notably, there seems to be major buzz around the installation of "solar panels" on top of distribution facilities. Despite a current use rate of only 9 percent, over half of the respondents (53 percent) are planning to evaluate the use of solar panels for their DCs over the next 12 months. Derewecki believes that this is probably driven by new incentives, good corporate citizenship, and regulations and evolving federal policies. "Warehouses are certainly a natural application for solar panels, because they have so much roof space."
Our panel is also surprised by the significant interest (over 40%) in the use of metal and plastic pallets. Derewecki notes that there have been recent problems with contamination that one of the pharmaceutical manufacturers attributed to wooden pallets. "That has since been denied by the wood pallet association," he adds. "But this incident may have re-ignited interests, since one of the biggest advantages with plastic and metal pallets is that they could be put through sterilization processes."
As big retailers like Wal-Mart and Target push their suppliers into adopting more green initiatives, our panel predicts interest in these environmentally sustainable ideas will increase significantly as the economy recovers.
Who's buying what?
Curious as to what titles are involved in the various decisions inside the four walls? While material handling and DC managers are most involved in determining the need for material handling systems, evaluating solutions, and establishing specifications for bids, purchasing and corporate management are typically principally involved in evaluating vendors and approving or authorizing purchases.
Material handling, DC, and plant management are predominantly involved in buying materials handling equipment such as storage solutions, lift trucks, dock equipment, packaging and pallets, conveyors and carousels as well as bar coding and scanning systems. Plant engineers are more involved in the purchase of conveyors and sortation equipment, automated systems, hoists, AGVs, controls, and power transmission equipment and accessories. Corporate management is commonly involved in the decision process for applications that affect the enterprise such as supply chain software and systems solutions.
While most companies (70 percent to 80 percent) are likely to re-use existing suppliers, the rest are agreeable to evaluate new ones for systems equipment, IT solutions, and third party logistics.
And while some ground has been gained, there's still much to cover before the materials handling industry gets back to pre-recession levels. The focus going forward continues to be towards more software and automation to replace manual material handling methods. "Once companies get to a point where they see more optimism and more upticks in the marketplace, I'm going to guess that they're going to jumpstart those projects requiring automation," says Pribula.
"However," Derewecki counters, "you're going to have to spend some money to get there."
—Maida Napolitano is a Contributing Editor of Logistics Management
July 18, 2010
Latest Whitepaper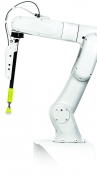 Warehouse Management Systems (WMS) / Inventory Management Technology: 6 Trends for the Modern Age
Here's how the next generation of warehouse and inventory management systems are evolving to help logistics operations operate more efficiently and improve their bottom lines in our brave, new digital age.
Download Today!
From the March 2018 Logistics Management Magazine Issue
Reverse Logistics in the "Age of Entitlement"
Logistics Management's Viewpoint on E-commerce: Leveraging available tools
View More From this Issue