Supply Chain and Logistics Technology: Defining visibility
The nebulous term gets thrown around quite a bit in logistics and supply chain circles, but what does it mean, how is it achieved, and what benefit does it bring to your logistics operations?

Bridget McCrea, Editor
·
September 1, 2011
For logistics and supply chain managers, the concept of "visibility" should be pretty clear cut: Ideally, it's when shippers, business partners, and customers know exactly where products are at any point in the supply chain—from the raw materials supplier to the final destination.
Made easier through the use of technology, supply chain visibility works best when quality data is gathered from both the supply side (where the goods are coming from) and the demand side (sales, returns, customer buying trends) of the equation. Once the data is collected—most often through the use of supply chain software—it's then analyzed and used for accurate forecasting, planning, and production.
Visibility comes into play across many supply chain scenarios, whether they're localized or global in nature. The company whose supply chain extends across various continents, for example, can find its transportation modes literally halted overnight by events like erupting volcanoes, tsunamis, and political unrest. Through accurate visibility, that company can quickly tell how its shipments will be affected and adjust accordingly. Without that "window" into its transportation operations, the company would be left to guess as to when—if ever—the goods would make it to the U.S.
"With solid visibility made possible by technology, that company could query all of its shipments by bill of lading number to figure out which shipments are already in transit, and which are sitting in port," explains Shanton Wilcox, a principal in Capgemini Consulting's supply chain management practice. "That gives the company a starting point, and puts it in a much better position to deal with the catastrophic scenario."
When executed properly, supply chain visibility will also come into play on a day-to-day basis. For example, shippers can obtain information about finished goods availability (What's in the pipeline right now? What goods are in transit? Which shipments cleared customs?) from trading partners, and then use that data to ensure that customer demand is being met, and not exceeded. "When you achieve good supply chain visibility," says Wilcox, "you gain consistent control over your operations and processes."
Over the next few pages we'll help shippers better define what visibility is, explain how it can be achieved through technology and good tracking processes, and then see what visibility looks like in action.
What's all the fuss?
Shippers trying to wrap their arms around visibility should start by taking a step back to look at how the concept originated.
"In 2000, everyone was looking for the next, great supply chain technology that was going to solve world hunger and provide world peace," recalls Dwight Klappich, research vice president for Gartner. "People started talking about visibility and event management and the need for better transparency regarding what was going on in the supply chain."
Over time, says Klappich, event management and transparency were merged into a single industry term called "visibility" which focused primarily on shipment and order statuses. UPS and FedEx tracking methods were prime examples of the concept in action, says Klappich. "Shipments were tracked and monitored automatically using technology," he explains, "with alerts sent out to the stakeholders as the item was in transit and ultimately delivered."
However, it would be a few years before such solutions would find their way into the typical shipper's operations. "There were a few vendors with nice technical solutions, but there wasn't a market for those products yet," says Klappich. "Most shippers, coming off of the Y2K events, had technology-hype fatigue and were cautious about emerging technologies."
By the mid-2000s, a new generation of supply chain vendors were on the scene, ready to help shippers achieve UPS-like visibility. Focused on specific, best-of-breed solutions, these firms developed TMS-centric solutions that could track shipments, provide alerts, and help clients achieve visibility, both domestically and internationally. "This second generation proved that there was value in transparency," says Klappich.
Fast-forward to 2011 and the next generation of vendors has folded into its solutions the experiences of its predecessors and shippers' demand for good visibility across the entire supply chain. "Shippers place a premium on being able to do this," says Klappich, who points out that Gartner's research identifies visibility as a prime investment area for companies over the next three years.
"The concept of visibility has been proven," says Klappich, "and more targeted solutions are being developed to meet shippers' needs for tracking orders, inventory, and even people—for functions like employee attendance, for example."
Timely, accurate, complete
As supply chain solutions have evolved, so too have their ability to provide timely, accurate, and complete information, data, and insight about shipments and assets.
Unfortunately, too much data–particularly when it's incorrect or superfluous–can put just as much pressure on the logistics manager as not having the data at all. Throw in the fact that some business partners use EDI, while others rely on methods like email and faxes, and the job of culling through the data to determine what's useful and what's not gets that much harder.
"You can literally drown in information and data," says Adrian Gonzalez, director of Logistics Viewpoints, a supply chain technology blog and analysis organization. "The real value takes place not from gathering all of the metrics, but rather from being able to automate actions based on the information that's coming in."
Technology stands as the ultimate facilitator for making that happen. On-demand, or Software as a Service (SaaS) solutions, are particularly good options in that they're web-based, and accessible for trading partners and customers to tap into.
"SaaS TMS and GTM solutions have gained in popularity because they are faster to deploy and require a lower upfront investment, but the hidden value of these solutions lies in their connectivity," says Gonzalez. "By default, an on-demand system creates a connectivity network, or hundreds or thousands of companies that can flow information through a single hub."
Gonzalez points to the integration of a shipper's ERP system with that of its suppliers as a fairly basic step on the road to complete visibility. In that scenario, when a purchase order is issued electronically, for example, automatic status alerts can be set up to show that the purchase order (PO) was received and any edits that were made to it. Shippers can keep tabs on the PO and plan accordingly around its estimated ship date. "That's the basic example of visibility in action," says Gonzalez.
At the other end of the spectrum are software platforms that monitor the status of an order over its lifecycle and spit out shipment statuses regularly throughout that lifecycle. When a PO is placed and inputted into the platform, for example, shippers can track the order from their system and to the outsourced manufacturer's system. The PO is updated to reflect its current status, eventually alerting not only the shipper—but also its carriers and/or logistics providers—to the fact that the goods are ready for pickup.
"With this setup," says Gonzalez, "shippers gain more granular control over the execution of the order." Visibility also applies to the demand side of the equation, where customer orders and demand can be tracked using supply chain solutions. "While the traditional view on visibility has centered on tracking inbound logistics and materials management," says Jerry O'Dwyer, principal with Deloitte Consulting, "more companies are now looking for both supply-side and demand-side visibility."
Beyond the supply chain
O'Dwyer says that supply chain visibility as a whole has grown over the last few years to include all activities around planning, sourcing, manufacturing, delivering, and returning goods. As that definition expands—and as supply chains become more global—that level of complexity increases exponentially.
Wilcox concurs, and says technology vendors are stepping up to the plate and helping shippers achieve their visibility goals. Expect this trend to continue over the next few years as shippers not only focus on inbound and outbound visibility, but as they expand the concept into other operational areas.
"When you gain control of the day-to-day operations of your supply chain, that momentum carries over to the financial side of the equation," says Wilcox. "From there, you can reconstruct your supply chain in a way that best addresses your firm's needs."
October 7, 2011
Latest Whitepaper
E-Fulfillment Study: Actions to Address Customer-Driven Complexity
Managing order fulfillment operations in the age of e-commerce means coping with all aspects of "more" for the customer.
Download Today!
From the November 2018 Logistics Management Magazine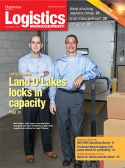 Land O'Lakes lock in Texas-based capacity
How will the tariff war with China affect U.S. container ports?
View More From this Issue
Latest Webcast
The Future of Multi-Carrier Shipping Systems (Beyond the Shipping Label)
How confident are you that the shipping solution you have in place today will meet emerging delivery and customer service trends over the next five years? In this webinar transportation technology expert Ken Fleming, COO of Logistyx Technologies, discusses the key trends shaping supply chain delivery today and how they're influencing shipping system requirements.
Register Today!