Supply Chain Technology: Wireless evolution gets closer
Our technology correspondent takes a closer look at what wireless technology is being adopted, how it's being used, and what benefits logistics professionals are deriving from their mobile investments either inside the four walls or on the road.

Technology in the News
Leveraging the Internet of Things (IoT) in Manufacturing
The E-commerce Effect: The Modern Supply Chain Disruptor
J.B. Hunt and project44 team up for advanced visibility integration
Asia Technology Summit examines ocean cargo supply chain transparency
Can IoT Enhance Logistics Tracking?
More Technology News
Technology Resource
Leveraging the Internet of Things (IoT) in Manufacturing
Is Digital Transformation a risk or an opportunity?
Thursday, December 20, 2018 | 2:00pm ET
All Resources
By
Bridget McCrea, Editor
·
August 1, 2012
Standing at the podium in front of an audience of carriers and private fleet operators a few months ago, Dwight Klappich posed a question related to his fleet transportation trends presentation. "I asked how many of them had mobile-enabled fleets," says Klappich, research vice president for Gartner. "About half of the audience raised its hands."
Next, Klappich asked how many of the vehicles were equipped with GPS systems and the response was significantly lower. "So, basically they're driving around in $300,000 units, but still using paper to track their activities," he says.
But that's slowly changing, according to Klappich, who says that the drivers themselves are pushing for more technology. They're using mobile technology in their personal lives, he adds, while using antiquated technologies like paper on the job. "Users want to cut out the paper and go mobile," says Klappich, "and fleet operators are dealing with a driver shortage and want to do anything they can to keep their retention numbers up."
IDC Manufacturing Insights' recent supply chain mobility survey revealed a trend similar to what Klappich uncovered during his questioning following his presentation. According to Kimberly Knickle, practice director for at IDC, roughly 26 percent of responding companies report using smartphones and media tablets for logistics.
"To me that shows that a lot of companies are trying mobile solutions out and some are committed to using smartphones," says Knickle. But when it comes to media tablets, the usage numbers dip down to about 15 percent. "Right now we're seeing just a small percentage of companies using media tablets and iPads in distribution and logistics."
With wireless slowly making its way into the supply chain, we wanted to look more closely at exactly what's being adopted and where, how it's being used, and what benefits logistics professionals are deriving from their mobile investments either inside the four walls or out on the road in the cabs of their fleet. Over the next few pages we'll answer those questions and then take a peek at a new innovation from one of the wireless world's biggest vendors.
Brave new world
Tablet computers, smartphones, and other wireless devices may be making significant inroads in households around the world, but they haven't had quite the same impact on the modern day supply chain.
But that doesn't mean logistics professionals have shunned wireless as a whole. "The radio frequency guns we use in warehouse management are mobile, computerized devices," says Steve Banker, director of supply chain solutions for ARC Advisory Group in Boston. "And GPS/telematics was used commercially to monitor fleets long before it became common for car owners to use the technology."
Prices on wireless equipment and applications have come down over the last few years, pushing more shippers to try working "without wires," according to Banker. "If you have a small fleet, you don't have to spend thousands of dollars on Mobile Resource Management/Automatic Vehicle Location solutions anymore," Banker explains. "There are low-priced cellular devices that really make mobile a no-brainer for all fleets."
Take Google's new GPS tracking tool, which costs just a few dollars a month to use, for example. "By combining Google Maps with a mobile device, the company is offering a turnkey package that used to be quite cost prohibitive for shippers," says Klappich. "The question is, do I need that expensive piece of equipment in the truck or can I just use an Android phone to do the job?"
Even with new, affordable fleet management tools coming on the market, Klappich says that the wireless movement's progress is still most evident within the four walls of the warehouse, where smartphones, handheld devices, RFID, and other innovations provide flexibility and help to enhance user satisfaction, and improve productivity. "At this point, wireless is pretty much ubiquitous in the warehouse," says Klappich.
On the freight side, Klappich says shippers are looking to improve customer service. "And that means always being able to answer the question: When will my delivery arrive? Using mobile solutions, you can answer that question accurately, provide real-time proof of delivery, and invoice the customer instantaneously," says Klappich.
Government mandates are also pushing more shippers to cut the wires to their fleets. Klappich points to the more stringent hours of service regulation, which will require companies to get even better at managing driver hours while also moving freight as efficiently as possible, as a key driver for the future. Geofencing, which is defined as a virtual perimeter for a real-world geographic area, is one innovation that could help private fleet operators more effectively comply with the mandate.
"Using geofencing, shippers could literally draw a circle around a distribution center and figure out what is driving within 25 miles of that location at any time," says Klappich. "To accommodate a truck that's set to arrive in exactly 30 minutes, for example, a dock can be cleared out and prepped in advance—but not too far in advance that it unnecessarily disrupts the rest of the warehouse operations."
Barriers to entry
The average smartphone isn't rugged enough to withstand the abuse that a warehouse worker or truck driver would put it through on a daily basis. "Drop an iPhone and it's toast," says Klappich, who sees the development of more
ruggedized devices as a necessity for vendors that want to put their products into the hands of more logistics managers and employees.
Knickle concurs, and says consumer-grade devices simply don't cut it in the warehouse or truck cab. There are some psychological ways to combat that challenge. For example, she says putting employees in charge of their own devices can help cut down on the damage and the repair costs. "If the worker feels a connection to the device and is responsible for it," says Knickle, "he or she will be more careful with it."
Training also comes into play when deciding to move to a wireless environment on the road or inside the four walls. Being able to quickly get workers up to speed on the devices—particularly when moving from a manual or paper-based environment—can also impact the success of a supply chain-wide wireless implementation. "Sometimes it's a question of how much tweaking the device needs to be fast and easy enough for someone to use with minimal training," Knickle says.
Security is another issue that shippers are grappling with as they introduce wireless into their warehouses and fleet operations. Being able to "lock down" mobile computers and avoid data theft if the device is stolen or lost; use integrated security firewalls and authentication and encryption; and confidently rely on enterprise wireless networks, such as the popular 802.11i option, are all of concern for shippers moving into the wireless world.
"Mobility makes it easier for managers to stay connected to what is happening in their supply chain when they are on the move," says Banker, who points out that integration and reporting are two areas where shippers would like to get more out of their wireless systems. "There's always a list of reports that shippers would like to have, and a desire to more tightly integrate into TMS, dispatch, and maintenance solutions."
On the horizon
The good news is that when wireless is done right across all elements of the supply chain, the positive results can be significant.
"It comes down to being more effective and efficient in overall operations," says Knickle, who adds that wireless-enabled shippers gain better visibility over both inbound and outbound freight. Armed with this data, companies can more efficiently schedule assets and labor across the supply chain; deploy dock doors; and manage issues such as product recalls.
Knickle expects the pace of wireless adoption to remain slow and steady, despite the fact that manufacturers see mobility as the second most important supply chain "pillar" (with data, cloud, and social business being the other three pillars), according to IDC's research.
"Mobility is obviously important to the supply chain in general because it complements existing IT investments and business processes," says Knickle, who adds that companies are trying to understand mobile's role in the overall supply chain and how to use it in conjunction with other existing and new technologies. "Until those questions are answered, mobile adoption will remain low."
April 7, 2016
About the Author
Bridget McCrea, Editor Bridget McCrea is a Contributing Editor for Logistics Management based in Clearwater, Fla. She has covered the transportation and supply chain space since 1996 and has covered all aspects of the industry for Logistics Management and Supply Chain Management Review. She can be reached at
[email protected]
, or on Twitter
@BridgetMcCrea
Subscribe to Logistics Management Magazine!
Subscribe today. It's FREE!
Get timely insider information that you can use to better manage your entire logistics operation.
Start your FREE subscription today!
Latest Whitepaper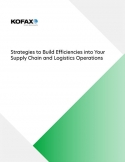 Strategies to Build Efficiencies into Your Supply Chain and Logistics Operations
This white paper outlines key areas where third party logistics (3PLs), carriers, retailers and manufacturing companies can replace manual repetitive work within their operations with new and innovative robotic process automation technology solutions.
Download Today!
From the November 2018 Logistics Management Magazine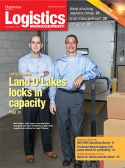 Land O'Lakes lock in Texas-based capacity
How will the tariff war with China affect U.S. container ports?
View More From this Issue
Latest Webcast
Leveraging the Internet of Things (IoT) in Manufacturing
Is digital transformation a risk or an opportunity? This webinar will detail Manufacturing industry challenges and how using IoT can address these challenges through optimizing logistics, improving processes and gaining meaningful insights.
Register Today!