Tax reform agreement paves way for new infrastructure spending
Now that trucking and transport interests are applauding what appears to be the first major cut in corporate taxes in 30 years, they are hoping the applause they are heaping on Republicans reverberates into a call to spending some of that money on improving the nation's infrastructure woes.

Logistics in the News
POLA and POLB post solid November volumes, despite moderation from October levels
First round of BUILD grants is overly positive for freight transportation infrastructure
Amazon announces plans to build regional air hub at Fort Worth Alliance Airport
Norfolk Southern announces plan to relocate corporate HQ to Atlanta
Rail Customer Coalition calls on White House to confirm STB nominees
More Logistics News
Logistics Resource
New White Paper focuses on the ABC's of Anti-Dumping/Countervailing Duties
While the U.S. government has always prioritized protection of U.S. companies against imports that are sold at below market prices, or unfairly subsidized, the Trump administration clearly intends to raise the bar with regard to trade policy enforcement.
All Resources
By
John Schulz
·
December 15, 2017
Now that trucking and transport interests are applauding what appears to be the first major cut in corporate taxes in 30 years, they are hoping the applause they are heaping on Republicans reverberates into a call to spending some of that money on improving the nation's infrastructure woes.
Chris Spear, president and CEO of the American Trucking Associations, said tax reform will "ignite America's economic engine" and added: "Reforming this onerous tax code will enable trucking companies large and small to invest more into their businesses, creating good middle-income jobs and stimulating growth up and down the supply chain."
For once, hyperbole out of the White House appears somewhat aligned with reality concerning the first major tax overhaul/corporate tax cut in 30 years.
So what does it mean for transports?
"It's a big deal," Mike Regan, president of TranzAct Technologies, which offers solutions to shippers of all modes with freight audit and payment services, told LM. "It's not just the reduction in the corporate tax rate but the expensing of items that will accelerate capital purchases."
Regan said the transport sector was running close to capacity the last half of 2017. "Even if this has minimal impact, it's going to exacerbate what already is a tight capacity situation."
Clearly, truckers are ecstatic over the tax reform proposal recently rushed through normal bureaucratic red tape in Washington.
"We see every day – in our operations, and those of our customers – what tax reform will do to get the economy moving ahead at full speed," said Dave Manning, chairman of American Trucking Associations and president of TCW, Inc. "A growing economy means more trucks on our roads to keep store shelves stocked and Americans' homes filled."
But those store shelves will not be filled as rapidly if delays caused by the sagging U.S. infrastructure are not corrected. And President Donald J. Trump seems capable of concentrating only on one issue at a time.
"I'm going to say this in a non-braggadocious way," Trump said in late November. "There has never been a 10-month president who has accomplished what we have done."
Hyperbole aside, there is one promised goal Trump has not delivered on – that supposed $1 trillion infrastructure package he promised back in his campaign.
That highly hyped project now has been on hold for one year. Now the word on infrastructure is wait until 2018. Nobody seems to be holding their breath.
"Nothing happened this year (2017), so the prospects of anything happening next year (2018) I think are pretty slim," Former Transportation Secretary Ray LaHood, who is a co-chairman of Building America's Future, a bipartisan coalition that promotes infrastructure, told Bloomberg Politics.
Little wonder few believe Trump's many promises on infrastructure. First, campaigner Trump often touted benefits of public-private partnerships (3Ps) as a way to "unleash" as much as $1 trillion in new construction spending. Now it's a lot closer to $200 billion in new federal money.
But suddenly late last year, President Trump soured on the 3P idea, saying it was a bad idea. Insiders believe Vice President Mike Pence, ex-governor of Indiana, may have influenced his thinking. The Hoosier State had a bad experience with a privatized toll road under Pence's term as governor.
Trump has hinted that perhaps raising the federal tax on fuel – currently 18.4 cents on gasoline, 24.4 cents on diesel, unchanged since 1993 – may be the way to finance new transport spending. But whether a Republican-controlled Congress wants to go this way is problematic, at best.
Which leaves the nation and its potholes back at Square One. White House sources hint the new deal is modest -- allocating $200 billion in federal funds over 10 years to spur what they think will be $800 billion in spending by states, localities and the private sector.
No one is disputing the needs. Besides interstate highways in sub-prime condition, the state of bridges in this country is rated "D+" by the Society of Engineers.
Highway congestion cost U.S. businesses and consumers more than $160 billion last year, according to the Texas A&M Transportation Institute. Federal spending on interstate highways has fallen from $20 million a year in 2012, according to federal estimates. Advocates say double that amount is necessary.
"We bill our customers and pay our drivers on a mileage rate so if congestion inhibits our ability to run more miles, it limits our ability to earn and our ability to pay our drivers," truckload giant USA Truck CEO James Reed told the Wall Street Journal.
Roughly 9% of the approximately 600,000 bridges in the U.S. are in various stages of disrepair. That's a shocking statistic given the country's history of bridge disasters. Several structural deficiencies have resulted in several highly publicized catastrophes over the last 50 years, including:
Silver Bridge disaster (West Virginia), 1967 - 46 dead;
Sunshine Skyway Bridge disaster (Florida), 1980 - 35 dead; and
I-35W Bridge disaster (Minnesota), 2007 – 13 dead and 145 injured
Doug Thaler, president of Infrastructure Preservation Corporation (IPC), a robotics manufacturer and professional services engineering company, said most of these disasters to archaic infrastructure inspection methods—methods that are over half a century old.
"Traditional infrastructure inspection methods are over 50 years old and are thus quite outdated," Thaler said. "They are manual in nature and often deliver subjective results. There are new solutions that provide quantitative data, allowing departments of transportation to better allocate existing maintenance budgets."
Thaler said IPC's geophysical nondestructive inspection technology, which isolates structural faults before they become serious issues, is one such solution—a solution that could prevent future bridge disasters and save lives. He said this technology, the first commercially viable robotic inspect method of its kind, uses X-rays to identify early-stage infrastructure deterioration.
December 13, 2017
Subscribe to Logistics Management Magazine!
Subscribe today. It's FREE!
Get timely insider information that you can use to better manage your entire logistics operation.
Start your FREE subscription today!
Latest Whitepaper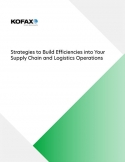 Strategies to Build Efficiencies into Your Supply Chain and Logistics Operations
This white paper outlines key areas where third party logistics (3PLs), carriers, retailers and manufacturing companies can replace manual repetitive work within their operations with new and innovative robotic process automation technology solutions.
Download Today!
From the November 2018 Logistics Management Magazine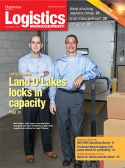 Land O'Lakes lock in Texas-based capacity
How will the tariff war with China affect U.S. container ports?
View More From this Issue
Latest Webcast
Leveraging the Internet of Things (IoT) in Manufacturing
Is digital transformation a risk or an opportunity? This webinar will detail Manufacturing industry challenges and how using IoT can address these challenges through optimizing logistics, improving processes and gaining meaningful insights.
Register Today!