Teamsters rank and file digging in against possible pension benefit cuts
Teamsters retirees from the trucking industry currently enjoy some of the most generous pensions in America—up to $3,500 a month for 30 years of service from any unionized trucking company that contributed to multiemployer pension plans that once covered the industry like a warm fuzzy financial security blanket. But those pension plans, once thought to be the "Cadillac" of all retirement plans, are in deep financial trouble. And there doesn't appear to be any bailout coming from Washington.

John D. Schulz
·
July 10, 2014
Teamsters retirees from the trucking industry currently enjoy some of the most generous pensions in America—up to $3,500 a month for 30 years of service from any unionized trucking company that contributed to multiemployer pension plans that once covered the industry like a warm fuzzy financial security blanket.

But those pension plans, once thought to be the "Cadillac" of all retirement plans, are in deep financial trouble. And there doesn't appear to be any bailout coming from Washington.

The issue is acute because the Pension Protection Act of 2006, which prohibits any benefit cuts in troubled pension plans, is due to sunset at the end of this year. It will expire unless some kind of replacement legislation is drafted and passed through various committees, which is unlikely in a midterm election year.

Recently the Pension Benefit Guaranty Corporation, the government agency charged with federally insuring the multiemployer plans, concluded in a long-awaited report that its insurance "is more than likely" to run out of money within the next eight years—just as baby boomers hit retirement age.

This ticking time bomb is especially worrisome for trucking industry vets. Multiemployer plans cover about 10 million Americans, and perhaps as many as 1 million of those were or are in the trucking industry. The largest multiemployer plan is the Teamsters' Central States Fund, once the mightiest pension fund in the country.

But because of changing demographics and the shift toward non-union trucking companies since the industry was deregulated in 1980, Central States' financial future is not rosy. It pays out annual benefits of $2.9 billion, but only has annual employer contributions of $675 million.

Central States receives contributions from just 54,698 active workers to pay out benefits to 214,243 retirees—a ratio of 1 active to 4 retirees vs. the 4 actives to 1 retiree ratio in 1980.

To make matters worse, UPS, the most profitable transportation company in the country, in 2008 paid $6.1 billion to drop out of Central States and instead fund its own retirement programs for its current 260,000 workers, and additional retirees.

Thomas G. Nyhan, administrator for the Central States plan, testified two years ago before the Senate committee on pensions that his plan is in "unprecedented financial crisis." If no action is taken, Nyhan said his fund could be insolvent in the next 10-15 years.

The largest trucking contributors to Central States are YRC Worldwide (parent of Yellow Freight and three regional truck lines) and ArcBest Corp. (parent of ABF Freight System). Both companies are recovering from financial losses. YRC has negotiated pension contribution cuts to Central States.

Central States is among the 10 percent of participants in these multiemployer plans that the PBGC is projecting could be insolvent by 2020 or so. This would affect about 1.5 million multiemployer beneficiaries, many in the trucking industry.

Alex Adams is one of those on the bubble. Adams, 72, a retired road driver out of Yellow Transportation, retired in 2004 after more than 30 years of working for unionized trucking companies. He currently enjoys a Teamsters pension of $3,500 a month. If Central States were to be declared a dying plan, under legislation being considered in Washington, his monthly pension could be cut to around $1,300—which is the maximum guaranteed by PBGC.

"That would be devastating," said Adams, who is also a city councilman in Maple Heights, Ohio, and a former president of Teamsters Local 407 in Cleveland. He said, in a raspy voice, he is a throat cancer survivor who eats via a feeding tube.

Adams says it's unfair for Washington to change the rules in the middle of the retirement game—especially for people who cannot return to work because of age or infirmities.

"Our house is paid for and we ran the numbers 10 years ago and I said to my wife, `We can do it. I'm going to retire. We can make it,'' he told LM in a raspy voice. "Combined with Social Security, that pension was the only money we had coming in. Based on that, I retired."

Fast forward to 2014. Now more than 200 multiemployer plans are hinting they might be close to insolvency in a few years. Under the proposed new rules, these plans would be allowed to reduce benefits to current and future retirees.

"I think this is terrible," Adams said. "I can't go back to work. I have cancer. I can't eat. I can't get a job," Adams said. "We would have a whole different life. Taxes are going up. If I live, I'm going to outlive my income. If I live, I'm going to end up on food stamps."
Ken Paff, an organizer with Teamsters for a Democratic Union (TDU), the dissident wing of the Teamsters union, said more Teamsters are concerned about pension security than ever.

"Word is getting out," said Paff, whose TDU web site has links to a "pension benefit cuts calculator" that allows people to enter their years of service and see how their $3,000-$3,500 monthly pension could easily be reduced to $1,300 or so if the current law prohibiting benefit cuts is allowed to expire as expected on Dec. 31.

"The reaction when word gets out there is a lot of anger. Then there is resignation. Then there is bitterness," Paff says. "What Teamsters are saying is, "It's our money. The company deferred pay ($8 an hour) to the plan. That's our money.' There's a lot of that feeling. We're very concerned.

"We have to not only defeat this but we have to have a positive alternative," Paff said.
Toward that end, Teamsters have joined with AARP, the Pension Rights Center, TDU and other interest groups in recommending alternatives to cutting accrued pension benefits, and identifying new sources of revenue to improve the funding status of troubled plans such as Central States.
A big increase in PBGC premiums to help guarantee pensions. Currently PBGC multiemployer premiums are just $1 per month per participant. Could participants in troubled plans contribute more to stave off extreme benefit cuts?
Develop industry-specific solutions such as giving PBGC greater authority to help trucking industry plans through partition, facilitating mergers, or providing government guaranteed loans for certain plans.

"People underestimate support for pensions," Paff explained. "Most people know somebody close to them who has a pension. Everybody knows someone on Social Security. People don't like to see benefit cuts in any such program."

Teamsters officials are split. Teamsters President James P. "Jim" Hoffa is opposed to any benefit cuts. But Al Nelson, benefits services director of the Central States Pension Fund, recently told Minneapolis Teamsters that he favors a 30 percent across-the-board benefit cut for every current retiree and every active Teamster in the fund.

Nelson told Teamsters at a Local 120 meeting on June 6, where he was giving a report on the Central States Pension Fund. He elaborated that if the 30 percent cut is not made, the situation could be even worse several years from now.

The 2013 year-end report for Central States was mixed. It showed a $1 billion gain to $18.7 billion because of the rising stock market. But the report stressed the fund trustees' goal of changing federal law to allow them to cut the pensions of current retirees, and active Teamsters with earned vested pensions.

Teamster officials who are trustees are at odds with the official position of the International Union, which is to oppose a bill to abolish the "anti-cutback" protections in federal law. The report states that the fund could be unable to make pension payments by 2026, as the justification for their stand.

Many Teamsters retirees such as Adams say they feel powerless since active participants, especially at the YRCW companies like YRC Freight and Holland have voted to take concessions on the pension contributions. Those workers currently only pay $70 a week into the pension fund, while ABF Freight is still paying the "full boat" pension contribution of $342 a week.

This is hurting Central States' financial condition. But under the fund's "distressed employer" provisions, YRCW is allowed some slack in order to aid its overall financial condition. The fund also put YRC Freight and Holland Teamster pension fund participants under some pretty strict restrictions

Retired Yellow driver Adams said if any adjustments are necessary, it should be made to future retirees who have a chance to work longer or alter their financial plans to offset the financial effects of the benefit cuts. Current retirees should continue on their original pension payouts, he said.

"Everybody is different," Adams said. "We have a little bit of savings. So we help our kids. And we help various organizations."

If healthy enough, Adams said he would be willing to testify on hearings in Washington. But some Teamsters are worried that it's already a "done deal" negotiated by officials of PBGC, Teamster pension funds and employers.

"The word is not getting out," Adams said. "Everybody says, `No, it can't happen.' But it would be devastating. There has to be another way."

Nothing is likely to happen legislatively the rest of this election years. But just because something failed last year is not a reason to try again, Paff said.

"We are worried when the gang of 535 (the new Congress) convenes next January," Paff said, adding he doesn't think officials from the IBT are doing enough lobbying on the issue. "If it's true the meek shall inherit the earth, these Teamsters officials will be land barons."
July 10, 2014
About the Author
John D. Schulz John D. Schulz has been a transportation journalist for more than 20 years, specializing in the trucking industry. John is on a first-name basis with scores of top-level trucking executives who are able to give shippers their latest insights on the industry on a regular basis.
Subscribe to Logistics Management Magazine!
Subscribe today. It's FREE!
Get timely insider information that you can use to better manage your entire logistics operation.
Start your FREE subscription today!
Latest Whitepaper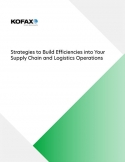 Strategies to Build Efficiencies into Your Supply Chain and Logistics Operations
This white paper outlines key areas where third party logistics (3PLs), carriers, retailers and manufacturing companies can replace manual repetitive work within their operations with new and innovative robotic process automation technology solutions.
Download Today!
From the November 2018 Logistics Management Magazine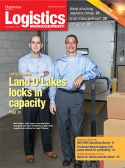 Land O'Lakes lock in Texas-based capacity
How will the tariff war with China affect U.S. container ports?
View More From this Issue
Latest Webcast
Leveraging the Internet of Things (IoT) in Manufacturing
Is digital transformation a risk or an opportunity? This webinar will detail Manufacturing industry challenges and how using IoT can address these challenges through optimizing logistics, improving processes and gaining meaningful insights.
Register Today!