U.S. transport interests warning Trump administration to back off "disruptive" tariffs
Major multinational shippers and North American transport interests are warning the Trump Administration to tread softly on its increasing tariffs on aluminum, steel and other products or it will threaten the current sweet-spot economy.

Logistics in the News
POLA and POLB post solid November volumes, despite moderation from October levels
First round of BUILD grants is overly positive for freight transportation infrastructure
Amazon announces plans to build regional air hub at Fort Worth Alliance Airport
Norfolk Southern announces plan to relocate corporate HQ to Atlanta
Rail Customer Coalition calls on White House to confirm STB nominees
More Logistics News
Logistics Resource
New White Paper focuses on the ABC's of Anti-Dumping/Countervailing Duties
While the U.S. government has always prioritized protection of U.S. companies against imports that are sold at below market prices, or unfairly subsidized, the Trump administration clearly intends to raise the bar with regard to trade policy enforcement.
All Resources
By
John D. Schulz
·
August 9, 2018
Major multinational shippers and North American transport interests are warning the Trump Administration to tread softly on its increasing tariffs on aluminum, steel and other products or it will threaten the current sweet-spot economy.
Union Pacific Corp. CEO Lance Fritz is sounding the alarms about President Donald Trump's tariff wars against China, Canada, Mexico and the European Union if the U.S. government continues to look at trade, as Fritz said recently, "as a zero sum game."
Union Pacific Corp., founded 156 years ago in the middle of the Civil War, knows a thing or two about operating in a fractured political environment.
"The six Class I North American freight railroads "are the envy of the world," Fritz said recently at the National Press Club. "It's an irreplaceable national asset that enhances both our nation's standard of living and our competitiveness" around the world. "Freight railroads are the bloodstream of the U.S. economy. We support virtually every sector of our economy. In fact, we are so tightly linked to our economy that we are considered a bellwether of economic progress.
Serving about 10,000 customers, UP estimates about 40 percent of its freight is international trade. "That's before and after, into and out of Canada, Mexico, Asia, Europe and South America. Literally, around the globe."
UP is the only railroad with service to the six gateways to and from Mexico, capturing about 70 percent of that north-south business. Those products include raw and finished products for autos, grain, plastics, beer, computers and thousands of other products.
But large national shippers are beginning to warn about possibly slower sales as a result of the Trump tariffs, which began with a 10 percent tax on aluminum and 25 percent on steel. Since summer they have spread to other products while foreigners have responded in kind.
Aluminum tariffs have risen 11 percent and steel tariffs are up 33 percent since the first of the year, according to the Wall Street Journal.
Tyson Foods recently cut its full-year profit guidance because of trade uncertainties related to tariffs and volatility in commodity markets. "The combination of changing global trade policies here and abroad and the uncertainty of any resolution has created a challenging market environment of increased volatility, lower prices and oversupply of protein," Tyson CEO Tom Hayes said in a statement, referring to the glut of soy beans since tariffs were placed this summer.
Similarly, Coca-Cola recently raised prices in mid-year—unusual for that company—becauseof the price rise of aluminum for cans and rising freight rates, according to CEO James Quincey.
Of the tariff war, Quincey said recently on a conference call with analysts, "Clearly it's disruptive for us. It's disruptive for our customers."
If tariffs are disruptive to shippers, Trump's protectionist trade measures with China and other nations are causing heartburn in the nation's business community, according to the country's top business lobbyist. Thomas J. Donohue, president and CEO of the U.S. Chamber of Commerce, has been at odds with the Trump administration over tariffs, immigrants separated from their families at the border protectionist trade measures.
President Trump has asked for $12 billion to help offset economic impact of tariffs on America's farmers. It's a Band-Aid for the agricultural sector, as most farmers and ranchers have responded that they want "trade not aid."
More broadly, the Chamber of Commerce says it does nothing to help the numerous other industries that have taken a hit from the trade war. The U.S. Chamber of Commerce has crunched the numbers to determine how much it would cost American taxpayers to do a comprehensive bailout for every industry affected. The result? A staggering $39 billion.
And as the scope of the tariffs has widened to include more and more products from more places – and more retaliation against U.S. exports – so has the scope of the economic damage on American businesses. Companies are reporting layoffs and price hikes across a wide range of industries, and the cost of papering over these damages would be steep. For example, the auto industry alone would require $7.6 billion. Producers and manufacturers of iron and steel would require $6.4 billion. Dozens of other industries from beverage manufacturers to ship makers would require government payouts in the hundreds of millions, according to the Chamber.
"If our companies lose access to foreign markets, they will struggle to remain competitive in the global economy," Donohue said recently. "Today, foreign policy is domestic policy."
UP's Fritz agreed. "I see how international trade benefits our country every day in the stories of Americans that we serve and that we see and that are employees. So I see it in the Iowa farmers who raise soybeans as soybeans are shipped by us down to Mexico. They get crushed into oil and meal, and the oil comes back across the border as vegetable oil sold in our grocery stores."
Fritz says he also sees it when an Iowa autoworker molds plastic dashboards. "They're shipped down to Mexico or into Canada, built into a car and brought back across the border to be sold in our showrooms. "I see it in Texas. We serve a factory that makes glass bottles. We ship crushed scrap glass into the factory. It turns it into bottles. We ship those down into Mexico. They get filled with one of our favorite beers, and that gets shipped back into the United States for distribution in stores and in restaurants."
And Fritz added that cycle happens over and over and over again in countless industries and markets around North America. That cycle flow is threatened by tariffs that most economists view as simply an unnecessary tax on manufacturers and ultimately consumers, as well as transport companies.
"Our potential exit from the North American Free Trade Agreement, or NAFTA, along with a growing list of tariffs and escalating trade tensions with our trade partners threaten to undo much of that progress," Fritz said flatly.
Fritz said a cargo ship sat idling for weeks outside the Port of Long Beach over who would pay the tariffs. UP recently had a dispute over who would pay $6 million in tariffs on steel it imports from Japan for its operations.
According to a study from the Trade Partnership Worldwide, for every U.S. steel or aluminum job protected by a tariff, 16 jobs in other sectors of the U.S. economy would be lost. According to a study commissioned by the Consumer Technology Association and the National Retail Federation, 134,000 jobs are threatened by the first round of new tariffs on China.
"And that could be amplified if tariffs escalate," UP's Fritz said.The U.S. Chamber of Commerce estimates a combined 760,000 jobs could be lost from the tariffs already enacted and those being considered to be put in place on autos and auto parts.
Moody's chief economist Mark Zandi has estimated that U.S. households gained about $900 annually from last year's tax cut legislation. But he estimated widespread tariffs could consume 80% of that, about $720, because of the drive-up in the cost of imports.
"I applaud the administration for its efforts at leveling the playing field for American workers when it comes to trade, particularly when it comes to addressing China's trade practices," UP's Fritz said. "That's absolutely the right goal."
He said NAFTA needs to modernized. "But some of our administration's proposed changes look to me like they'll do more harm than good," he concluded.
August 15, 2018
About the Author
John D. Schulz John D. Schulz has been a transportation journalist for more than 20 years, specializing in the trucking industry. John is on a first-name basis with scores of top-level trucking executives who are able to give shippers their latest insights on the industry on a regular basis.
Subscribe to Logistics Management Magazine!
Subscribe today. It's FREE!
Get timely insider information that you can use to better manage your entire logistics operation.
Start your FREE subscription today!
Latest Whitepaper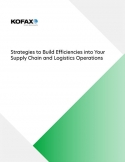 Strategies to Build Efficiencies into Your Supply Chain and Logistics Operations
This white paper outlines key areas where third party logistics (3PLs), carriers, retailers and manufacturing companies can replace manual repetitive work within their operations with new and innovative robotic process automation technology solutions.
Download Today!
From the November 2018 Logistics Management Magazine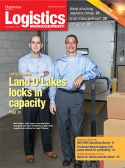 Land O'Lakes lock in Texas-based capacity
How will the tariff war with China affect U.S. container ports?
View More From this Issue
Latest Webcast
Leveraging the Internet of Things (IoT) in Manufacturing
Is digital transformation a risk or an opportunity? This webinar will detail Manufacturing industry challenges and how using IoT can address these challenges through optimizing logistics, improving processes and gaining meaningful insights.
Register Today!