Uncertainty surrounds fine print of new, trilateral North American free trade deal
Even though a 'new NAFTA' has been introduced, many specifics remain slim.

Logistics in the News
First round of BUILD grants is overly positive for freight transportation infrastructure
Amazon announces plans to build regional air hub at Fort Worth Alliance Airport
Norfolk Southern announces plan to relocate corporate HQ to Atlanta
Rail Customer Coalition calls on White House to confirm STB nominees
November truckload and intermodal pricing see gains in November, says Cass and Broughton report
More Logistics News
Logistics Resource
New White Paper focuses on the ABC's of Anti-Dumping/Countervailing Duties
While the U.S. government has always prioritized protection of U.S. companies against imports that are sold at below market prices, or unfairly subsidized, the Trump administration clearly intends to raise the bar with regard to trade policy enforcement.
All Resources
By
John D. Schulz
·
October 19, 2018
With initials containing heavy militaristic overtones– a cross between the U.S. Marine Corps (USMC) and U.S. Military Academy (USMA)–President Donald J. Trump last month proudly hailed a revised trilateral trade agreement between the United States, Mexico and Canada.
The deal–officially known as the United States Mexico Canada Agreement –is leaving open a common question among transportation professionals: how different is the fine print from the 24-year-old NAFTA? And the answer, for now, is that few people in transport really know.
"The devil is always in the details and I don't know anybody who knows the details yet," Brett Doney, president of the Great Falls Montana Development Authority (GFDA), told LM.
Whatever is in this new trade agreement impacts the work he is doing to bring Canadian business across the border into the U.S. He said he wishes Trump would have negotiated differently but is willing to abide by it
"From 30,000 feet, the best news is an agreement has been reached," Doney said. "The uncertainty and rhetoric hasn't done anybody any good. Businesses like to think long term and they have put a lot of things on hold."
Doney deals mostly with Alberta and industries along the Interstate 15 corridor, mainly in food and agriculture processing and energy support. All are cross-border activities dependent on free trade between Canada and the U.S.
"The old NAFTA had been in place quite a while (24 years) and some industry opportunities didn't exist when it was conceived," he said. "They've renamed it. But it looks like there were just some updates."
In many ways, USMCA is similar to NAFTA. But there are a few key differences, according to Beth Pride, an international shipping expert with BPE Global. For one thing, she said, USMCA has eliminated the need for a NAFTA Certificate of Origin (CBP-434) and now allows importers to certify the origin of the merchandise.
"This is a significant process change for importers," Pride said.
Also, USMCA requires Canada to raise their de minimus level from $20 to $150. Mexico agreed to raise their de minimum from $50 to $100. The U.S. de minimum level is $800. This will be very helpful to eCommerce companies, Pride said.
USMCA has introduced a "sunset clause," Pride said, explaining: "Which is concerning because we know how much work it is to negotiate trade agreements," she said.
An automatic sunset clause could result in the loss of USMCA 16 years from now. It is critical that the three member countries, Mexico, Canada and the United States, conduct a joint review six years after the enactment of USMCA to preserve it.
From a transport perspective, the new NAFTA requires each of the member countries-Mexico, Canada and the United States-to either adopt or maintain "specific expedited customs procedures" for express shipments.
"This is great news for the couriers," Pride said.
Pride of BPE Global said more companies to claim NAFTA-like advantages under the new deal. Companies should review their existing certificate of origin process and modify it to the new certification of origin requirements, she said.
"This may result in significant changes," Pride advised.
There are also requirements to issue advanced rulings "in no case" after 120 days and includes language on advanced rulings on valuation. This will hopefully have significant impact on obtaining uniform classification and valuation, Pride added.
"From a deal perspective, there's a lot of good in USMCA with the exception of automatic expiration which extends the uncertainty that we have been experiencing under the Trump administration while increasing the cost to defend the agreement," Pride said.
The American Trucking Associations praised the governments of the U.S., Canada and Mexico for coming together on a framework for continued free trade between the three North American nations.
"ATA is pleased that the United States, Canada and Mexico will continue their nearly 25-year-long tradition of free and open trade among North American neighbors," said ATA President and CEO Chris Spear. "The wide-ranging pact is a positive step for the nearly 50,000 Americans working in jobs directly connected to cross-border trucking – as well as the more than seven million Americans working in trucking-related jobs."
ATA Chief Economist Bob Costello noted recently that trucks moved nearly $385 billion in goods between the U.S. and Mexico, and $336 billion in trade across the Canadian border—and this agreement should strengthen those ties. "Continuing to have free trade between our three countries will only help our industry well into the future," Costello said.
About 75 percent of Canada's exports come to the United States, mostly by ground transport. That's why so many transport interests kept a close eye on the NAFTA rewrite – and now breathing a sigh of relief that some of the bombast and fiery rhetoric is over.
The USMCA is still far from a done deal. All three countries must sign the deal, and their legislatures must ratify it. If Democrats retake the House or the Senate in the midterm elections, the treaty would require bipartisan approval, which is hardly a given considering the House and or Senate could flip Democratic next month.
October 19, 2018
About the Author
John D. Schulz John D. Schulz has been a transportation journalist for more than 20 years, specializing in the trucking industry. John is on a first-name basis with scores of top-level trucking executives who are able to give shippers their latest insights on the industry on a regular basis.
Subscribe to Logistics Management Magazine!
Subscribe today. It's FREE!
Get timely insider information that you can use to better manage your entire logistics operation.
Start your FREE subscription today!
Latest Whitepaper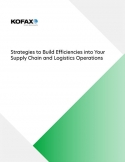 Strategies to Build Efficiencies into Your Supply Chain and Logistics Operations
This white paper outlines key areas where third party logistics (3PLs), carriers, retailers and manufacturing companies can replace manual repetitive work within their operations with new and innovative robotic process automation technology solutions.
Download Today!
From the November 2018 Logistics Management Magazine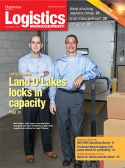 Land O'Lakes lock in Texas-based capacity
How will the tariff war with China affect U.S. container ports?
View More From this Issue
Latest Webcast
Leveraging the Internet of Things (IoT) in Manufacturing
Is digital transformation a risk or an opportunity? This webinar will detail Manufacturing industry challenges and how using IoT can address these challenges through optimizing logistics, improving processes and gaining meaningful insights.
Register Today!