Warehouse & DC Management: Moving toward smarter lift trucks
Fleet management software is evolving from a tool to track truck maintenance to a platform to drive deeper process improvements.

Using sensors to track when a lift truck is in motion, when it is at rest, or when the forks are engaged in lifting and lowering, allows fleet managers to optimize the size of their fleets.
in the News
Panjiva says trade fundamentals are strong, despite concerns over tariffs
NEXT Trucking and Mitsui O.S.K. Lines partner to service SMEs
Solving the Labor Shortage Crisis: The Four Benefits of an Automated Warehouse
CBRE research points to expected gains in cold-storage warehouse space
AAR reports annual carload and intermodal gains for week ending March 10
More News
By
Bob Trebilcock
·
October 1, 2012
High technology, automatic data collection, sensors, and software are probably not the first words you associate with lift trucks. However, today's lift trucks are highly sophisticated pieces of machinery.
"Over the last 10 or 20 years, the technology within the lift truck has evolved immensely," says Mike McKean, sales and marketing manager for Toyota Material Handling USA. "The brains of the lift truck have grown. The dashboards display so much more information than in the past."
That technology is moving beyond the dash. Thanks to sensors, microprocessors, and CAN bus technology, today's lift trucks have the capability to collect and communicate lift truck data in real time.
In turn, fleet management software systems can use that data to manage the maintenance of the truck or monitor how a driver is operating the vehicle. It can perform that management for an individual truck or driver, a fleet of trucks, or team of drivers—in one location or across multiple locations. It's possible to feed that information to other management software systems, such as labor management (LMS), warehouse management (WMS), or enterprise resource planning (ERP) systems, to drive process improvements.
"We're not there yet, but we are moving toward a smart truck platform," says Phil Van Wormer, executive vice president of sales, marketing, and business development for Total Trax, a third-party provider of fleet management software for lift trucks.
Tracking maintenance
The earliest iterations of fleet management software were used to keep track of maintenance. Indeed, that is still the most common use of the technology, aiding equipment manufacturers to improve their products as much as end users.
"Using fleet management software, we know what repairs were made on what trucks and at what intervals of usage," says Joe LaFergola, marketing manager of business and information solutions for Raymond. "If we see a trend developing around the failure of parts, we can do a root cause analysis on the affected parts and implement programs to reduce the cost there."
For end users, maintenance systems are used to schedule planned maintenance events and to track unplanned and exception repairs. Those repairs can also be compared against the hours of use to see if a truck is getting more or less hours between repairs than is expected or if the truck is getting more maintenance than is necessary for the hours of operation. Together, they provide a snapshot of how the truck is performing and how it is being maintained.
Taken to the next step, the systems can be used to automate the components of a maintenance transaction. With intelligent dispatching, for instance, either the system itself or the end user can provide information that allows some problems to be solved without ever sending a technician. In the alternative, the system may ensure that a technician has the right tools and parts to address an issue on the first call.
"This allows us to obtain as much information as possible before a service call even gets to the dealer," says Pat DeSutter, who is with Yale's fleet management program. "We can then make sure we're dispatching a technician based on the skill required and the availability of parts."
Right sizing the fleet
With sensors tracking when a lift truck is in motion, when it is at rest, or when the forks are engaged in lifting and lowering, information is now available to track the utilization of a fleet.
"If you measure how a truck is being used and how much of the time it's idle, you might find that instead of 10 trucks in the shipping department, you only need eight," says Toyota's McKean.
In many facilities, managers assume their fleet is being fully utilized throughout a shift because of the activity that typically takes place within a plant or distribution center. Facilities may also have a mix of equipment based on how work was once performed in the facility, even if products, processes and lines have changed. They might even have more trucks than they realize. Fleet management software provides hard data to back up or refute those assumptions.
"One of our customers told us that he needed more trucks," recalls Jim Gaskell, director of global Insite products for Crown Equipment. "When we installed the software, he discovered he had two more trucks than he thought he had. They weren't being used at all." In fact, it's not uncommon for a facility to learn that the fleet is only being utilized at 50 percent or so of capacity.
"For instance, we can learn how many operational hours are being used for lift and travel or how many trucks are being used simultaneously," Gaskell says. "There may be peak periods when they are using all of their equipment, but if that peak only lasts 10 or 20 minutes a shift, you can ask whether they really need those trucks or if they should change their processes."
Operational information can also provide a real-time view of where in a facility trucks are being used. That allows a supervisor to shift idle drivers in one area to a busy area during peak periods.
Managing operators
The same tracking systems that monitor the performance of the trucks can also be tied to the performance of the operator. "The wireless tracking devices that monitor the usage of a truck also allow us to put operator check lists online, to manage operator licenses, or to monitor the hours required by a particular operator to perform a task," says Raymond's LaFergola.
If an operator is picking an order, for instance, the system can track how much travel there was between pick stations or how much time was required to lift or drop off a load. "If a task should take 30 seconds and it's taking longer, we can take steps to increase productivity," LaFergola says. "Among the customers that have implemented the system, we've seen 3 percent to 5 percent increases in productivity."
In addition to managing labor, the system can be used to ensure that only qualified operators are on a particular piece of equipment or working in authorized areas. If an operator's license is past its renewal date, for instance, the system can lock that operator out of a truck. Similarly, if an operator travels into an area where he isn't authorized to work or impacts something with enough force to damage the truck, the product or a structure, the system can shut down the truck and send an alert to a supervisor to address the situation.
Similarly, the system can be used to control the performance of an operator. "If you have a new operator who is learning to drive, you can limit the travel and lift speeds," says Gaskell. "No matter what truck he gets on, he'll be at that reduced performance level until he gets experience."
Here today, used tomorrow
Despite those capabilities, fleet management software is not yet widely used beyond a tool for managing maintenance.
The problem, say the experts, is that the available data being collected by the trucks is like drinking from a fire hose. "End users are overwhelmed," says Raymond's LaFergola. "They don't know where to start."
Yale's DeSutter concurs. "We expected that telemetry and sensors would equip the customers to act on driver accountability and training and to use the data to avoid costs," he says. "So far, we haven't seen that."
LaFergola sees an opportunity for the lift truck industry to provide consultative services: Suppliers and distributors can sift through and analyze the data to show their customers how they can alter their processes to make their operations more efficient. "Our heart and soul is in making lift trucks," he says. "But we recognize that there is this need. We are working with dealers to move into this solution."
One example of how this might be done is using data from a customer's labor or warehouse management systems in combination with the data collected from the fleet management system to improve labor standards.
Toward a smarter lift truck
While few end users are ready to use lift truck data to drive process improvements, lift truck software is already evolving toward a platform for smarter operations.
A combination of software and hardware, for instance, can automate the data collection process and eliminate hand scanning. Available systems use optical scanning technology to automatically scan and read pallet labels when they're picked up by the truck, associating that specific pallet with that specific truck in the fleet management software.
Since the system is tracking the location of the truck as it moves through the facility, the system can record a putaway or drop location to within the inch without the driver scanning the bar code. That information can then feed the inventory management module in a WMS.
Fleet management software may also be used to improve task interleaving within the warehouse. "Since we know the real-time location of every truck and pallet, we believe we can feed higher quality data to a WMS for better decision making," says Total Trax's Van Wormer.
Meanwhile, Jungheinrich has developed several types of warehouse navigation technology for its lift trucks. "We're integrating the truck with the WMS to help drivers find the most direct routes to get their work done," explains Michael Wiesenegg, product line manager of warehouse systems for MCFA, which markets Jungheinrich trucks in North America.
In these applications, the layout of the warehouse is programmed into the fleet management software. When the WMS sends a task to an operator, it also sends a file to the truck, telling it where it needs to go. Using the layout drawing, the truck provides turn-by-turn directions to the driver, similar to the GPS system in an automobile.
For narrow-aisle guided truck applications, trucks are outfitted with RFID readers that read transponders installed in the floor in the aisles. When a truck passes a transponder, it knows exactly where it is and calculates the fastest combination of driving and lift speeds to safely and productively get to the right pallet position for the pick. The system is accurate to within 0.4 inches to 1.2 inches.
"We are seeing productivity gains of up to 25% in narrow-aisle systems based on pallet moves per hour," says Wiesenegg. More importantly, he says, these types of advancements ensure that lift trucks remain an integral part of operations, even as automation makes strides further. "We are always looking at how we can improve product flow in a warehouse," he says. "As software and lift truck technology advances, we will incorporate more solutions into our trucks."
October 8, 2012
About the Author
Bob Trebilcock Bob Trebilcock, editorial director, has covered materials handling, technology, logistics and supply chain topics for nearly 30 years. In addition to Supply Chain Management Review, he is also Executive Editor of Modern Materials Handling. A graduate of Bowling Green State University, Trebilcock lives in Keene, NH. He can be reached at 603-357-0484.
Subscribe to Logistics Management Magazine!
Subscribe today. It's FREE!
Get timely insider information that you can use to better manage your entire logistics operation.
Start your FREE subscription today!
Latest Whitepaper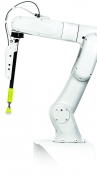 Warehouse Management Systems (WMS) / Inventory Management Technology: 6 Trends for the Modern Age
Here's how the next generation of warehouse and inventory management systems are evolving to help logistics operations operate more efficiently and improve their bottom lines in our brave, new digital age.
Download Today!
From the March 2018 Logistics Management Magazine Issue
Reverse Logistics in the "Age of Entitlement"
Logistics Management's Viewpoint on E-commerce: Leveraging available tools
View More From this Issue