Warehouse/DC Management: Six best practices for better inventory management
Distribution centers are dealing with more inventory and more SKUs than ever, and the need to fill orders for multiple channels is making inventory management more important and more complex. Here's a list of tips for the omni-channel era.

Warehouse in the News
JLL report focuses on urban infill warehouse and distribution space to fill last-mile gap
11th Annual Material Handling Professional Salary Survey
Think small when it comes to warehousing
Rocky Brands Sees the Light
The Case for Mobile Printing in the Warehouse
More Warehouse News
Warehouse Resource
The Case for Mobile Printing in the Warehouse
Learn how to take advantage of mobile printers in the warehouse environment and how to choose the correct mobile printer. Download the complimentary white paper.
All Resources
By
Roberto Michel, Contributing Editor
·
February 1, 2016
A growing economy over the last few years and the continued rise of e-commerce have warehouse and DC managers under pressure to get goods out on time to multiple channels. In the rush to meet the needs of multi-channel commerce, the need hasn't been so much about reducing inventory, but rather controlling it in such a way that a common stock of inventory can be used to fill orders for multiple channels.
Throughout most of 2015, U.S. manufacturing and related purchasing was on the rise. It wasn't until November of last year that the "Institute for Supply Management (ISM) Report on Manufacturing" indicated a slight contraction in manufacturing activity, the first such result in 36 straight months. While ISM's latest research indicates some further slight contraction in inventories, the overall pattern the last few years has been one of growth—and that has meant more inventory to manage.
Operators of DCs have seen more stock-keeping units (SKUs) to manage and more inventory turns. In fact, Logistics Management's "2015 Warehouse & DC Operations Survey" found that the average number of SKUs increased by 18% last year, average annual inventory turns topped nine, and 38% of respondents were planning on handling even more SKUs in the year ahead. Additionally, the annual survey found that 40% of respondents now service an e-commerce channel, up by 6% from 2014.
In short, today's challenge with inventory is about how to manage it with enough precision to meet the needs of omni-channel fulfillment. Cost efficiency still matters, but it's really a dual challenge: capture e-commerce opportunities, but fulfill at lowest cost.
To gain further insight into these challenges, Logistics Management spoke with a couple top consultants who work closely with logistics and supply chain executives on how to better manage inventory in the omni-channel era.

Under one roof
For some companies looking for omni-channel fulfillment efficiencies, the trend has been to move away from DCs dedicated to a single channel and instead have DCs that fulfill orders for multiple channels, says Ian Hobkirk, founder and managing director of Commonwealth Supply Chain Advisors.
"Ten years ago when e-commerce was still fairly new, you had a lot of channel separation in the way companies set up and run DCs, and e-commerce fulfillment, in many cases, was outsourced to a 3PL," says Hobkirk. "One of the trends we're seeing now among retailers is to have multi-channel fulfillment centers in which inventory and fulfillment for all channels is under the same roof."
The key driver for an omni-channel DC is the benefit it has on inventory—having one pool of inventory that can be used more flexibly to accommodate forecast deviations. "There are other factors driving omni-channel fulfillment centers, such as the lower costs from being able to use a common pool of labor, but it's the inventory factor that's truly driving this trend," says Hobkirk.
The rise of omni-channel fulfillment makes inventory management more complex, which elevates the need for better systems for execution, forecast collaboration, and management reporting, including warehouse management system (WMS), enterprise resource planning (ERP), as well as demand management and cross-disciplinary collaboration, says Don Derewecki, a senior consultant with supply chain advisory firm St. Onge Company.
"The ultimate goal of inventory management is to optimize supply chain practices to minimize costs without jeopardizing service to customers," says Derewecki. "Attaining these goals centers around increasing the availability of useful information, as well as other important elements such as obtaining commitment from top management, training, and developing effective cross-functional teams."
While there are many factors involved in gaining better control of inventory, the following six practices will help manage inventory in a leaner way, especially when it comes to multi-channel fulfillment complexities.
The recommendations span everything from demand planning processes to relatively new types of solutions such as distributed order management (DOM) that execute around rules for optimal multi-channel fulfillment. However, they also rely on time-tested practices such as real-time data capture and scan validation essential to inventory accuracy.

Tip 1: Demand planning attention
Better, leaner inventories aren't purely the result of better use of execution systems, notes Derewecki. "The process starts with the technology to forecast demand, and to properly time that demand," he says. "Typically, companies have modules in ERP systems or best-of-breed demand planning applications that assist planners in coming up with accurate forecasts, but the trick is in disseminating that information to the entire supply chain team."
Sales and operations planning (S&OP) process and cross-functional teams can be the vehicle for sharing the inventory outlook and movements tied into forecast numbers, notes Derewecki. Whether or not there is a formal S&OP process within a company, he adds, the development of effective cross-functional teams is crucial for relaying forecast and promotions plans to those responsible for outbound inventory and DC operations.
In addition to classic demand planning or longer range merchandising and product planning software, some vendors of supply chain execution (SCE) may offer inventory optimization or replenishment planning tools that take product level demand plans and translate those into more granular impacts at the DC level.
So, the best practice is not just sharing a high-level product forecast, but breaking it down to something meaningful for DC and logistics managers. "Proper inventory management starts with technology to forecast demand versus current inventory at the SKU level," says Derewecki. "Additionally, accurately forecasting the timing of the actual customer demand will lower your inventory related costs while raising customer service levels."
TIP 2: Policy setting and executive buy-in
While in theory, a DC that functions as a multi-channel fulfillment center would allow for some sharing of inventory between channels to make up for unexpected demand, the operators of such a multi-channel DC first have to establish policies for virtual allocation of inventory.
A facility that has everything under one roof, but has different systems or even physical walls or other barriers between storage and order processing areas for each channel, cannot easily enjoy the efficiencies of a truly integrated, multi-channel DC, explains Hobkirk.
Part of the challenge is one of policy setting and balancing the wishes of various stakeholders. "Different stakeholders in a company might get really protective of inventory," says Hobkirk. "So, there are all these competing people saying, 'don't let one channel steal all of the inventory.'"
The answer is for management to establish priorities for multi-channel fulfillment. This can vary by company. Some may prioritize wholesale orders because they tend to be larger orders, while some may want to prioritize e-commerce over replenishment to stores that they control. It all comes back to priority setting that makes sense for a company and its distribution variables, says Hobkirk—such as whether a company has a store network suitable for supporting e-commerce fulfillment.
For Derewecki, careful "policy setting" is an important high-level step in inventory management. Ultimately, he adds, policy and supporting systems need management buy-in. "You have to get the commitment from top management when it comes to policies and systems," he says. "If you don't have that, you don't have much of anything."
TIP 3: DOM as "brain" for fulfillment
While not every company with DC operations needs a distributed order management system, it's becoming an important solution category to consider for companies with omni-channel fulfillment challenges. DOM's main benefit, says Hobkirk, is that properly implemented, it acts "as a brain" for the complex rules you need to apply to orders to fulfill them in a way that meets customer promises at optimal cost—while also adhering to the inventory allocation objectives.
DOM is especially useful for companies trying to make decisions about whether to fill e-commerce orders from a DC, from a store, or split the fulfillment nodes for orders. The potential rules that need to be embedded in the DOM can be extensive, warns Hobkirk, and may need to factor in details such as whether a particular store has the labor capacity to handle e-commerce fulfillment duties; or whether because of higher margins for certain SKUs in urban stores, it may make sense to fulfill certain orders from a DC—even if an urban store is closer.
A DOM solution may need to work in concert with multi-channel or "multi-echelon" inventory optimization tools that help establish the allocation levels by channel for a DC. But when it comes time to execute, the DOM is what carries out the complex rules a company wants to apply to multi-channel fulfillment.
"There can be some pretty complicated factors involved in distributed order management, and traditional ERP or order management solutions aren't trained to think along those lines," says Hobkirk. "Distributed order management systems can take these complex factors into account."
TIP 4: Leverage common bin locations
For multi-channel fulfillment centers, leveraging common, forward-pick bins for most inventory can bring labor efficiencies and a greater ability to share inventory, says Hobkirk. There are some caveats to this approach, he adds, starting with enough similarity in order profiles across channels.
For example, if a wholesale order for a SKU typically is going to be so big it would deplete the pick bin, then it may make sense to pick wholesale orders from an overstock location. "It really depends on the order profiles, but generally, picking from a common bin maximizes the use of labor and minimizes travel within the warehouse," says Hobkirk.
Another caveat is that even if common pick-bin locations make sense, the picking methods and downstream sortation and packing flow might be different by channel, says Hobkirk. It may be that retail orders are picked from a common bin to a conveyor and move to a cross belt sortation system, whereas e-commerce picks might be done to a cart that moves directly to a pack/ship station.
Finally, to support picking from common bins, the DC may need to have a WMS that is flexible enough to do things such as hold the same SKU in different locations, or virtually earmark minimum bin inventory levels by channel. Ideally, the DC wants to avoid clumsy, systemic WMS workarounds such as creating dummy orders to protect inventory for a channel, or creating separate SKU numbers for what is really the same item, adds Hobkirk.
"Not all systems are created equal," says Hobkirk. "You want to have the ability to co-mingle inventory in the same bin for multiple channels, but be able to systemically segregate it if you choose."
TIP 5: Achieving and maintaining accuracy
It may not be as cutting edge as DOM, but good, real-time data capture into WMS and appropriate use of scan validation steps is essential to achieving and maintaining inventory accuracy, notes Derewecki. For example, most picking should be "system directed and scan confirmed," and in many cases, so should replenishment of bins or putaway processes.
Real-time data capture and scan validation have been best practices for inventory accuracy for many years, well before the shift toward omni-channel took hold; and they are only increasing in importance as new regulations and mandates come into force such as serialized tracking of pharmaceutical and medical devices, adds Derewecki. "Serialization is going to be another level of detail that is going to have to be controlled through the entire system for more companies and supply chains."
A very simple tip on whether better data capture and validation procedures are called for, Derewecki contends, is whether staff are still wandering around at times looking for items. "For all the technology advances, it's still common in some companies that workers can't find inventory on a timely basis," he says.
TIP 6: Visibility into inbound flow
Another well established, but still highly useful technology for inventory management is electronic data interchange functionality that integrates with WMS or ERP systems. Advanced ship notices (ASNs) are EDI transactions that should be used whenever possible to smooth out the receiving process, notes Derewecki.
Another best practice on the receiving side is ensuring that goods are properly identified through human readable information on labels as well as bar codes or other automatic identification technologies. A DC's receiving and putaway procedures should also be based on having an updated inventory flow master plan.
These may seem like basic details in the grand scheme of an omni-channel strategy, but they remain essential to inventory accuracy, adds Derewecki. "Much of your success with inventory management is about establishing and then maintaining operational discipline," he says. "Once you get a process started, having the discipline to do it right every time is critical."

Training as foundational
There certainly are other operational best practices and system capabilities that play into improved inventory management, too numerous to list here. One foundational step, however, is the importance of proper training.
For example, in the rush to fill orders in a busy DC, management might not build in proper training for floor associates. So, an "extra" inventory management tip might be the most fundamental—remember the importance of training, concludes Derewecki.
"Top management sets strategy, and middle management is responsible for running systems and processes, but it's the warehouse staff who are carrying out these transactions and need to be properly trained to understand the processes and the importance of what they are doing," Derewecki adds.
August 16, 2016
Subscribe to Logistics Management Magazine!
Subscribe today. It's FREE!
Get timely insider information that you can use to better manage your entire logistics operation.
Start your FREE subscription today!
Latest Whitepaper
Travel Time Forecast Infographic
Combining traffic speed insight with highly localized weather forecast data to help more accurately predict travel time.
Download Today!
From the November 2018 Logistics Management Magazine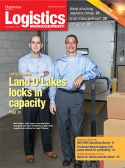 Land O'Lakes lock in Texas-based capacity
How will the tariff war with China affect U.S. container ports?
View More From this Issue
Latest Webcast
The Future of Multi-Carrier Shipping Systems (Beyond the Shipping Label)
How confident are you that the shipping solution you have in place today will meet emerging delivery and customer service trends over the next five years? In this webinar transportation technology expert Ken Fleming, COO of Logistyx Technologies, discusses the key trends shaping supply chain delivery today and how they're influencing shipping system requirements.
Register Today!