ASICS finds the perfect fit in Ware­house/DC Operations
When the athletic footwear flipped the switch on its 520,000-square-foot paperless/wireless DC, it completely transformed the way it processed orders to accommodate rapid growth.

Maida Napolitano
·
February 1, 2013
Japan-based ASICS Corporation—an acronym from the Latin phrase, Anima Sana In Corpore Sano ("a sound mind in a sound body")—employs the latest in scientific research for the sole purpose of staying ahead of the curve when manufacturing the most advanced athletic products in the world. Since being introduced to the U.S. in 1977, the manufacturer has gained tremendous ground as the go-to footwear in this country's burgeoning population of running aficionados.
Today, its American subsidiary, ASICS America Corporation, distributes athletic footwear, apparel, and accessories to a vast array of customers—including major sporting goods stores, department stores, family footwear retailers, and specialty stores in the U.S.,Canada, and Brazil. The company has been growing rapidly; reporting double-digit gains in net income in 2012. With such impressive growth comes great responsibility, and ASICS America's distribution team has kept a close eye on its distribution infrastructure so that it can continuously and seamlessly support revenue growth while efficiently meeting customer requirements.
Since 1996, the team had operated what was in its day a state-of-the art distribution center (DC) with pickers using mobile radio frequency (RF) devices to zone-pick orders from traditional pick modules to cartons on conveyors. Initially designed to support $500 million in sales, this old DC began feeling the pain as sales—predicted to grow to $1 billion by 2015—began exceeding its capacity. The DC operations team knew it had to step up in order to keep pace with growing demands as well as corporate expansion plans.
So in August 2011, the team flipped the switch on a new, technologically advanced, 520,000-square-foot paperless, wireless DC in Marshall County, Miss., to process the company's footwear product line that drives the majority of its business. Over the next few pages we'll detail how ASICS completely transformed the way it processed footwear orders to accommodate rapid growth using a high-capacity unit sorter. We also take note of how it's using mobile equipment to keep a real-time check on inventory; improve communication among floor supervisors; and efficiently manage assets, resources, and shipping operations.
Outgrowing the old DC
After years of aggressive growth, it wasn't until 2007 when Kyle Koestler, ASICS America's director of DC planning, knew something had to give. "The capacity of the old DC was about 50,000 units per day, but we needed to ship an average of 65,000 units per day. We basically had to work 22 of 24 hours, and during our peak season, overtime hours were especially severe," he says.
Continued SKU proliferation didn't help matters. While the old DC had only 12,000 total pick faces, including apparel, it was potentially processing in excess of 20,000 SKUs. "Whatever SKUs that we weren't picking for the day we pulled out and replaced with whatever SKUs we needed," recalls Kim Appling, director of DC operations. "We would do this at night so that when the workers came in they could just start picking."
Most of its business drove outbound processing and shipping to the end of the month, but because it couldn't keep up, the DC had to process a number of its end-of-the-month orders by the middle of the month. That compounded the challenge of finding additional space to hold packed orders in a facility that was already bursting at the seams—in fact, the team was already using 224,000 square feet of off-site warehouse space.
The final test of the old DC's mettle was how quickly it could handle its "at-once" or high priority orders. "We're extra sensitive to the 'at-once' business because the better we are at responding to them, the faster we get product to the store shelf to fill the need," explains Koestler. But unfortunately, "at-once" was taking between 3 to 5 business days, and Koestler and Appling knew they could do much better.
Time for change
In early 2008, the ASICS team began the transition to a distribution strategy that could better address its needs. With the existing facility landlocked with development on all three sides, the group came to a decision not to expand the existing DC, but to open a new DC in nearby Marshall County just 20 miles from the original DC.
In 2009, they presented their business case to ASICS Japan. "After we got the approval from Japan, we began initial design sessions between ASICS operations, engineering, and our external partners," says Appling.
The team established business requirements and investigated potential technologies. Much of the initial design discussion revolved around whether to stay with the traditional pick modules or move towards a unit sorter. The planning team did an in-depth analysis of each current distribution channel along with other potential channels of growth and quickly decided that the cross-belt unit sorter could better meet future business needs.
"The unit sorter doesn't really care how many SKUs you're actually processing," says Appling.
"And that fits the picture for our 5-year to 15-year growth plan while saving us time, efficiency, and space." Tours to other DCs deploying similar unit sorters reinforced the decision and greatly aided the team in the design process. The team eventually selected a cross-belt sorter that best fit ASICS America's business requirements and long-term goals.
Building construction started in February 2010 with the unit sorter installation beginning in November 2010. Testing and training occurred simultaneously as the sorter was being built. "Our single largest problem was getting our full-time employees to 'unlearn' what they thought they knew," recalls Appling. "Everything was so different from what we did at the old DC that it became a running joke within the facility to just unlearn the old process."
Koestler agrees. "It was a total change, even for management."
In April 2011, ASICS took ownership of the facility and immediately began moving off-site storage into the new DC. With four million pairs of shoes to transition over, management knew it couldn't happen overnight. Preparations began for a phased-in approach, first shipping only seven customer accounts in a "soft go-live" event in May.
"We built the inventory to support the first seven accounts," says Koestler. "We stayed in as close communication as possible with customer service, sales, and the customers involved, resolving issues as quickly as we could," he says. By August 2011, ASICS had completely transitioned the processing of all footwear accounts into the new facility.
The old facility remains open to process apparel and accessories. According to Appling, because apparel has such different product characteristics than footwear, the apparel chutes would require a completely different pitch. "In the next five years we're looking to see what needs to happen to retrofit this facility so that we can consolidate apparel and accessories into the new DC."
Mobility in the DC
From receiving through shipping, the entire inventory at ASICS is tracked in real time using a variety of wireless RF devices with scanners that are handheld, mounted on wrists, or onboard lift trucks. "If you move it you scan it; if you scan it you move it," quips Koestler.
Real-time scanning has not only increased inventory accuracy levels, but it has also improved real-time decision making. "It's helped us get quick resolution to issues," Koestler adds. "If a carton is out of place, workers can scan it and immediately put it in the correct location."
Other types of mobile devices have also been invaluable for fostering effective communication. Supervisors use radios to keep in constant contact on the floor, while managers use smart phones. "We're actually experimenting with some tablet devices, trying to see how it can best fit the operation," says Koestler. He envisions floor supervisors using the tablets primarily for inventory control as mobile workstations or to track productivity and staffing levels throughout the DC.
Benefits pouring in
With the old pick-pack operation, Koestler and Appling estimated that picking accuracy levels were about 98.5 percent. With the new DC, accuracy levels have dramatically improved to 99.99 percent.
The old system allowed the DC to process 65,000 units per day by working multiple shifts with excessive overtime. "Now we are able to basically double that all on one shift," says Appling.
As a result, overtime percentage, which hovered around 10 percent in the old DC, has dropped down to 2 percent in the new DC, while labor cost per unit has decreased by 43 percent.
Processing time for "at-once" orders has also reduced dramatically from 3 to 5 days to just under 2 days for both DCs. For footwear alone, the DC can now process "at-once" orders within one business day.
Both Koestler and Appling have been getting plenty of positive reviews from ASICS customers. "Not just for the quicker order turn time, but the accuracy percentages and the ease of doing business with the two DCs," says Appling.
Koestler credits the DC's success to every person involved—from the planning and implementation team to the ASICS sales group who dealt directly with any customer issues. "Despite the new automation and equipment, we still needed good people to set it up right, then monitor it to make sure things are working the way they should be."
Appling agrees. "We didn't have egos in the room. It was a collaborative, collective effort."
February 26, 2013
Latest Whitepaper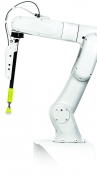 Warehouse Management Systems (WMS) / Inventory Management Technology: 6 Trends for the Modern Age
Here's how the next generation of warehouse and inventory management systems are evolving to help logistics operations operate more efficiently and improve their bottom lines in our brave, new digital age.
Download Today!
From the March 2018 Logistics Management Magazine Issue
Reverse Logistics in the "Age of Entitlement"
Logistics Management's Viewpoint on E-commerce: Leveraging available tools
View More From this Issue