Staples' smart packaging system expected to save 25,000 metric tons of corrugated
We go inside the second largest internet retailer's Secaucus, N.J., fulfillment center to explore its network-wide transformation from a few standard box options to an almost limitless number of custom, right-sized boxes.

Maida Napolitano
·
June 1, 2013
As the world's largest office supply company, Staples is committed to providing all types of businesses with every office product they need to succeed. It also strives to ensure that the entire process of ordering and acquiring these products be as quick, effortless, and hassle-free as possible. It's even their company tagline: "That was easy."
With $24 billion in sales, this customer-centric strategy is clearly working. Staples is the second largest retailer on the Internet, shipping millions of cartons annually to consumers and businesses throughout North America. It accomplishes this by leveraging a highly responsive supply chain and distribution system that guarantees that any order placed before 5 p.m. will be delivered the next day to 98 percent of the population from its network of state-of-the-art fulfillment centers (FC).
But even the most sophisticated and automated FC could not address one of the key prevailing customer concerns: excessive packaging. The company had long been searching for solutions that curtailed the use of oversized corrugated and excessive filling material for its shipments—it's even self-imposed a goal of a 20 percent reduction in packaging by 2020.
In January 2012, this Boston-based retailer made tremendous strides towards achieving this goal when it launched its "Smart-size Packaging Program," deploying a system-wide rollout of a transformational new technology known as "on-demand packaging" from Salt Lake City-based Packsize International.
This solution allows the leading-edge retailer to automatically create a custom-sized carton specific for every less-than-full-case order it ships. These orders—also known as break-pack orders—account for approximately 40 percent of Staples' order volume.
These optimized box configurations that fit "just right" do not only address customers' concerns on unnecessary packaging and thus help improve customer satisfaction, but they also align with in-house sustainability goals, allowing Staples to accrue a savings in its annual carbon footprint equivalent to about 100,000 trees—the size of a small forest. And it saves money, reducing corrugated inventory requirements, increasing efficiencies in handling and transportation, and minimizing wasted space and dunnage material within the shipped order.
Over the next few pages, we'll take you inside the retailer's Secaucus, N.J., fulfillment center, its first business-to-business facility to deploy this packaging technology, and detail how the retailer made this network-wide transition from just a few standard box options to an almost unlimited number of custom right-sized boxes.
The Secaucus FC primarily serves Fortune 500 companies in nearby downtown Manhattan plus larger businesses in and around the tri-state area of New York, New Jersey, and Connecticut. We'll look at how this technology is set to make an impact on not only this facility and the rest of Staples' fulfillment network, but also the planet. If you're a retailer shipping thousands of break-pack orders daily, you might want to take notes.
The problem with excessive packaging
Shipping to customers exactly what they ordered, next-day delivered, has been part of the Staples "perfect order" strategy for a number of years.
As part of this initiative to fine-tune that perfect order, supply chain team leaders have been listening intently to customer feedback.
One of the most pressing complaints that the company had been facing was the issue of excessive packaging. "Before smart-size packaging, we had to fit an order into one of five box sizes, which wasn't the most user-friendly when all you ordered was a box of pens," says Jerry Imbrenda, manager of the Secaucus fulfillment center. "In order for a customer to get it undamaged, we would put it in a corrugated carton with a number of air pillows."
He adds that if the order didn't fit within one of the smaller-sized boxes, it would go to the next larger size, which most often was significantly more volume than what was needed—requiring a high amount of dunnage to fill the empty space in the carton. In this era of heightened sustainability awareness, customers were not pleased with how this also negatively affected the environment. The supply chain leadership at Staples knew something had to be done.
New packaging solution
In December 2009, a Staples' board member had come across a new on-demand packaging technology developed in Sweden and brought to America by Packsize International. The Staples team, headed by Rod Gallaway, vice president of logistics strategy, global design and engineering for the retailer, started evaluating the technology and its applicability to its business.
"In May 2010, we visited one of Packsize's existing customers," recalls Gallaway. "We evaluated its ability to support our business needs and service level requirements, then performed a detailed business case validation."
Pleased with the results, Gallaway and his team proceeded with a pilot program in September 2010 at the company's Orlando facility. Phase 1 had the packaging machines making existing carton sizes without any system interface, so the team could study their reliability and determine their throughput capabilities.
In May 2011, the team implemented phase 2 where a system interface was developed between Staples' warehouse management system (WMS) and the packaging machines. The pilot performed through a couple of peak seasons, delivering key metrics to the team. "The objective here was to study customer satisfaction impact, sustainability impact, and capital and expense impact so that we could develop the network-wide business case," explains Gallaway.
After verifying the economics and success of the pilot project, the team then made the decision to begin immediately deploying the technology to all of its FCs by early 2012.
"For the last 13 months, we have been rolling out one new building every two weeks," says Packsize's CEO Hanko Kiessner. "It's like clockwork. We ship our machines and our corrugated on a Friday. It's delivered to a Staples fulfillment center by the following Monday. We install on Tuesday, train on Wednesday and Thursday. By Friday, the building goes live."
Kiessner adds that not many businesses could have pulled off such a tight rollout schedule, but Staples kept itself on top of its game, with seamless collaboration between both Staples' and Packsize's engineering and integration teams. As of May 2013, Staples has implemented "smart-size packaging" in 15 other e-commerce FCs and plans to complete installation of the packaging solution in all of its centers by year's end.
On-demand packaging in Secaucus
The Secaucus facility processes both full-case and break-pack orders in its business-to-business FC. Of the 20,000 to 40,000 total orders shipped daily, about 30 percent are break-pack orders, requiring Packsize's four EM7-25 "package converting machines" to generate about 6,000 to 8,000 custom-sized boxes daily. A fifth machine is on standby. "We went from five box sizes to nearly 100, and we measure virtually every SKU, so the system knows its cube," says Imbrenda.
Integrating with the WMS, order information is sent to the proper machine and that machine's corrugated track. The machine's software manager, PackNet, adds up the cube of the units of that order and performs sophisticated algorithms to determine the right-sized carton to generate.
In the meantime, bales of corrugated are fed into individual tracks of the machine which then cuts, creases, and scores the corrugated to the exact specifications, creating un-erected boxes at speeds of up to 1.7 sec/box. At an adjacent station, a bar coded parcel shipping label is simultaneously generated and applied to the correct box.
Another worker erects the empty carton then feeds it to a bottom taping machine before it is inducted into the facility's network of picking conveyors. Shipping boxes are then diverted to different pick zones where workers scan the box label for the order and pick units of that order directly into the box. Completed picks travel to another level of the facility, where the order is checked, taped, and manifested for outbound shipment.
Reaping the benefits
The switch to smart-size packaging has generated immediate savings to Staples. "There was no large upfront capital, as Staples never bought any of our machines," says Packsize's Kiessner. "With our cost model, 97 percent of our customers save money on day one because the machines are provided as part of the corrugated supply."
For Staples, there were some capital expenses to accommodate the machines in their facilities, such as electric power and air installation, WMS modifications, and the retrofitting of conveyors. However, average corrugated usage has dropped over 15 percent, air pillow usage has been reduced by about 60 percent, and break-pack order cube has been reduced by approximately 20 percent allowing more orders to be accommodated in one truck delivery.
Before the packaging machines were installed, Staples had to carry at least half to a full truckload of corrugated inventory for each carton size. Now, the inventory is about two truckloads of corrugated bales, in total. On average, Staples now needs at least 50 percent less storage space for corrugated.
A conservative estimate of the carbon footprint reduction based solely on corrugated reduction shows that for the 15 facilities already converted, a savings of more than 8,300 metric tons, equivalent to almost 31,000 trees, has been realized. When fully implemented, the program is expected to save over 25,000 metric tons.
Packsize's Kiessner urges possible early adopters to first do a pilot program, then measure the success of the pilot before making a decision. "When the boxes that you get from box manufacturers are 40 percent too large, then you are really paying for all those inefficiencies, taking up 40 percent too much space on the truck," he says.
According to Staples' Imbrenda, "It helps us reduce our cost here internally while giving our customers what they want. They want their orders in smaller packages and they want less waste—and it helps the environment. It's a win all over."
June 17, 2013
Latest Whitepaper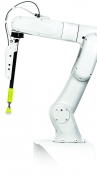 Warehouse Management Systems (WMS) / Inventory Management Technology: 6 Trends for the Modern Age
Here's how the next generation of warehouse and inventory management systems are evolving to help logistics operations operate more efficiently and improve their bottom lines in our brave, new digital age.
Download Today!
From the March 2018 Logistics Management Magazine Issue
Reverse Logistics in the "Age of Entitlement"
Logistics Management's Viewpoint on E-commerce: Leveraging available tools
View More From this Issue