White House unveils National Clean Fleets Initiative
UPS, FedEx, AT&T, PepsiCo, and Verizon are the five charter members of a push to reduce petroleum dependence in U.S. fleets

Jeff Berman, Group News Editor
·
April 4, 2011
Following a recent announcement which called for reducing United States oil imports by one-third in the next decade, President Barack Obama last week rolled out a new energy-focused initiative focusing on trucking in a speech at a UPS facility in Landover, Maryland.
The initiative, entitled the National Clean Fleets Partnership, will help large companies cut down on diesel and gasoline usage in their fleets by meshing electronic vehicles, alternative fuels, and fuel-savings measures into their daily operations, according to the White House. The two defined goals of this effort, said the White House, are to:
-reduce fuel through the use of more efficient vehicles and technologies, including hybrids; and
-replace gasoline and diesel powered vehicles with advanced technology vehicles or those that run on alternative fuels like electricity, natural gas, biodiesel, ethanol, hydrogen, or propane.
The five "charter" members of this initiative are AT&T, FedEx, PepsiCo, UPS, and Verizon, whom collectively represent five of the ten largest fleets in the U.S. and own and operate more than 275,000 vehicles, according to a White House fact sheet. And the planned and current near-term petroleum reduction strategies under the National Clean Fleets Partnership will account for the deployment of more than 20,000 advanced technology vehicles and annual petroleum displacement in excess of more than 7 million gallons.
"If you're a business that needs to transport goods, then I'm challenging you to replace your old fleet with a clean energy fleet that's not only good for your bottom line, but good for our economy, good for our country, good for our planet," said Obama. "[E]very single year millions of commercial vehicles travel America's roads and highways, burning nearly 4 billion gallons of fuel along the way—4 billion gallons. With this partnership, we'll help make sure those vehicles are energy-efficient so we can cut the amount of pollution they pump into the air, cut the amount of gasoline they need to fill a tank, cut the amounts of oil America imports from abroad."
A noted sustainable transportation and logistics expert lauded this plan, calling it a foundational step that will generate much more interest and acceptance of alternative powered vehicles as participants in the program will not be forced to shoulder the costs on their own.
"I have been waiting for several years to see this plan come to fruition," said Brittain Ladd, global supply chain consultant for CapGemini Consulting. "It's not that corporations or carriers are against the use of alternative fuel powered vehicles, they simply don't want to have to bear the costs of converting their fleets. The Clean Fleets program provides the mechanism for increased collaboration among leading carriers."
Companies like the five charter members of this initiative can all bring scale to the table, which has long been a drawback to more widely accepted usage of alternative fuel and energy vehicles, according to Kevin Smith, president and CEO of Sustainable Supply Chain Consulting.
The reason being, said Smith, is that it is a losing battle for the majority of companies and consumers that don't have access to things like hydrogen-powered vehicles, for example.
"The thing we lose sight of is that alternative energy sources comes from somewhere, like coal or oil-driven plants," said Smith. "Rather than being renewable, it pushes the petroleum reliance further upstream. Hydrogen, though, appears to be a much more renewable resource for operating vehicles, because it is actually clean. But to do that, you need scale. It makes more sense than something like ethanol, which requires more energy to make than it delivers as an end product. Truly renewable energy is great, but if all we are looking for is clean energy, we can push for more electricity but we need to be mindful of the fact that upstream we are still using petroleum-based products to generate electricity."
The White House plan to find the best alternative energy resources is the right thing to do, said Smith, with Clean Fleets providing an impetus to facilitate these efforts for fleets is something that can help eventually pave the way for an economical renewable energy source to power vehicles. And he said by bringing in companies with the desire and resources to push for this is a good way to get things started.
But he cautioned that if companies like UPS and FedEx are having success and if federal mandates require all companies to do the same thing in a few years from now, it could be difficult for small carriers to switch to alternative fuel sources because of cost pressures. Until these types of things are accessible to everybody, it will be difficult to mandate, he added.
The National Clean Fleets Partnership was endorsed by the American Trucking Associations (ATA). But like Smith at SSCC, the ATA pointed out some caveats.
"The trucking industry is a very diverse industry," said Rich Moskowitz, ATA Vice President and Regulatory Affairs Counsel. "What works well for one company may not work as well for another. As we begin to transition to alternatives, it is important to remember there is not going to be a 'one size fits all' approach. That is true in respect to things like natural gas, hybrids, and biofuels. Depending on the industry you operate in, some of these alternatives may be attractive and some may not be able to be implemented."
For related articles, please click here.
April 21, 2011
Latest Whitepaper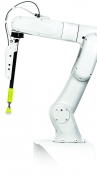 Warehouse Management Systems (WMS) / Inventory Management Technology: 6 Trends for the Modern Age
Here's how the next generation of warehouse and inventory management systems are evolving to help logistics operations operate more efficiently and improve their bottom lines in our brave, new digital age.
Download Today!
From the March 2018 Logistics Management Magazine Issue
Reverse Logistics in the "Age of Entitlement"
Logistics Management's Viewpoint on E-commerce: Leveraging available tools
View More From this Issue