Wicker appointed as first ever Chief Sustainability Officer at UPS
UPS recently announced that it has appointed Scott Wicker as its first Chief Sustainability officer. Wicker previously served as UPS's vice president of corporate plant engineering and has been with the company for 34 years, first joining as a package loader before serving in various engineering positions.

Jeff Berman, Group News Editor
·
March 18, 2011
UPS recently announced that it has appointed Scott Wicker as its first Chief Sustainability officer. Wicker previously served as UPS's vice president of corporate plant engineering and has been with the company for 34 years, first joining as a package loader before serving in various engineering positions.
Company officials said that Wicker has been very involved in sustainability-related initiatives at UPS prior to this appointment, leading an engineering group that manages global sustainability data for reporting, as well as also leading internal environmental initiatives. This engineering group also oversees a cross-functional Sustainability Working Committee, focusing on key company performance goals and indicators. Wicker also serves as a member of the UPS Corporate Sustainability Steering Committee.
UPS has long been active in sustainability-related efforts, including: its recent addition of 48 heavy tractor trucks manufactured by Kenworth that are equipped to run on Liquefied Natural Gas (LNG); a July 2010 announcement regarding its automotive goal to improve the miles per gallon (MPG) performance of its entire U.S. package delivery fleet by 20 percent between 2000 and 2020; its involvement in the Carbon Disclosure Project, the World Resources Institute, and The Global Reporting Initiative, among others.
Logistics Management Group News Editor Jeff Berman recently had an opportunity to speak with Wicker about his new position and the role of sustainability in freight transportation, logistics, and supply chain operations. A transcript of that conversation is below.
LM: What drove the need for UPS to create the position of Chief Sustainability Officer? How did it come about?
Wicker: This role is a part of our maturing process as an organization, as we move forward with our sustainability activities. We really got into sustainability more than a decade ago and produced our first sustainability report with 2002 data and did a lot of work in this area. In 2007, sustainability as a topic was heating up globally, and it gains in importance on a daily basis. The organization decided to put more structure and emphasis on our sustainability program. And we developed committees in 2007 across the organization, but it first started within our Environmental Affairs and Public Relations groups. The working committee brought in people from all different organization functions and operations, and in conjunction with our steering committee made up of six the top 12 UPS executives, we began to interface with the whole company, regarding what we were doing with sustainability and what we needed to do. That structure has served us well, but as we moved forward we wanted more clarity as to the structure and that led to the position of Chief Sustainability Officer.
LM: UPS has been very active on the sustainability front in various ways over the years as you point out. And shippers are expecting their providers to be "green." That said, in light of your new appointment, what is UPS's role in helping to meet shippers' needs in this area?
Wicker: One of the things we have been working on and continue to work on is that a lot of this begins with data. Companies need to have a good handle on their own carbon emissions and carbon footprint, and understand where they can mitigate where they can bring value to their customers. To do that, they need to understand their own operations and Scope 1, 2, and 3 emissions related to their own operations. We have put a lot of emphasis on that and have developed a carbon calculator that goes a long way toward helping customers understand the environmental impact of our services that we provide for them. We have found that as our customers work to be more sustainable—and we serve as a large cog in their supply chains—they need our information to complete their own carbon calculations, and we need to be good at that. Once we developed the carbon calculators [in 2009] and got a good handle on our own emissions, it has also allowed us to offer products to our customers for their carbon-neutral services. Many customers are not interested in the carbon neutral impact of their shipments, and with that data from the carbon calculator we can calculate the carbon emitted from shipments and allow them to mitigate or off-set that through carbon off-sets. We have been committed to that for a number of years and now have more work to do on that front as we go forward.

LM: What is your take on the current oil and gas situation?
Wicker: Oil is highly volatile and is not a completely unlimited resource. Our approach is that we need to investigate all avenues to lessen our dependency on oil. For us, it is looking at all the alternative fuels and technologies available that we can test and work with. We are currently testing about eight types of alternative fuel vehicles and technologies and looking at different technologies that can help our air fleet as well, as well as biofuels for both aviation and diesel vehicles. Our approach is that there are technologies out there, and there are more technologies out there that we need to be working on. We have not found a Silver Bullet yet, but we wish there were one. All of the different alternative fuel vehicles have some sort of issues. They are good in some aspects and not so good on others and are all very expensive, as you compare them to their counterparts that run on diesel and gasoline vehicles. But they all need to be tested and we all need to work together to find those vehicles which can ultimately lessen our dependence on oil. We also focus heavily on conservation, in terms of educating our drivers how to drive more efficiently. We have technologies in our vehicles today that allow us to identify when we have issues with how drivers are driving our vehicles everyday. Idling is a bog focus for us, and through technology we have gotten a better handle on it. The more you lessen idling, the less fuel you burn, and less carbon you admit. So, we have created a lot of headway in those areas.
LM: Cutting down on delivery drivers making left turns is also part of this, correct?
Wicker: Yes. That is one of the many things we do, and it obviously caught on in the mainstream media. We married different technologies like telematics and other mapping and routing technologies along with what we call package flow technologies. For us, it is about making sure we load the vehicles properly so that a driver can have the most efficient route possible and it is also about having an optimal number of packages and stops to utilize delivery vehicles as efficiently as possible, and it is about understanding what drivers are doing every day so we can correct problems we see like leaving a vehicle idling during delivery or unsafe practices like speeding or hard braking. On top of that it is about taking care of the vehicles. We use telematics to collect information on vehicles to avoid breakdowns, which can double carbon footprint levels on days when multiple vehicles are needed for the same route.
LM: Last year in Congress, energy legislation largely stalled out due to a lack of required votes. What is your take on a U.S. national energy policy and what would help at least set the framework for a productive conversation that would augment a viable domestic energy policy?
Wicker: I am not going to go too deep into policy. For us, we would like more help from the federal government on providing things like funding or tax incentives to push the different types of technologies out there. If you compare natural resources, the higher the e demand for a natural resource, the higher the cost is, while the higher the demand for technology, the lower the cost is. We need the government to help us get over the hump, so to speak, on some of the technologies available to us in order to lessen our dependency on oil. We need more government help with this, because we believe it will take that type of government assistance, and funding will take us over the hump on whatever technology or technologies that will get us on the hump. We need to continue to have a holistic approach. It is a little worrying when people talk about funneling a lot of money and effort into one technology like electrification. It is a good technology, but you need to be careful and look at all technologies that have some viability out there and provide funding for them to mature further.
For related articles, please click here.
March 18, 2011
Latest Whitepaper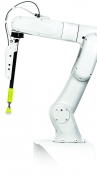 Warehouse Management Systems (WMS) / Inventory Management Technology: 6 Trends for the Modern Age
Here's how the next generation of warehouse and inventory management systems are evolving to help logistics operations operate more efficiently and improve their bottom lines in our brave, new digital age.
Download Today!
From the March 2018 Logistics Management Magazine Issue
Reverse Logistics in the "Age of Entitlement"
Logistics Management's Viewpoint on E-commerce: Leveraging available tools
View More From this Issue