WikiLeaks documents suggest Saudi Arabia is running out of oil
Diplomat(s) expressed increasing concern that Saudi Arabia is no longer able to lift oil production at a rate fast enough to prevent oil prices from escalating.

Derik Andreoli
·
February 10, 2011
On February 8, The Guardian published an article covering a series of diplomatic cables sent between 2007 and 2009 from the U.S. embassy in Riyadh, Saudi Arabia, to the White House. In these WikiLeaked communications, diplomat(s) expressed increasing concern that Saudi Arabia is no longer able to lift oil production at a rate fast enough to prevent oil prices from escalating.
These revelations came through private discussions with Sadad al-Husseini, former head of exploration and production at Saudi Aramco, the world's largest oil producing company. Of Mr. al-Husseini one of the cables states: "While al-Husseini fundamentally contradicts the Aramco company line, he is no doomsday theorist. His pedigree, experience and outlook demand that his predictions be thoughtfully considered."
For U.S. shippers, thoughtful consideration of the situation in Saudi Arabia is exactly what needs to be done.
At the end of last month, I participated in the Logistics Management Annual Rate Outlook webcast. In my presentation on the state of the world oil market, the most salient point that I hoped to make was that the Energy Information Administration (EIA) has placed far too much confidence in Saudi Arabia's willingness and ability to lift production as oil markets continue to tighten through 2011.
According to the EIA's Short Term Energy Outlook, global demand for liquid fuels will increase by 1.5 million barrels per day by the end of the year. Of this amount, OPEC is expected to supply 1.2 million barrels per day. The EIA data on surplus oil production capacity suggest that Saudi Arabia will be responsible for the vast majority of OPEC's increase in production.
As I explained in the webcast, while production rates are important, an even more important metric is the amount of oil that Saudi Arabia exports. Looking back at historic data we see that Saudi oil exports peaked way back in 2005. And despite the fact that exports were lower in 2008 by roughly 671,000 barrels per day than they were at the peak, the Kingdom's annual petro-income increased by more than $100 billion over this period of time.
Exports, of course, represent the difference between production and domestic consumption. Unlike the U.S. and other OECD economies, where oil is primarily consumed as transportation fuel, the Saudi Kingdom burns copious quantities of oil to generate electricity and desalinate water. Given that the population of Saudi Arabia is rapidly expanding and that prices, and therefore petro-income, have returned to Q1 2008 levels, it should come as no surprise that Saudi electricity demand is climbing rapidly and is expected to double by 2018.
The problem, then, is that oil production must increase at a rate that not only covers 80 percent of the projected increase in global liquid fuels demand, but at a rate that also covers the increase in Saudi Arabia's domestic consumption…which, by the way, is highly subsidized.
Alternatively, the Kingdom could theoretically shift from oil-fired power plants to natural gas-fired power plants, but this would require the massive expansion of natural gas production. And it is here that the Kingdom faces more difficulties.
Back in September 2010, the Financial Times ran an article on the potential for the production of unconventional natural gas to free up much of the Kingdom's oil for export. While the FT article paints a somewhat rosy picture of the Kingdom's unconventional natural gas reserves, it also states that exploration efforts to discover conventional natural gas resources have produced "largely disappointing results."
The most prescient problem, then, is that in order to bring unconventional reserves online Saudi Aramco must overcome a number of technical challenges. Consequently, it is unlikely that unconventional gas production will supplant much (if any) of the oil used to generate electricity by year's end. And over the next few years, we should expect much of Saudi Aramco's investments to shift from oil production to unconventional natural gas exploration and production.
Looking forward, these WikiLeaked documents do nothing to unseat my belief that oil prices will continue to rise and become more volatile in the coming months. And these documents do much to reinforce my unease with the EIA placing such confidence in Saudi Arabia's willingness and ability to increase production for the good of the world economy. The Kingdom didn't increase exports as the price climbed from $50 per barrel to nearly $150 per barrel in 2008, so what is so different today?
For more on fuel click here.
For the full text of the The Guardian article click here.
February 11, 2011
Latest Whitepaper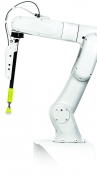 Warehouse Management Systems (WMS) / Inventory Management Technology: 6 Trends for the Modern Age
Here's how the next generation of warehouse and inventory management systems are evolving to help logistics operations operate more efficiently and improve their bottom lines in our brave, new digital age.
Download Today!
From the March 2018 Logistics Management Magazine Issue
Reverse Logistics in the "Age of Entitlement"
Logistics Management's Viewpoint on E-commerce: Leveraging available tools
View More From this Issue